'Judge Dredd' Heading To Television In A New Live-Action Series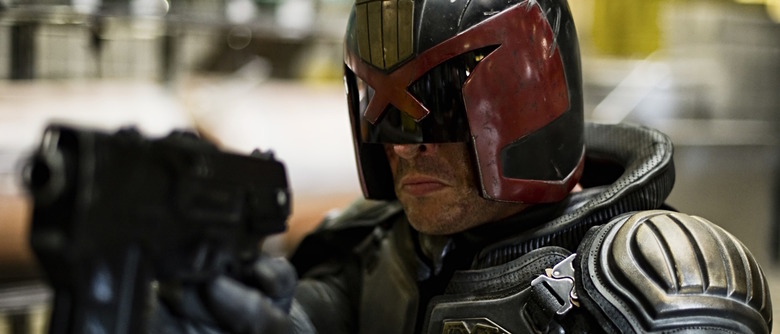 This is the week that officially killed all of those sequels the internet has been demanding. With Hellboy 3 officially thrown to the wayside in favor of an R-rated reboot, it only makes sense that the Dredd sequel is also looking officially dead and buried. However, fans of the character may take comfort in knowing that the hard-ass future cop with that face-obscuring helmet and a thirst for justice/violence is only abandoning the big screen because he's heading to the small screen.
Yes, a Judge Dredd live-action TV show is in the works.
Entertainment Weekly has the news: Judge Dredd: Mega-City One is currently in development at IM Global Television and Rebellion, with Mark Stern, Stuart Ford, Jason Kingsley, and Chris Kingsley all on board as executive producers. While it's not clear if the new show will be a direct follow-up to the 2012 film or if everyone will start with a clean slate, Ford and the Kingsleys were executive producers on Dredd and have surely watch watched that movie's cult of fans grow steadily over the past five years.
And while there is are no writers, directors, actors, or networks attached, they do have a poster, because making movies and TV shows is an increasingly ass-backwards process these days.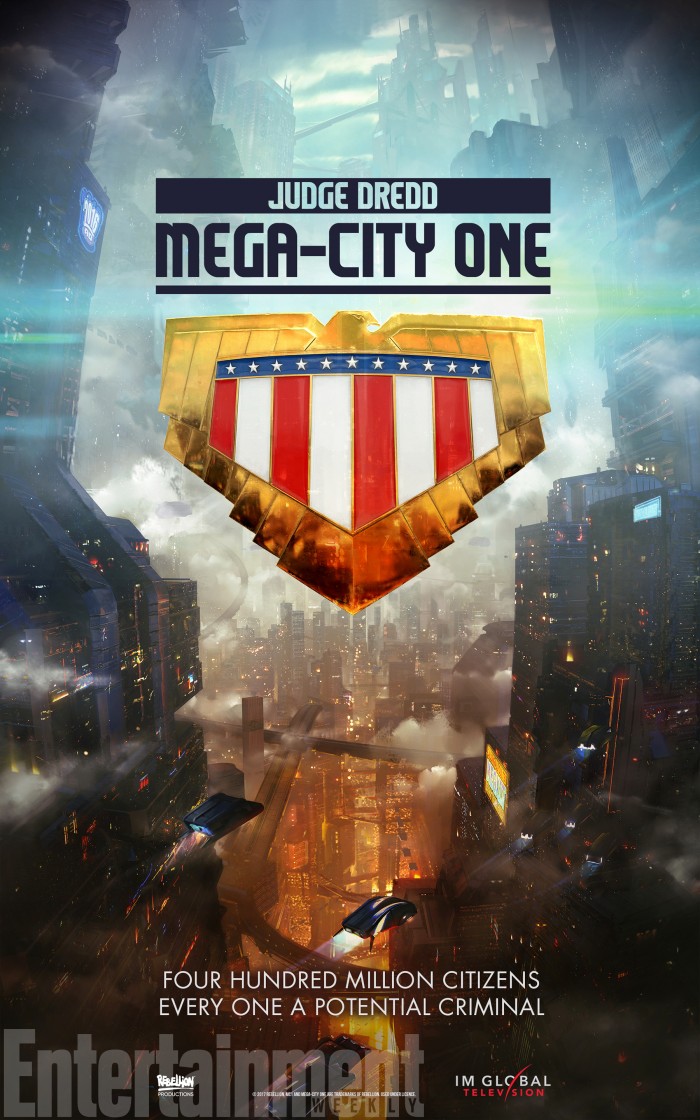 As you may recall, Judge Dredd takes place in "Mega-City One," a crime-ridden city that spans the entirety of what was once the east coast of the United States. The title character is a "judge," a deadly cop given the powers of judge, jury, and executioner...with a special emphasis on that third title, if we're going to be perfectly honest.
The character initially debuted in the pages of the U.K. comics anthology 2000 A.D. before breaking out and starring in his own books over the years. He first came to the big screen in a terrible 1995 movie starring Sylvester Stallone. The 2012 version saw Karl Urban, giving an awesomely committed performance, take on the character and if I was running this show, I'd try to convince him to return. But hey, I'm not the one running this show, so don't blame me if it doesn't happen. Then again, for all we know, someone over there is reading the site and is taking our advice. After all, our own Alex Riviello put Judge Dredd on a list of dystopian stories that demand a television adaptation and here we are! I joke, but there is a lot of potential here.
However, I do hope that everyone involved takes a long, hard look at the original comics before moving forward with this. While Dredd is a very entertaining movie, it doesn't understand (or ignores) the fact that Judge Dredd was always intended to be satire, an over-the-top display of anger born out of Margaret Thatcher's England. With more and more TV shows becoming political by default, Judge Dredd: Mega-City One could be a fascinating way for viewers to explore the current political climate and process the fears and anxieties of 2017 while also enjoying an entertaining sci-fi show.
Of course, it has to actually get made first and there's no sign that it's anywhere close to that. However, Stern (who previously worked on Battlestar Galactica, Helix, and Defiance), does mention social commentary in his official statement, which is promising:
This is one of those seminal sci-fi properties that seems to only become and more relevant with age. Not only is it a rich world with biting social commentary, but it's also fun as hell! As a fan of the comics and both films, it's a dream come true to be able to work with Jason and Chris in adapting this for television.
Judge Dredd: Mega-City One is in the earliest stages of development, but we'll keep you updated as we learn more.