Tupac Shakur Will Get A Documentary Directed By Steve McQueen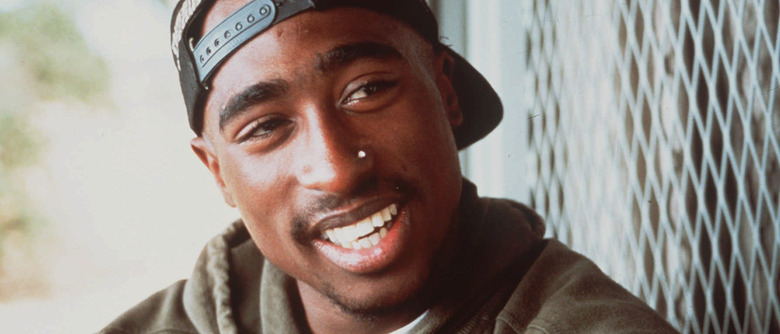 We're going to be getting tons of hip-hop icon Tupac Shakur in our theaters soon, with the upcoming biopic All Eyez on Me, and now a fully authorized feature length documentary helmed by Steve McQueen, the director of 12 Years a Slave.
This will be the first documentary from the director of Hunger and Shame, though he will be joined by producer and musical documentary veteran Nigel Sinclair, who was behind such films as The Beatles: Eight Days A Week–The Touring Years.
The documentary will follow the life of the late rapper, from his rise to fame as one of the most acclaimed hip-hop artist of the '90s, to his tragic and unsolved murder.
A deal was struck to produce the documentary between Tupac's Estate and Amaru Entertainment, the company created by Afeni Shakur to release her son's posthumous projects, according to Deadline. The two will be teaming up with Sinclair's White Horse Pictures and Jayson Jackson on the documentary. The project has the backing of Tupac's Estate, as well as Gloria Cox, Tupac Shakur's aunt, Afeni Shakur's only sister, and White Horse's Jeanne Elfant Festa.
McQueen will be directing the documentary for an artist, writer and poet that he said he always admired.
"I am extremely moved and excited to be exploring the life and times of this legendary artist. I attended NYU film school in 1993 and can remember the unfolding hip-hop world and mine overlapping with Tupac's through a mutual friend in a small way. Few, if any shined brighter than Tupac Shakur. I look forward to working closely with his family to tell the unvarnished story of this talented man."
Before his life was tragically cut short by a fatal shooting in Las Vegas in 1996, Tupac was a worldwide superstar, selling over 75 million records across the globe and garnering acclaim as one of the greatest recording artists of all time over the course of a five-year career. He was the first solo hip-hop artist to be inducted into the Rock and Roll Hall of Fame, awarded posthumously in April.
The Benny Boom-directed biopic All Eyez on Me (out in theaters June 16, 2017) will follow the events of his life through a dramatized lens, but fans of Shakur can get a peek into his real life life through his family and loved ones with this documentary. If his work in the non-fiction realm is as powerful as his other movies, McQueen could have something special for us.