The 'Han Solo' Movie May Take Us Back To Tatooine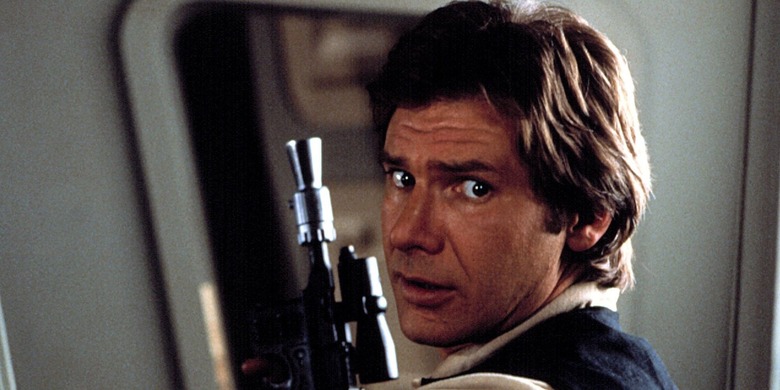 We may be getting a blast(er) from the past with the upcoming Han Solo standalone movie.
The newest entry in the Star Wars anthology series follows Rogue One by taking us to a time long ago, before the events of Star Wars Episode IV: A New Hope. We already knew that it would follow a young Han Solo and his origin as one of the most infamous smugglers in the galaxy, but new set photos reveal that we may see a familiar location in the still untitled film: Tatooine.
We first met Han on Tatooine in that "wretched hive of scum and villainy," Mos Eisley, where he conducted his smuggling business in A New Hope. As you surely remember, that's where he killed Greedo (shooting first) and took an easy enough job transporting some kid, an old man, and a couple of droids to Alderaan.
Now, new set photos from the shooting of the Han Solo film, which began production several months ago at Fuerteventura on the Canary Islands, are hinting at a return to the classic Star Wars planet where both Anakin and Luke Skywalker grew up.
While we were recently introduced to another desert planet, Jakku, eagle-eyed Star Wars fans noticed that the architecture on the set look a lot like the buildings seen on Tatooine in A New Hope and The Phantom Menace. It's more likely that Han would find himself in Tatooine due to his later connection to its local criminal factions. Plot details are scarce on the film for now — though we do know it will be a cross between a Western and a heist movie — and recently revealed character names only allow us to indulge in some major speculation. But I can guess from the possible Tatooine setting that we'll see Han establishing himself in the criminal and smuggling circuit, and perhaps make his first encounter with crime lord Jabba the Hutt.
The Han Solo movie will follow Alden Ehrenreich as Han from ages 18 to 24, delving into how he met Chewbacca, obtained the Millennium Falcon, and — supposedly — "got his name." The movie's main cast is rounded out by Donald Glover as Lando Calrissian, Woody Harrelson as Han's mentor Beckett, Emilia Clarke, Thandie Newton, Phoebe Waller-Bridge, Michael K. Williams, Ian Kenny and Joonas Suotamo as Chewbacca.
21 Jump Street duo Phil Lord and Chris Miller are helming the film, based on a script by Lawrence and Jon Kasdan. Han Solo is set to fly into theaters May 25, 2018.