Ridley Scott Ready To Shoot The Next 'Alien' Film In 14 Months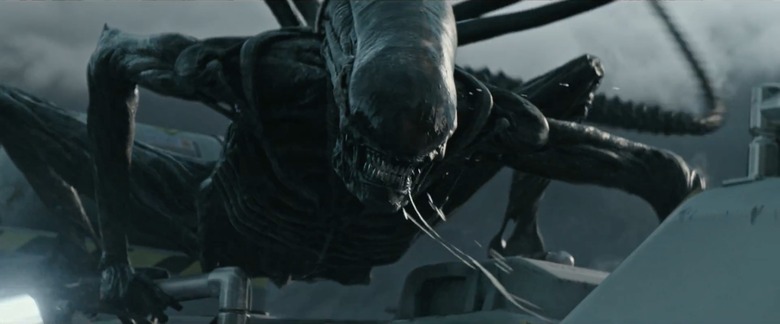 If Alien: Covenant is a success, then Ridley Scott has no plans of leaving the Alien franchise anytime soon. The filmmaker wants the next few sequels/prequels to "gradually drive into the back entrance of the [original] film." He has four more Alien movies in mind, and he'll be ready to shoot the next one within 14 months.
Below, read Scott's comments on the Alien: Covenant sequel.
Scott told IGN the script for the next Alien installment is already being written."I'll be filming that within 14 months," Scott says, if all goes well. While he planned on shooting The Cartel next January after wrapping All the Money in the World – how many movies we see from this man is truly a wonderful gift – that adaptation may have to wait for another Alien film.
When asked whether he'd continue to answer the franchise's new questions, Scott replied: "That's why I'm doing it, so you're asking these questions." He believes the potential for future installments is "wide open," so he may go where fans don't always expect, which is very much what he does with Alien: Covenant.
The next film was going to be titled Alien: Awakening, which Scott has previously said will take place between the events of Prometheus and Covenant. When the director commented on Neill Bomkamp's scrapped Alien film, he made it sound like that sequel was originally the sequel titled Awakening:
They wanted to do Alien, er, Awakening – Neill Blomkamp... I said fine. I was going to be the producer. If I could have, I would have. Except I do question – why have both [movies] out there? It seems like shooting your big toe off – it doesn't make sense. But they didn't go forward with it, Fox, so I just kind of kept out of it.
Perhaps Scott adopted the title for his next Alien film. The details are a little hazy, but we'll probably have more information about the future of this franchise soon, which gets some of its groove back with Alien: Covenant. Initially, the film can feel frustrating – answering questions not many people are asking – but it is Ridley Scott doing horror on a large scale. There are some stunning and horrific sequences and the sense of fear that come from actually caring about characters in danger.
It is a continuation of Prometheus, so how invested you were in that story may influence your reaction to Alien: Covenant. It also explores some ideas, especially about A.I., found in the original quadrilogy. Revisiting the first two films and Prometheus before Alien: Covenant might be a good idea because it does fit into the bigger picture beyond answering questions expected from a prequel. There is an imbalance, a push and pull between some elements in Alien: Covenant, but despite those problems, it has more to offer, and consider, and discuss, and marvel at than probably most major releases we'll see this summer.
Alien: Covenant opens in theaters May 19.