'Baby Driver' Featurette: Ansel Elgort Is A Young Mozart In A Go-Kart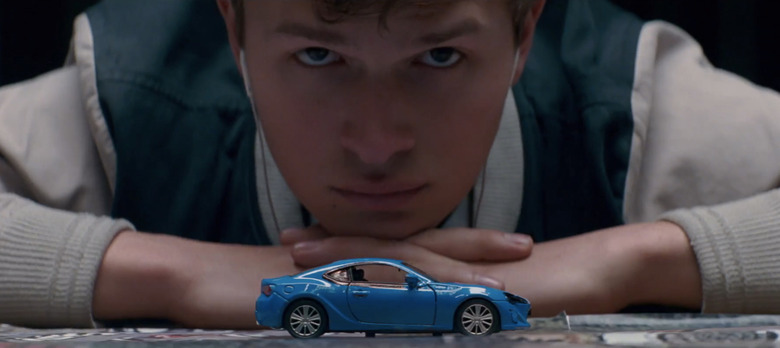 It's been four years since we've gotten a new movie from director Edgar Wright, and that's just too long. Thankfully, TriStar Pictures will whet the appetites of those who loved movies such as Shaun of the Dead and Scott Pilgrim vs the World, because Wright's latest film is getting a prime summer release after getting rave reviews at the SXSW Film Festival back in March.
Ansel Elgort (The Fault in Our Stars) takes the lead in Baby Driver as a young, orphaned kid whose hearing is left impaired from the car accident that killed his parents. The only way for him to effectively get through any situation is to have his trusty iPod playing music to give his life a soundtrack for him to move along with. It's also what makes him the best getaway drive in town. A new Baby Driver featurette tells us everything we need to know about the character, and even gives us some insight into his makeshift father figure, a crime boss played by Kevin Spacey.
While I like the insight this featurette provides as far as Baby Driver as a character is concerned, I'm still desperate to see just how music is going to keep this movie moving. Reviews out of SXSW said that the music is so in sync with what's happening on screen that it almost feels like a meticulously crafted musical despite the lack of breaking out into song. Frankly, I think if general audiences not yet interested in the movie saw that in action they might be inclined to get excited about it.
The good news is that we're still a month and a half away from the film hitting theaters so TriStar Pictures has plenty of time to promote this movie and show audiences what it's really like. We'll undoubtedly be getting at least one more trailer before then, and I'm just as excited to find out which songs are on the soundtrack as I was for the tracklist from Guardians of the Galaxy Vol. 2.
Baby Driver also stars Jon Hamm, Jamie Foxx, Elsa Gonzalez, Lily James, and Jon Bernthal. You can see more from the movie in the two previously released trailers, and find out why everyone loves it so much in our review round-up from SXSW, including a full review from our own Jacob Hall.
A talented, young getaway driver (Ansel Elgort) relies on the beat of his personal soundtrack to be the best in the game. But after being coerced into working for a crime boss (Kevin Spacey), he must face the music when a doomed heist threatens his life, love and freedom.
Baby Driver hits theaters on June 28.