'The Limehouse Golem' Trailer: Never Fear, Bill Nighy Is On The Case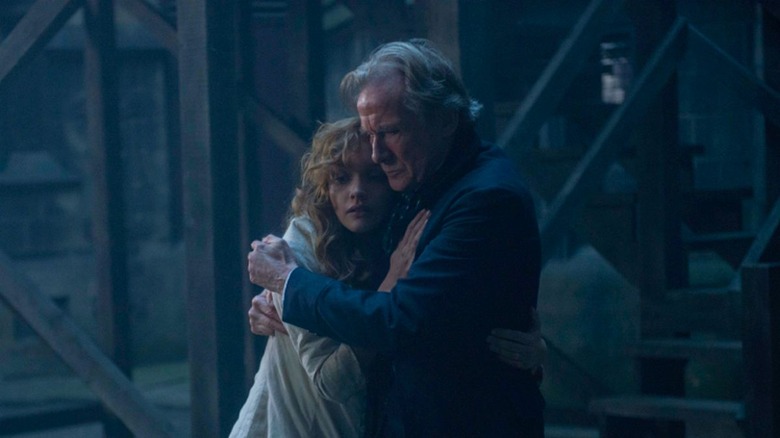 A killer is on the prowl in London circa 1880. Not all of the Limehouse District's residents believe the killer is human, but instead a Golem, a monster from Judaic Mythology made from clay and brought to life through a ritual. Whether the monster is human, that's for Inspector John Kildare (Bill Nighy) to find out in director Juan Carlos Medina's film.
Below, watch The Limehouse Golem trailer.
Based on Peter Ackroyd's novel, the horror-mystery comes from screenwriter Jane Goldman, who's written some exceptional adaptations over the years. She brought The Woman in Black to the screen, turned Neil Gaiman's Stardust into a delightful fantasy film, and wrote Kick-Ass, X-Men: First Class and both Kingsman movies with Matthew Vaughn. Projects with her name on them tend to be a whole lot of fun.
Goldman's latest adaptation premiered last year at the Toronto International Film Festival. Reviews were mixed, but most critics praised The Limehouse Golem for bringing a fresh spin to some familiar scenarios. The murder mystery co-stars Olivia Cooke (Ready Player One), Eddie Marsan (Happy-Go-Lucky), and Douglas Booth (Noah).
Here's The Limehouse Golem trailer:
There's no release date for the U.S. yet. Lionsgate is releasing The Limehouse Golem in the U.K., but it doesn't appear to have a domestic distributor. Hopefully, that changes soon because the film looks like a promising gothic Victorian-era thriller with Nighy and another excellent actor on the rise, Olivia Cooke.
Here's the synopsis for The Limehouse Golem:
Set on the unforgiving, squalid streets of Victorian London in 1880, our tale begins in the baroque, grandiose music hall where the capital's most renowned performer Dan Leno (Douglas Booth) takes to the stage. The whimsical thespian performs a monologue, informing his dedicated audience of the ghastly fate of a young woman who had once adorned this very stage, his dear friend Elizabeth Cree (Olivia Cooke); for the beguiling songstress is facing up to her forthcoming death by hanging, having been accused of murdering her husband John Cree (Sam Reid). Lizzie's death seems inevitable, until Detective Inspector John Kildare (Bill Nighy) is assigned to the case of the Limehouse Golem – a nefarious, calculating serial killer, murdering innocent, unconnected victims, leaving behind barely identifiable corpses – and his distinctive, trademark 'M'. All is not what it seems and everyone is a suspect and everyone has a secret.
The Limehouse Golem opens in the UK on September 1.