'Guardians Of The Galaxy Vol. 3' Is Bringing Back Elizabeth Debicki As Ayesha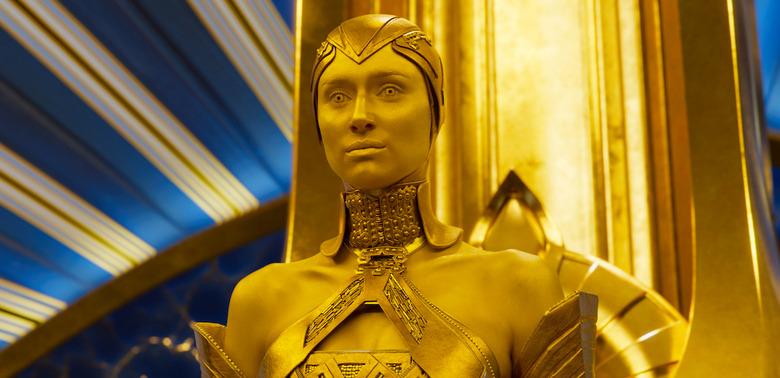 Though Guardians of the Galaxy Vol. 2 just opened, fans are already looking forward to Guardians of the Galaxy Vol. 3. Details are sparse on the sequel since we're still three years away from it hitting theaters, but we do know that it will help set up the next 10 years of movies in the Marvel Cinematic Universe. Now, thanks to writer/director James Gunn, we have word on a new character from Vol. 2 who will be back for the sequel that is said to conclude the story for this iteration of the team.
In Guardians of the Galaxy Vol. 2, Elizabeth Debicki plays Ayesha, the Golden High Priestess of the Sovereign who leads a pursuit to track down and destroy the titular crew after Rocket Raccoon steals some of their valuable anulax batteries. It turns out she'll be back in the next installment of the franchise, and thanks to one of the credits scenes, we probably know what she'll be up to. Since that delves into spoiler territory, we'll save that discussion for below...
First up, here's what James Gunn told IGN about bringing Elizabeth Debicki back for Guardians of the Galaxy Vol. 3:
"I absolutely plan on bringing Elizabeth Debicki back. She's actually one of my favorite actors I've ever worked with. I think on this movie between her, Pom Klementieff who plays Mantis, and Chris Sullivan who plays Taserface, they really were three of the best actors I've ever worked with and were all such a joy on this film to deal with that I would love to deal with them again."
The return of Elizabeth Debicki in Guardians of the Galaxy 3 shouldn't come as a surprise for anyone who stuck around for all five of the credits scenes after Vol. 2, because we get to see what happens with Ayesha after her second attempt to catch the Guardians results in dozens more of the Sovereign's ships being destroyed.
In the credits scene in question, Ayesha looks slightly disheveled, and she's summoned to the high council to answer for her actions that resulted in losing valuable resources. But she's not as worried as she otherwise would be, because she's been literally cooking up something else that she hopes will make up for her transgressions. She's taken one of the birthing pods that the Sovereign people are created in and used it to create a new lifeform that she calls Adam.
As we explained in our credits scene breakdown, this scene is a tease for the arrival of Adam Warlock, a character that James Gunn confirmed would be a big part of Guardians of the Galaxy Vol. 3 after originally being written for Vol. 2. If you want to find out more about Adam Warlock, you can check out our detailed explanation about his comic book mythology and how he might be used in Guardians of the Galaxy Vol. 3 right here.
We're not sure how big Elizabeth Debicki's role will be in the next sequel, but since she's responsible for creating Adam Warlock, she'll likely be the one giving him orders, possibly using him as a way to give the Guardians their comeuppance for humiliating her throughout Vol. 2. But since we won't see Guardians of the Galaxy Vol. 3 until 2020 at the earliest, we'll be waiting awhile to find out more.