'Beauty And The Beast' Is Now The Highest Grossing PG Film Ever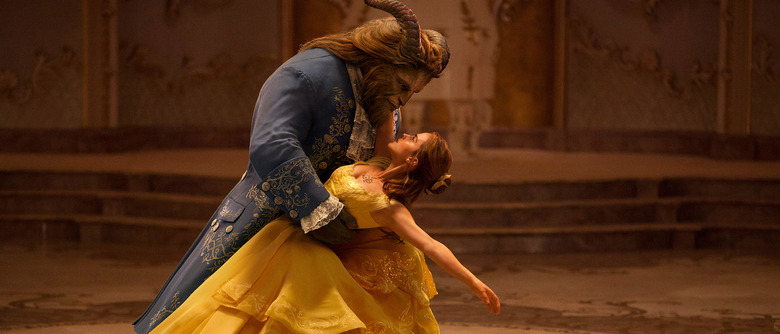 Beauty and the Beast has officially become the highest grossing PG film of all time.Bill Condon's live-action adaptation starring Emma Watson and Dan Stevens broke the record this weekend, passing Pixar's Finding Dory, which previously held the record at $486.3 million domestically and $1.029 billion worldwide.
According to box office reporting site, Box Office Mojo, Disney's live-action remake of the 1991 animated classic is now the highest grossing PG-rated film of all time.
As of May 7, 2017, Beauty and the Beast had a domestic haul of $487.7 million and earned a monstrous $1.187 billion worldwide. That's $1.4 million more domestically than the last PG-rated record-holder, Finding Dory. The rest of the top five highest-grossing PG films is rounded out by Star Wars: Episode I — The Phantom Menace ($474.5 million), Star Wars: Episode IV — A New Hope ($461 million), and Shrek 2 ($441.2 million).
The insane box office success of Beauty and the Beast is a shining beacon for Disney's ever-expanding slate of live-action adaptations of its beloved animated films. Disney kicked off its live-action remake era with Tim Burton's Alice in Wonderland in 2010; and continued with 2014's Maleficent, a revisionist take on Sleeping Beauty; 2015's Cinderella; and 2016's The Jungle Book.
With nearly 20 more Disney adaptations set down the pipeline (see our comprehensive list here), Disney will no doubt be encouraged to adapt even more of its beloved classics, and perhaps invest more into its current ongoing projects, such as Jon Favreau's new take on The Lion King.
The box office success of Beauty and the Beast may also fuel the buzz about a sequel. Stevens has expressed interest in returning for a sequel, and Watson has already offered up a premise for a second film — though her idea of Belle opening up a library in the castle doesn't sound very exciting.
Bill Condon (The Twilight Saga) directed 2017's Beauty and the Beast from a screenplay by Stephen Chbosky (The Perks of Being a Wallflower) and Evan Spiliotopoulos (The Huntsman: Winter's War).  Stevens (Legion) starred as Prince Adam/The Beast and Watson (Harry Potter) as Belle. The rest of the star-studded cast included Luke Evans, Josh Gad, Ian McKellen, Emma Thompson, Ewan McGregor, Kevin Kline, Gugu Mbatha-Raw, and Stanley Tucci.