Cool Stuff: Matthew Peak's 'Halloween' Print Is A Deadly, Shimmering Beauty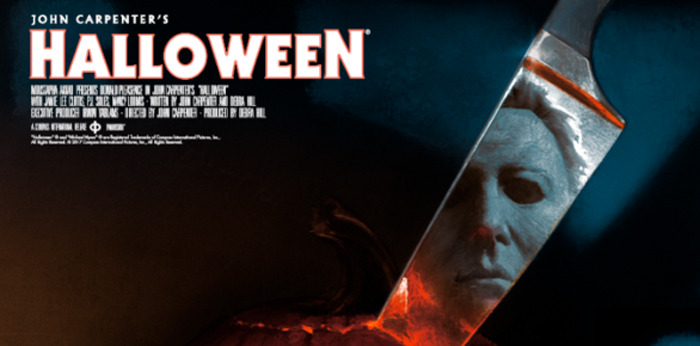 We're far from the Halloween season, but that isn't stopping Bottleneck Gallery from getting in the spirit of the spooky holiday with an astounding new print celebrating John Carpenter's original groundbreaking slasher from 1978.
Halloween is a classic, and it deserves some truly stunning artwork to honor it. So who better to design such a poster than the son of a movie poster design legend? Matthew Peak is the son of movie poster illustrator Bob Peak, who famously created the masterful illustrated posters for the entire A Nightmare on Elm Street film series. When you see the print he's created for Halloween, it's clear he's inherited his father's artistic skills.
Check out the Matthew Peak Halloween print below.
Here's a look at the officially licensed print, with the regular edition on the left and the variant on the right:
The imagery here is stunning. The illustration almost looks photorealistic in parts, especially the reflection and shimmer off the knife that's sticking out of the jack-o'-lantern. Part of the reason the knife looks so good is that it has a reflective varnish layer, which apparently looks even better in person. You'll have to be the judge of that yourself if you buy one.
What I love most about this poster is that it has a modern sensibility with a classic style. This could easily be the cover of some kind of horror novel. It's almost reminiscent of the kind of illustrations you'd see on the cover of R.L. Stine's Fear Street books. There have been a lot of Halloween posters released over the years, especially by Mondo, but this one is absolutely one of the best I've ever seen, and I'm definitely snagging one for my wall.
The regular version has a hand-numbered edition of 300 and will cost you $50 while the variant has a hand-numbered edition of 125 and will cost $60. Both of the prints measure 24x36 and they both have the reflective varnish layer on them. It's just a matter of whether you like the gray color scheme or the blue highlights.
The print goes on sale today at 12pm Eastern at the Bottleneck Gallery website. These kind of prints go fast, so make sure you're ready with your credit card information. Plus, if you don't have an account at Bottleneck Gallery already, you should set one up so you can take advantage of their new Bottlebux Rewards program. If you're the kind of person who buys multiple prints from them, it'll help you get some discounts on future purchases. You can get more details on that right here. Otherwise, get ready to go to the Bottleneck Gallery home page when these beauties go on sale today.