'Maze Runner: The Death Cure' Featurette Gives A First Look At The Delayed Sequel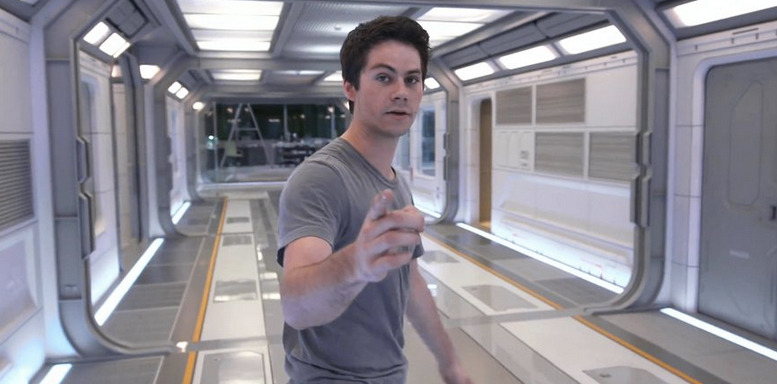 Last spring, production on Maze Runner: The Death Cure was halted and then postponed indefinitely after lead actor Dylan O'Brien suffered a concussion with a facial fracture and lacerations after a stunt went wrong. Last we heard, production was supposed to resume early this year in order to meet the February 2018 release date recently set by 20th Century Fox, but we've had no word of the film shooting again.
For those fans eagerly awaiting the next chapter in the Maze Runner franchise, it sounds like everything is all right because Fox provided a first look at the sequel during the MTV Movie Awards this past weekend. Dylan O'Brien and some of the other cast members show us around the WCKD compound where we get to see a lot of hallways and laboratories.
Check out the Maze Runner: The Death Cure featurette below.
There's not much to see since the cast just keeps showing us the various hallways at the WCKD, each indicating that they can't really tell us what happens in those hallways. But the video does reveal that this is where Minho (Ki Hong Lee) is being kept captive. It's also where we'll find Teresa (Kaya Scodelario) after she betrayed the rest of her group, giving up their location to WCKD, believing that this is the only way to find a cure to the epidemic known as the Flare.
At the end of Maze Runner: Scorch Trials, Thomas (Dylan O'Brien) was preparing to take the fight to WCKD to rescue Minho, kill Dr. Ava Paige (Patricia Clarkson), and he was bringing the rebel group The Right Arm and the rest of his fellow Gladers with him. Presumably there's a bunch of action sequence that take place in the WCKD hallways and labs, which is why they cast can't tell us much in the video, though it does show off the cool sets, as well as one particular rugged vehicle that will take them to WCKD.
For those wondering, at least some of the footage in this featurette comes from when production resumed back in March. We know that because one shot featured a clapboard with the date March 5, 2017 on it. You can see it if you look closer at this screenshot here: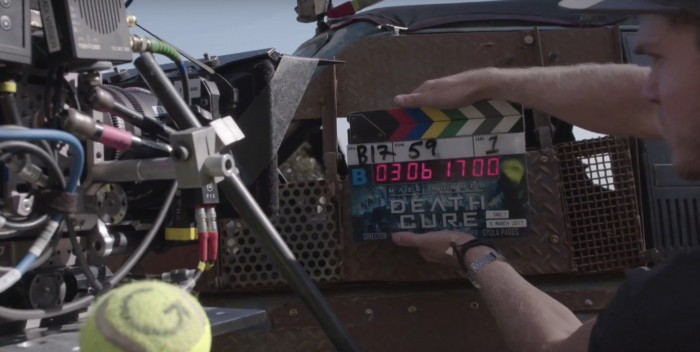 We're not sure if production is finished on the movie, but with a release date set for February 9, 2017, they'll likely need to be finished soon so they can get cracking on post-production. Of course, all the downtime they had while Dylan O'Brien recovered from his injury probably allowed for the post-production team to get at least some of their work done, so they hopefully won't have to rush to get the movie done on time.
Maze Runner: The Death Cure is directed by franchise helmer Wes Ball and also features Thomas Brodie-Sangster, Giancarlo Esposito, Aidan Gillen, Barry Pepper, and it sounds like Will Poulter will be coming back for the concluding chapter of this trilogy as well. Here's the official synopsis of the novel for those curious:It's the end of the line.
WICKED has taken everything from Thomas: his life, his memories, and now his only friends—the Gladers. But it's finally over. The trials are complete, after one final test.
Will anyone survive?
What WICKED doesn't know is that Thomas remembers far more than they think. And it's enough to prove that he can't believe a word of what they say.
The truth will be terrifying.
Thomas beat the Maze. He survived the Scorch. He'll risk anything to save his friends. But the truth might be what ends it all.
The time for lies is over.