Jeff Goldblum Teases 'Thor: Ragnarok' Improvised Scenes, Return In 'Jurassic World 2'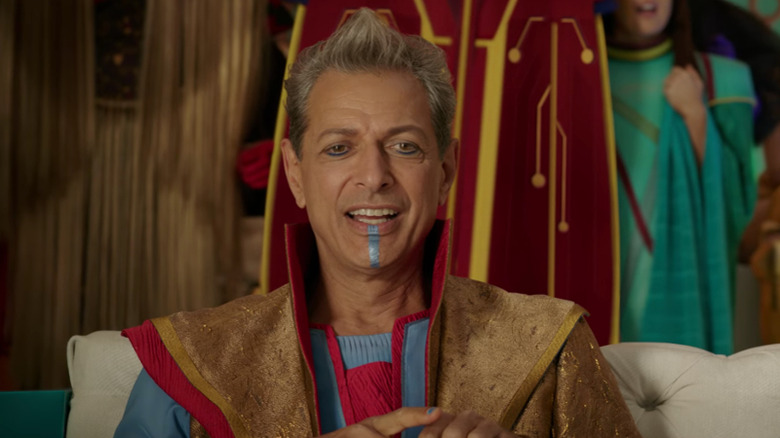 The best thing about reading a Jeff Goldblum interview is that it's so explicitly Goldblum that you can practically hear him talking and guffawing in your ear.
More so than the tidbits he teases about Thor: Ragnarok — his first venture into superhero territory — or the fact that he's returning to the dinosaur franchise that he helped make famous as Dr. Ian Malcolm, are the hilarious Goldblum-esque quirks throughout this new interview. He calls the Jurassic Park series "dino-entertainment!" He rates directors on a scale of himself! It's fortuitous that Ragnarok director Taika Waititi told Goldblum to be as Goldblum as possible in his portrayal of the Grandmaster. I hope he never changes.
If you're interested, the full interview can be found over at Entertainment Weekly. We've included some highlights below!
First, Goldblum will be playing the Grandmaster in the upcoming Thor: Ragnarok, out this November. His character rules the gladiator planet Sakaar, where Thor (Chris Hemsworth) is forced to do battle with his favorite coworker, the Hulk (Mark Ruffalo). The Grandmaster is a traditionally blue-skinned character who is one of the oldest living beings on the planet, and is obsessed with creating high-stakes games.
Goldblum has obviously foregone the blue skin in favor of some light paint (don't want to ruin that beautiful visage), and seemed to have infused the character with some levity. Waititi wanted Goldblum to play his "particular version" of the Grandmaster without being too grandiose, which included a fair bit of improvisation, according to Goldblum. He told EW:
I enjoyed it. I didn't have scenes with Cate Blanchett, but she was in The Life Aquatic, of course, so we'd been in touch, and I've seen her since. I just adore her, so it was great to be in another movie with her, even just by association. The other Hemsworth brother, that now makes two for me, and he couldn't have been sweeter or more down-to-earth, like the whole family. What I particularly loved is the director, Taika Waititi. He really got me involved in this because I'm a fan of his, from Flight of the Conchords and all his movies, not only Hunt for the Wilderpeople and Boy but especially What We Do In the Shadows. When we first talked, he said, "I want you to do your particular version of this character without being comic-y or grandiloquent. I think you should do something that's in your creative family tree. And also improvise." He was very interested in improvisation. We came to all those scenes and riffed enjoyably for the time we had. I don't know what's gonna come out in the mix because we gave him a whole bunch of different choices, I'll tell you that. He's great. Taika Waititi gets 10 Goldblums out of a possible 10 Goldblums.
High praise for Waititi. And now I'm curious whether there's a whole ranking system that Goldblum has devised for directors he's worked for.
He has only good things to say about the Jurassic World 2 director J.A. Bayona and the Jurassic franchise, which he describes as "popular, slam-bang, top entertainment." He also points out that his character is a "saucy, sassy man of some integrity and deep thinking," though doesn't go as far as to name Dr. Ian Malcolm, despite it being confirmed that he will reprise the character:
I'll try to contribute something to the plate of dino-entertainment. I like my character. I think my character is a saucy, sassy man of some integrity and deep thinking. And of course, that whole world continues to be popular, slam-bang, top entertainment. I talked to the director, J.A. Bayona, over the phone. I enjoyed his movie The Impossible with Naomi Watts, and he's something else. I didn't realize he was a good friend of a friend of mine, a director I worked with a while ago in Spain named Fernando Trueba, who's just fantastic. Knowing that the two of them are brethren and brotherly in their friendship makes me feel very good, too. Even though some might say it's popcorn-y entertainment (top-notch, of course), in our conversation he was very focused on the serious issues of greed as it oftentimes comes up in those movies, and the marvels of science and reason and the very fascinating point at which our species finds itself both in real life and in this imaginary world too. I'm very interested in that myself, so I'm looking forward to this. I've got a few things to do. I'm nothing if not conscientious, so I'm enjoying working on it every day.
Admit it, you read both of those quotes in Goldblum's voice, right?
Thor: Ragnarok hits theaters November 3, 2017. Jurassic World 2 is set for a June 22, 2018 release date.