'Rough Night' Red Band Trailer: Just Another Girls' Night With Cocaine And A Dead Male Stripper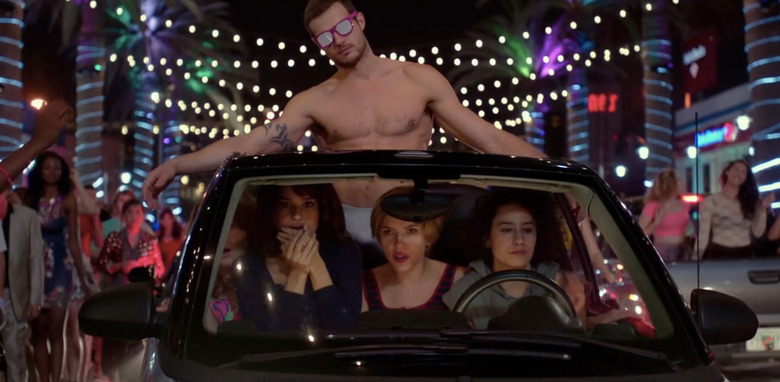 Next month, Cars 3 will likely dominate the box office when it arrives on June 16. But for those who aren't interested in the extremely troubling and perplexing world of anthropomorphic animated automobiles, there will be counter-programming arriving in theaters that same weekend on the complete opposite end of the spectrum.
Rough Night is bringing some raunchy comedy to the table this summer as we follow five college friends (Scarlett Johansson, Kate McKinnon, Jillian Bell, Ilana Glazer and Zoë Kravitz) getting back together for a bachelorette party. Of course, things get pretty crazy when these longtime friends do some cocaine and accidentally kill a male stripper. You know, just another girls night out.
Watch the new red band Rough Night trailer below.
Even though Bridesmaids offered plenty of raunchy humor, Rough Night is taking that humor and going to a bit of a darker place with it. As we've pointed out before, this appears to be a much more overtly comedic version of Very Bad Things, and there's just a hint of Weekend at Bernie's in there in one shot where the girls are taking the stripper corpse through some kind of nighttime parade. Though it could easily be just the busy night life of Miami invading the streets.
This new trailer is certainly better than the first one, and it doesn't shy away from getting vulgar. There's even a shot of Modern Family star Ty Burrell and another woman getting involved in some kind of explicit sexual act with Zoe Kravitz. I wouldn't be surprised if that other woman ended up being Demi Moore, who has some kind of role in the movie, but that's just a guess on my part.
Rough Night is directed by Broad City helmer Lucia Aniello with a script that she co-wrote with the show's executive producer/writer Paul W. Downs (who also plays Scarlett Johansson's fiancé in this movie). It should be a wild time and a welcome departure from the blockbuster spectacle the rest of the summer offers.
Five best friends from college (played by Scarlett Johansson, Kate McKinnon, Jillian Bell, Ilana Glazer, and Zoë Kravitz) reunite 10 years later for a wild bachelorette weekend in Miami. Their hard partying takes a hilariously dark turn when they accidentally kill a male stripper. Amidst the craziness of trying to cover it up, they're ultimately brought closer together when it matters most.
Rough Night hits theaters on June 16.