'Kingsman 3': Matthew Vaughn And Jane Goldman Have A "Big Idea" For Another Spy Sequel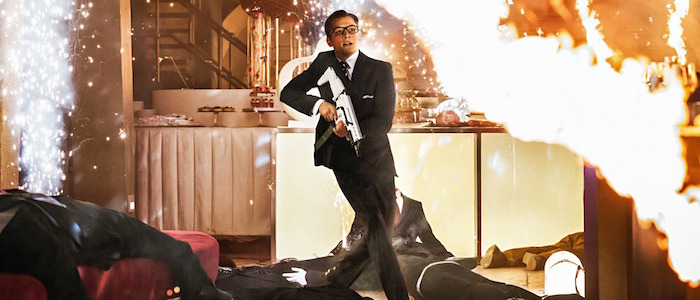 Matthew Vaughn's Kingsman: The Secret Service was a pleasant surprise in 2014. The movie managed to walk the fine line between sending up spy tropes seen in the James Bond saga while not dipping so far into Austin Powers territory that it felt like a weightless spoof. Kingsman was a thrilling, fun entry into the genre it lampooned, and Kingsman: The Golden Circle looks like an amped-up continuation of that tradition.
But the upcoming sequel might not be the end of the road for Taron Egerton's Eggsy and company. Read Vaughn's comments about a potential Kingsman 3 below.
20th Century Fox held a press event in London on Friday that included a look at the first thirty minutes of The Golden Circle, and Deadline tells us that during a brief Q&A session afterwards, Vaughn revealed that as he and co-writer Jane Goldman were penning the screenplay, they were doing so with a third movie in mind:
"Weirdly while we were writing Kingsman 2, we were thinking of Kingsman 3 as well, which is odd. We've got a big idea for that. This is sort of the bridge and if we can pull this off, we'll make another one."
After catching a glimpse of the sheer insanity contained in The Golden Circle trailer, the mind reels at what kind of stunts, gadgets, plot twists, and A-list guest stars Vaughn and Goldman might be cooking up for Eggsy to experience in a third film.
Based on my love of the first movie, I'm interested in a third go-around – especially with Vaughn and Goldman remaining involved – but I just hope that The Golden Circle doesn't suffer as a result of this decision. If the second movie feels like a bridge to another story rather than a complete experience on its own, it'll feel like we've been cheated a little bit. But it sounds like Vaughn weighed all the options before signing on, and hopefully he's learned from past experiences:
"I was very hesitant about making a sequel purely because so many sequels don't really enhance the experience. They're normally bigger but not necessarily better...Kick-Ass 2 was a big learning curve of how not to make a sequel. We didn't set out to make a terrible film."
Kingsman: The Golden Circle opens on September 22, 2017.
Kingsman: The Secret Service introduced the world to Kingsman – an independent, international intelligence agency operating at the highest level of discretion, whose ultimate goal is to keep the world safe. In Kingsman: The Golden Circle, our heroes face a new challenge. When their headquarters are destroyed and the world is held hostage, their journey leads them to the discovery of an allied spy organization in the US called Statesman, dating back to the day they were both founded. In a new adventure that tests their agents' strength and wits to the limit, these two elite secret organizations band together to defeat a ruthless common enemy, in order to save the world, something that's becoming a bit of a habit for Eggsy...