Well, That's Expected: Warwick Davis Returns For Han Solo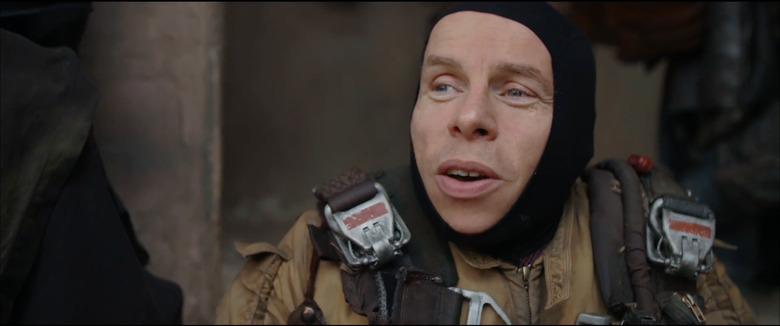 There are Star Wars actors and there are Star Wars mainstays, the performers who seem perfectly happy to be linked to the massively successful film series. Warwick Davis made his film debut in 1983's Return of the Jedi, playing Wicket the Ewok, and he's been attached at the hip to the saga ever since. In addition to playing roles in the various films, he's also become one of the franchise's figureheads, hosting events at Star Wars Celebration and generally appearing whenever an affable face is needed.
So yeah, of course he's in the Han Solo movie.
While Davis hasn't been officially confirmed for the still-untitled Han Solo spin-off movie that's filming right now for a 2018 release date, he essentially confirmed it on Twitter.
Happy #StarWarsDay! May the 4th be with you! Today, I have the privilege of actually being in that galaxy far, far away at Pinewood Studios. pic.twitter.com/OIm8qTnUKi

— Warwick Davis (@WarwickADavis) May 4, 2017
Since the Han Solo movie is currently filming at Pinewood Studios in London, we can put two and two together here. Combine this with the fact that Davis also hosted that video tour of the set last month and it certainly seems like it's safe to assume that he's actually in the movie and not just hanging around the set, writing tweets and uploading videos to YouTube.
Of course, the big question now is what kind of role Davis could be playing in the movie. He's typically played creatures over the years, but maybe this will be the Star Wars movie that actually let's him show his actual face!
After playing Wicket in Return of the Jedi (a role he reprised for The Ewok Adventure, Ewoks: The Battle For Endor and the Disney theme park attraction Star Tours), Davis returned to the series with Star Wars: Episode I – The Phantom Menace, playing the role of Wald, a Rodian slave (as well as various other background characters in the film). He played Wollivan in Star Wars: The Force Awakens, one of the alien customers in Maz Kanata's castle bar. In last year's Rogue One: A Star Wars Story, Davis took on the minor role of Weeteef Cyubee, one of Saw Gerrera's partisan soldiers. This year, he lent his voice to Star Wars Rebels, voicing Rukh in the episode "Heroes of Mandalore."
The untitled Han Solo movie is set for a May 25, 2018 release date.