'Wonder Woman' Clip: Diana Takes A Bullet For Steve Trevor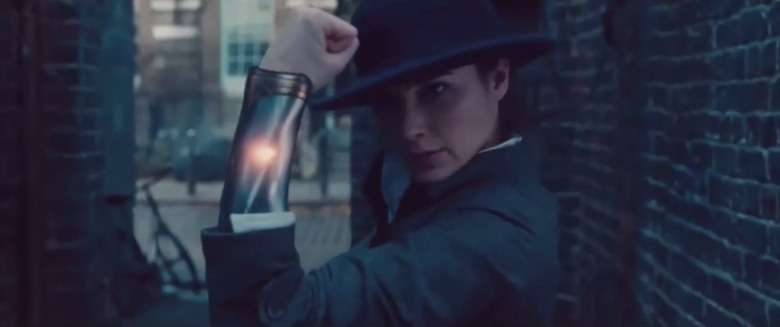 Diana just met Steve Trevor, but she's already taking bullets for him. Or rather, deflecting bullets for him. Because one of Wonder Woman's many special gifts are her iconic bullet-proof bracelets.
In a new clip from Wonder Woman (debuted by Chris Pine on The Tonight Show Starring Jimmy Fallon), we get a full, uninterrupted peek at the alley fight scene in which Gal Gadot's Wonder Woman saves Steve from a bullet and quickly incapacitates the goons attacking them.
In the clip, Diana and Steve are cornered by a group of gun-wielding men in what Steve jokes is "the bad guy convention."
One of the men, in a heavy German accent, points his gun in Steve's face, demanding, "Give us Dr. Maru's book," to which Steve responds with a head butt. But as he tries to protect Diana from the rest of the goons, she reaches in front of him to deflect a bullet aimed at his stomach. Shocked to see himself unharmed, he let's Diana have at it.
In the new footage we haven't seen yet, Diana quickly incapacitates the goons, though in the melee her glasses fly off and are crushed under one of their boots. Steve awkwardly watches as she takes down each of the men except for a last one, leaving him an opening for a punch in the face and a cool one-liner.
But her bullet-proof bracelets and Amazonian-trained fighting skills are only the tip of the iceberg of Wonder Woman, as Steve Trevor asks, awestruck, "Anything else you want to show me?"
Me, I'm banking on the invisible plane.
Here's the official synopsis for Wonder Woman, directed by Patty Jenkins:
'Wonder Woman' hits movie theaters around the world next summer when Gal Gadot returns as the title character in the epic action adventure from director Patty Jenkins. Before she was Wonder Woman, she was Diana, princess of the Amazons, trained to be an unconquerable warrior. Raised on a sheltered island paradise, when an American pilot crashes on their shores and tells of a massive conflict raging in the outside world, Diana leaves her home, convinced she can stop the threat. Fighting alongside man in a war to end all wars, Diana will discover her full powers...and her true destiny.
Wonder Woman hits theaters June 2, 2017.