'Star Wars: Episode 9' 'Started Over' After Carrie Fisher's Death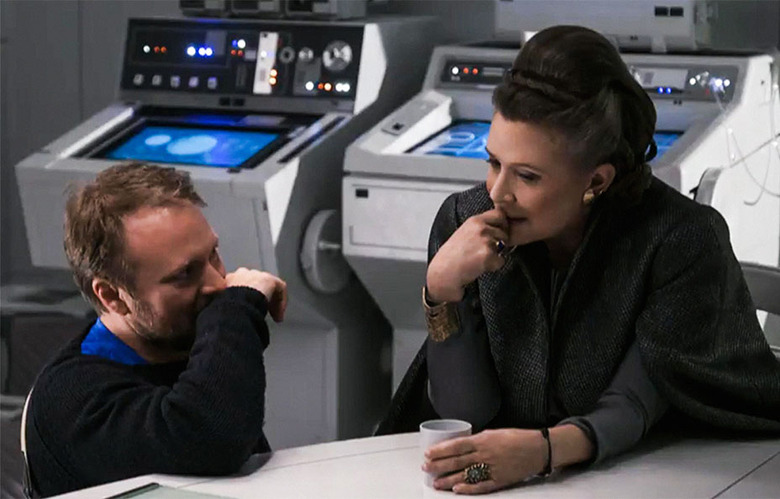 Carrie Fisher's tragic death rocked the world and a galaxy far, far away. But while the world had to come to terms with losing a beloved star, Star Wars: Episode 9 had to grapple with losing their General.
And after they mourned the loss of Fisher, the team behind Episode 9 had to rethink how they were moving forward with the sequel to The Last Jedi, Lucasfilm President Kathleen Kennedy said. In the end, the only option was to not have General Leia Organa appear at all.
Director Colin Trevorrow and co-writer Derek Connolly had originally planned to include Leia in Episode 9 until Fisher's sudden passing. After the team tried to figure out how they could continue Leia's story, they ultimately decided to leave their original ideas behind, Kennedy told Entertainment Weekly.
"Obviously, with Carrie having passed away, it shook everybody. We pretty much started over."
The Episode 9 team decided against recreating Fisher digitally, even though a digital likeness of how Fisher appeared in Star Wars: A New Hope showed up at the end of Rogue One.
Fisher's brother, Todd, had also told the New York Daily News that he and the actress' daughter, Billie Lourd, had given Disney and Lucasfilm permission to use recent footage of the actress in the film. But ultimately, Kennedy and the Episode 9 team decided to leave Leia out of the film.
"Sadly, Carrie will not be in IX," Kennedy said at April's Star Wars Celebration. "But we will see a lot of Carrie in VIII."
Disney CEO Bob Iger had said that The Last Jedi will not be altered in the wake of Fisher's death. We don't know how the Last Jedi will leave Leia's story, but Kennedy assures us that Fisher's work on the movie was complete... "and she's fantastic."
Leia will live on in Disney's Forces of Destiny animated shorts, which highlight the female heroes of Star Wars. And there's the expanded universe of comics, novels and cartoons to think of. So while we have to say goodbye to Leia on the big screen in Star Wars: The Last Jedi, the universe hasn't seen the last of her.
Star Wars: The Last Jedi hits theaters December 15, 2017. The still-untitled Star Wars: Episode IX is set for a set for a May 24, 2019 release.