'Score: A Film Music Documentary' Trailer Discusses The Power Of Cinematic Soundtracks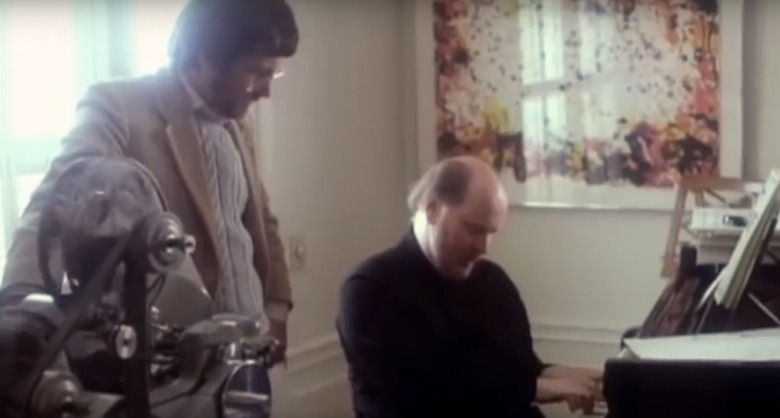 "The score is the heartbeat of the film." So says James Cameron, an Oscar-winning director who has worked with some of the greatest composers in film history, and he couldn't be more right. A big part of why we remember the most iconic scenes in cinema is because of the score that plays along with the visuals. Some movies are even known without visuals simply because they have a theme that is so unforgettable.
A new film called Score: A Film Music Documentary from director Matt Schrader dives into what makes motion pictures scores so powerful by speaking to the best composers in the business. John Williams, Danny Elfman, Hans Zimmer, Jerry Goldsmith, Howard Shore, Alexandre Desplat and more all talk about motion picture scores, how important they are to the medium, and how much they love the work of their colleagues.
Watch the Score: A Film Music Documentary trailer below.
As you can see, the documentary is a who's who of famous faces from behind the scenes of movies. Even directors like James Cameron and Steven Spielberg and critics like Leonard Maltin offer their thoughts on film scores, all driven home by the powerful music that they're all discussing.
Personally I hope that this documentary offers a little more than a surface-level look at composing music for movies. What I loved in the trailer is hearing composers talk about the music created by their colleagues, especially how excited Mitchell Leib is when he describes the Pirates of the Caribbean: The Curse of the Black Pearl score as being like Led Zeppelin played by an orchestra.
For those curious, here are the people included in the documentary:
Hans Zimmer
Danny Elfman
John Williams
James Cameron
Trent Reznor
Rachel Portman
Randy Newman
Howard Shore
Quincy Jones
Junkie XL
Alexandre Desplat
Harry Gregson-Williams
Brian Tyler
Joe Kraemer
Heitor Pereira
Steve Jablonsky
Thomas Newman
Patrick Doyle
John Powell
Bear McCreary
Moby
Garry Marshall
Trevor Rabin
Henry Jackman
Jerry Goldsmith
John Debney
Steven Spielberg
Marco Beltrami
Christophe Beck
Tyler Bates
David Arnold
Christopher Young
James Horner
Dario Marianelli
Leonard Maltin
Robert Kraft
David Newman
Mychael Danna
Elliot Goldenthal
Bernard Herrmann
Conrad Pope
Alfred Newman
Atticus Ross
Joseph Trapanese
Max Steiner
Mervyn Warren
Bill Field
Christopher Lennertz
Deborah Lurie
Siu-Lan Tan
J. Ralph
Buck Sanders
Jon Burlingame
Richard Kraft
Amos Newman
JAC Redford
Doreen Ringer Ross
Robert Townson
Shawn Lemone
Mitchell Leib
Paul Broucek
More than likely, at least one of your favorite composers will be featured in this documentary, which makes it worth seeking out when it arrives in theaters this summer. Even if it doesn't play near you, it'll probably get a VOD release too.
This feature-length documentary explores the emotive power of big-budget musical masterpieces crafted to build tension, imprint sorrow, or even trigger euphoria in worldwide audiences, delivering a privileged look into accomplished film composers' visionary techniques and unforgettable harmonies.
Taking a peek at how composers developed some of the most iconic film and television scores in history, SCORE follows the creative struggles of designing a modern soundtrack from scratch, interviewing some of cinema's most recognized names in film music as they work.
Score: A Film Music Documentary will hit select theaters on June 16.