'Twin Peaks' Teaser Trailer: A New Look At Some Old Friends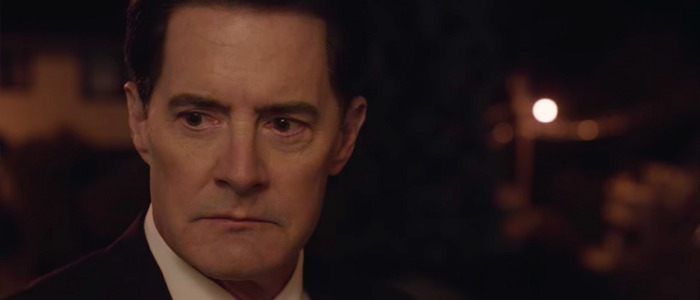 More than 25 years after it was unceremoniously cancelled by ABC, David Lynch and Mark Frost's absurd, comical, horrific, and totally mesmerizing series Twin Peaks is set to return as a limited event series on Showtime. The network has been doling out teaser trailers with a frustrating lack of new footage, but as I learned catching up with the whole original run of the series recently, frustration seems to be part of the whole Twin Peaks experience.
Thankfully, this latest teaser trailer actually shows off some actual footage of some familiar cast members, and includes a single word of new dialogue. Yep, a whole word! Check it out below.
Twin Peaks Trailer
In order, that's a new look at forlorn mechanic Big Ed Hurley (Everett McGill), trailer park owner Carl Rodd (Harry Dean Stanton), the understandably frazzled Sarah Palmer (Grace Zabriskie), the curious Deputy Andy Brennan (Harry Goaz), the A+ badass Deputy Tommy "Hawk" Hill (Michael Horse), and the best special agent the FBI has ever seen, Dale Cooper (Kyle MacLachlan).
The one audible word in here – Hawk's "really" – is said in hushed tones in an almost reverent way. But since we have no clue what the hell he's talking about because of the opaque nature of this marketing campaign, it's tough to gather any more from his statement. It's almost more entertaining to read the word as an answer to exasperated fans asking if Showtime is serious with releasing all of these teasers and not giving us any real hint at what's to come. But if you're exasperated at a lack of answers, you're probably not a hardcore Twin Peaks fan to begin with.
The show features a flat-out ridiculous cast that features a ton of returning players and new names alike, including Jim Belushi, Miguel Ferrer, Kimmy Robertson, Dana Ashbrook, Amy Shiels, James Marshall, Robert Knepper, Chrysta Bell, Naomi Watts, Michael Cera, Monica Bellucci, Tim Roth, Laura Dern, Ashley Judd, Amanda Seyfried, Jennifer Jason Leigh, Jeremy Davies, Ernie Hudson, David Koechner, Derek Mears, Matthew Lillard, Tom Sizemore, Ethan Suplee, Caleb Landry Jones, Jane Levy, Sara Paxton, Charlene Yi, Trent Reznor, Eddie Vedder, Richard Chamberlain, and Robert Forster. Yeah, I have no idea what half those people are going to be doing in here either, but I'm definitely looking forward to finding out.
New episodes of Twin Peaks will begin airing at 9pm on Showtime on May 21, 2017.
Widely considered one of the most groundbreaking and influential broadcast series of all time, TWIN PEAKS followed the inhabitants of a quaint northwestern town who were stunned after their homecoming queen Laura Palmer was shockingly murdered. The town's sheriff welcomed the help of FBI agent Dale Cooper, who came to town to investigate the case. As Cooper conducted his search for Laura's killer, the town's secrets were gradually exposed. The mystery that ensued set off an eerie chain of events that plunged the inhabitants of Twin Peaks into a darker examination of their very existence. Twenty-five years later, the story continues...