Brian De Palma Will Direct Christina Hendricks In 'Domino'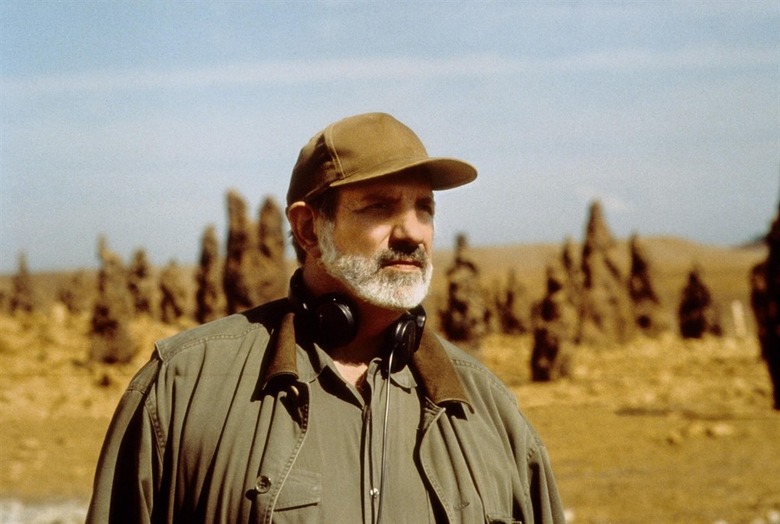 If Jake Paltrow and Noah Baumbach's candid and surprisingly intimate doc De Palma left you even more hungry for another Brian De Palma film, then you should be happy to hear the filmmaker will shoot Domino in the coming months. Nikolaj Coster-Waldau (Game of Thrones) and Christina Hendricks (Mad Men) are currently in talks to star in the crime thriller. The project, which Petter Skavland (Kon-Tiki) wrote, will hit the market at the Cannes Film Festival in search for buyers this month.
Below, learn more about the next Brian De Palma movie.
According to The Hollywood Reporter, Coster Waldau will play a Copenhagen cop searching for his partner's mysterious killer. The officer works with his late partner's mistress, played by Hendricks, and another cop to find the man responsible for the murder. The game of cat and mouse involves a CIA Agent, an ISIS cell, and visits to Scandinavia and Spain – which are two locations I want to see from De Palma's point-of-view.
De Palma will shoot Domino this summer. Producer Michel Schønnemann is hoping to make a "suspense filled thriller in the line of such classic as The French Connection":
I have been a huge fan of Brian De Palma ever since I saw Scarface in 1983. So it is with great pride that I look forward to produce Domino, a script I have developed together with screenwriter Petter Skavlan. From the start, our ambitions have been to create a suspense filled thriller in the line of such classics as French Connection; having Brian De Palma on board only heightens this ambition.
Another thriller from a master of suspense starring Coster-Waldau and Hendricks? Count us in. De Palma's previous film, Passion, had its dark and gleeful appeal, with some stunning and comical sequences. In the five years since that remake came out, the filmmaker has worked on a few projects, such as that cancelled Al Pacino-led Joe Paterno biopic, another thriller that would've reunited him with his Carlito's Way star, and a thriller set in China.
While another collaboration between him and Pacino reads like a dream, that China-set thriller, Lights Out, in particular, sounded like a story we'd want to see from De Palma: "A blind Chinese girl unknowingly caught in a plot to expose a top-secret assassination program. Although blind, she can use her other heightened senses to fight back and become a hero."
De Palma has lined up some promising projects over the years, ones we wish we saw come to fruition faster, but the good news we may not have to wait too much longer for another De Palma thriller.