More Details About 'The Thing: Infection At Outpost 31,' Mondo's First Board Game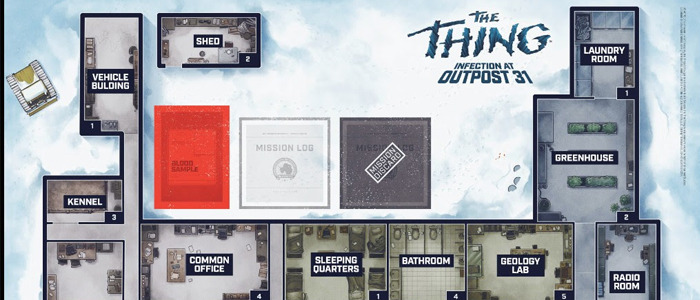 John Carpenter's 1982 horror classic The Thing is one of my favorite movies of all time, and I'd jump at any opportunity to return to the film's paranoia-fueled research station. Looks like I better start stretching and put on my jumping shoes (that's a thing, right?), because Mondo, the company largely responsible for the rise of poster art over the past decade, is breaking into the board game business, and their first game is called The Thing: Infection at Outpost 31.
We've written about the game in an edition of Cardboard Cinema, but now we have a first look at the box art, the game board, and more. Refuel your flamethrowers and read on.
Mondo has teamed up with USAopoly's games division Project Raygun to create Infection at Outpost 31, and as you might expect from a Mondo product, it looks gorgeous. The game's art comes from Justin Erickson of Phantom City Creative, but again, as you might expect from Mondo, there won't be just one version of the game: in addition to the regular edition, they're also putting out a Mondo exclusive edition limited to 1,982 copies that features artwork by a different artist, Jock. The Mondo edition comes with "a Mondo print, enamel pin and two additional sculpted movers: the Norwegian character and the Palmer Thing."
Take a look at some artwork and the board design:
That looks great and everything, but I wish we had some information about how to actually play the game. We know it's a "hidden identity" game (similar to things like Werewolf), but beyond that, we still don't know anything about the actual logistics of playing the game. I'm not a huge board game player, so it's important for me to understand the mechanics and make sure they mesh with my preferences (and those of my family and friends) before I pull the trigger on buying a new game. I might make an exception for this one just because of the subject matter, but still...it'd be nice to know a little more at this stage.
The Thing: Infection at Outpost 31 will be on sale sometime in October 2017. Here's the synopsis:
It is the start of the bleak, desolate Antarctic winter when a group of NSF researchers manning the claustrophobic, isolated U.S. Outpost 31 comes into contact with a hostile extraterrestrial lifeform. Bent on assimilating Earth's native species, this being infiltrates the facility—creating a perfect imitation of one of the Outpost 31 crew. The staff frantically begin a sweep of the base, desperate to purge this alien infection before escaping to warn McMurdo Station that somewhere, out there in the frigid darkness, something horrible is waiting.
In THE THING™ INFECTION AT OUTPOST 31, relive John Carpenter's sci-fi cult classic as a hidden identity game designed to push you to the edge. Play as one of a dozen characters like helicopter pilot MacReady, mechanic Childs, or station manager Garry. Face sabotage and infection as you investigate the facility—gather gear, battle The Thing, expose any imitations among you, and escape Outpost 31!
Tension mounts and paranoia ensues as you question who you can trust in the ultimate race to save humanity.