Jordan Peele Is Writing And Directing Another Social Thriller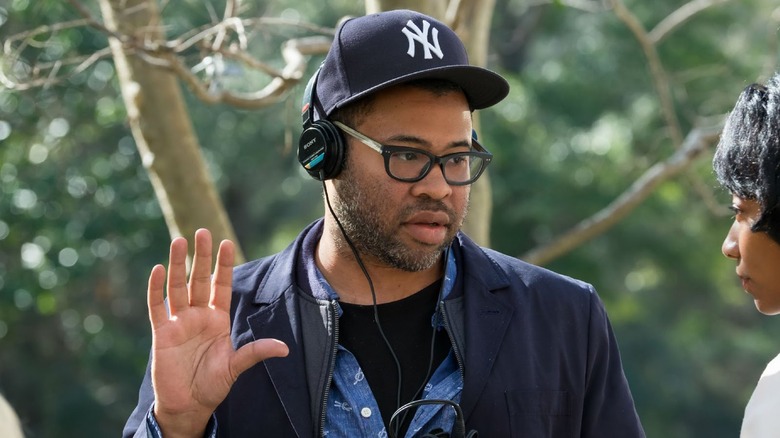 Jordan Peele's directorial debut, Get Out, couldn't have received a better reception. The film was beloved by audiences and critics, and it has made almost $200 million worldwide on a budget of $4.5 million. After making an original, socially relevant thriller, the Key & Peele co-creator started to get some big offers, like the long-in-development Akira remake.
Rather than play in someone else's big sandbox, Peele will write and direct another original social thriller for Universal Pictures. Below, learn more about the next Jordan Peele project.
According to The Hollywood Reporter, Peele and his production company, Monkeypaw Productions, have signed a first-look deal with Universal. Peele will produce a variety of features for the studio, including a few micro-budget movies with the founder of Blumhouse Productions, Jason Blum, who produced Get Out.
Warner Bros. and other studios were interested in Peele tackling a few big properties. In addition to Akira, he was apparently under consideration for The Flash, which has already lost two directors, and the Uptown Saturday Night remake. He passed on the major opportunities, instead choosing a greater opportunity: to keep making original and relevant films.
Plus, Universal did a great job with Get Out's release. Understandably, Peele wants to continue working with the studio after such a positive first experience. In a statement, the filmmaker said he's looking forward to "pushing the boundaries of storytelling" with future projects:
I'm incredibly honored to be partnering with [Universal Chief] Donna [Langley], Peter and all of the brilliant folks at Universal. I am thrilled to continue the work we started together on Get Out—pushing the boundaries of storytelling, not only on the next film but with all of Monkeypaw's future projects.
In her statement, Langley said she's excited to make Universal Peele's home:
Through extraordinary imagination and fearless humor, Jordan has proven himself to be a game-changer who is driven to tell stories that are as commercially entertaining as they are disruptive and provocative. The entire Universal family takes great pride in his incomparable filmmaking debut, and feel fortunate that this studio will be Jordan's home for many years to come.
Peele signed a two-year deal. A part of the deal is the previously mentioned thriller, which is about "five times bigger" than Get Out, so somewhere in the price range of $22.5 million. This is great news all around, for Peele, Blumhouse, Universal, and those of us who want to see Peele continue to write, produce and direct his own content and projects that allow him the level of creative freedom that led to Get Out.