'Never-Ending Man' Trailer: Hayao Miyazaki Just Can't Retire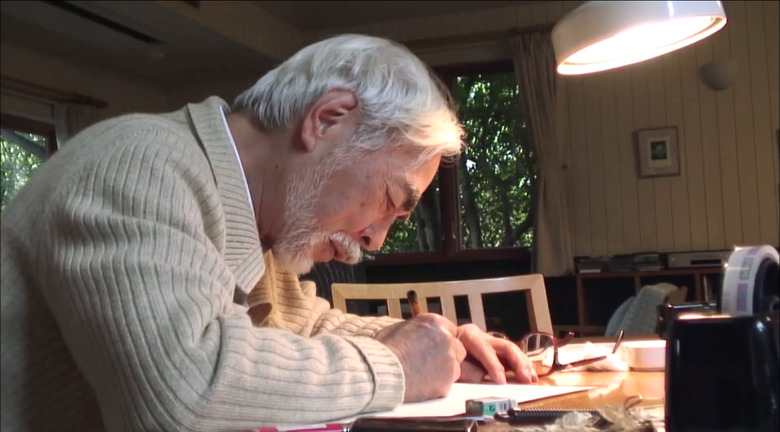 Hayao Miyazaki is one of the best living filmmakers in the world, in and outside of animation. So it was a loss for us all when he announced he would retire in 2013 — and a perplexing but exciting gain for us when he nixed that retirement and stated that he was coming back to direct a feature-length CGI animated film.
And because we got a lovely, melancholy documentary following the end of the last phase of his career — if you haven't seen 2013's The Kingdom of Dreams and Madness by Mami Sunada, do so now — we're getting yet another documentary on Miyazaki titled Never-Ending Man: Hayao Miyazaki, which follows his newfound passion for CGI animation and the making of the film bringing him out of retirement, Boro the Caterpillar.
"I'm a weak, used-up old man."
Miyazaki doesn't seem to deal with retirement well. Now 76 years old, the filmmaker dejectedly ponders his lifelong dedication to working in animation — for which he famously was a perfectionist who often would let no one but himself animate entire films. But as NHK WORLD TV follows him through his post-retirement life, he suddenly finds a new passion for animation in a medium he had once sworn off: CGI animation.
"When I started filming and following Miyazaki for this documentary, he kept saying that 'I am just a retired old man'," director Kaku Arakawa tells LWLies, "but when he started working together with young CGI artists, I could see his fire started blazing again."
Never-Ending Man: Hayao Miyazaki begins with Miyazaki's retirement and follows him through the process of working with young CGI artists to create the short film Boro the Caterpillar. However, that short film soon morphs into a feature-length movie, with Miyazaki's resolve and dedication to his craft rising from the ashes once again. Shot with a single handheld camera and no crew, Arakawa's film promises an insightful look into Miyazaki's life, as well as his trepidation at the changing face of animation and his own aging body.
Here's the official synopsis below:
In 2013, Oscar-winning film director and animator, Hayao Miyazaki, suddenly announced his retirement at the age of 72. But after an encounter with young CGI artists, the director of Spirited Away decided to embark on a new artistic endeavour. This candid documentary follows Miyazaki as he crafts his first CGI film in an intimate behind-the-scenes portrait filmed over two years. Never-Ending Man is directed by filmmaker Kaku Arakawa.
Miyazaki was one of the most influential filmmakers on my own movie-watching experience, and I was over the moon when he announced his "un-retirement." The period after The Wind Rises was not even the first time he's come out of so-called "retirement" — he initially meant to do so after 1997's Princess Mononoke, and again after 2001's Spirited Away.
While his devotion to his craft is one of the most impressive things to witness, it does raise concerns about his health, with some reporting that his painstaking animation process may prevent him from finishing Boro before he passes away. I sincerely hope those doubts are just hearsay, as there's nothing more exciting than the marriage of Miyazaki with a form of animation he previously denounced. While he is the master of hand-drawn animation, who knows what he can do with CGI? And judging by this documentary, perhaps Miyazaki doesn't even know the limits.