'Kill Switch' Trailer: Dan Stevens Gets A Serious Downgrade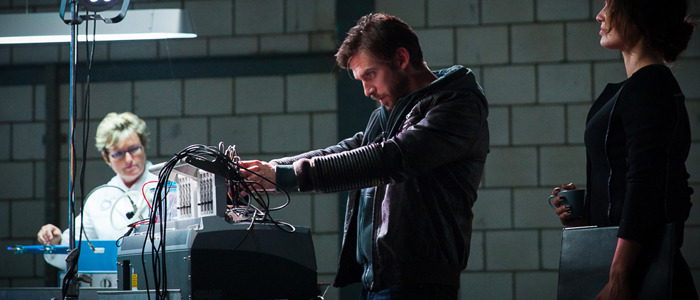 Cinephiles and Downton Abbey fans already knew Dan Stevens' name before this year, but the 34-year-old actor has become downright inescapable in recent months, with roles in Beauty and the Beast, the FX series Legion, and Nacho Vigalondo's indie film Colossal.
But it looks like his hot streak might hit a bit of a speed bump with Kill Switch, a futuristic new sci-fi thriller that's based on a short film that went viral a few years ago. Check out the Kill Switch trailer below.
Kill Switch Trailer
We featured a mysterious short film called What's in the Box? on the site back in 2009, and internet sleuths were trying to figure out if it was somehow connected to Lost (thanks to Michael Giacchino's score) or maybe even an ad for a Half-Life movie. It turned out that it was none of the above: just a fun little video from a Dutch filmmaker named Tim Smit. At the time, he teased that he was meeting with studios to turn it into a feature, and now, eight years later, it's finally happened. Here's the original short:
The idea of a film being shot largely from the first person perspective is hardly new – check out the 1947 Humphrey Bogart movie Dark Passage for an early example – but to give Smit some credit, it must have felt a lot more fresh back in the post-Cloverfield world of 2009 when this was initially conceived, before videos like this became mainstays on YouTube and movies like Hardcore Henry actually earned a full theatrical wide release. Frankly, I think Kill Switch looks kinda terrible (I thought we were done with giant blue beams shooting into the sky), but maybe you disagree. In any case, hopefully Stevens will be able to escape this one relatively unscathed.
Omid Nooshin and C. Kindinger wrote the screenplay, and former Bond girl Bérénice Marlohe co-stars. Kill Switch will be available on Ultra VOD on May 19, and in select theaters and On Demand starting on June 16, 2017.
Acclaimed writer-director Tim Smit explodes on to the scene with his futuristic, VFX-heavy feature debut! KILL SWITCH charts the story of a pilot battling to save his family and the planet, based on Smit's short What's In The Box?
Set in a future version of the world, the video game style plot follows an experiment for unlimited energy, harnessing parallel universes, which goes wrong. Chased by drones and soldiers, pilot and physicist Will Porter must race through an imploding world to get the Redivider box to a tower, which will save humanity, including his family, in the real world.