'A Bad Moms Christmas' Hits Theaters This November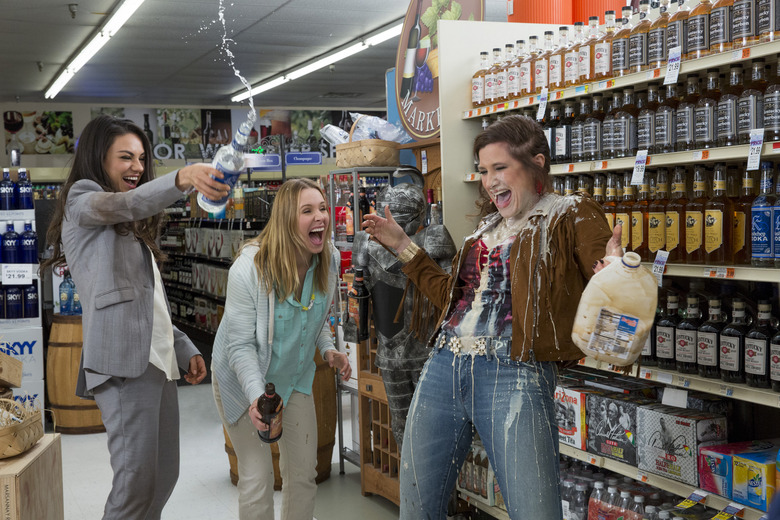 Bad Moms is a very fun and very funny movie that was also a big box office success. It's a studio comedy with a good heart, a charismatic cast, and, sure, an overwhelming soundtrack and an unnecessary ending in which the characters board a private jet. It's not exactly the film's most relatable moment, or a happier ending than the scene with Amy (Mila Kunis) in the car with her kids, but it detracts little from Jon Lucas and Scott Moore's highly enjoyable movie.
The good times will continue with A Bad Moms Christmas, which has secured a 2017 release date and will co-star Susan Sarandon. Below, learn more about the Bad Moms sequel.
Filming is already underway in Atlanta on the sequel, which will co-star Sarandon as Carla's (Kathryn Hahn) mom, Christine Baranski (The Good Wife) as Amy's mom, and Cheryl Hines (Curb Your Enthusiasm) as Kiki's (Kristen Bell) mom. There's no word if Christina Applegate is back, but Jay Hernandez, David Walton (such a hilarious moron in the first movie), and Wanda Sykes are returning, with the great Petter Gallagher joining them.
The holiday-themed comedy opens in theaters on November 3, 2017 and focuses on the "Super Bowl for moms," according to the press release:
A Bad Moms Christmas follows our three under-appreciated and over-burdened women as they rebel against the challenges and expectations of the Super Bowl for moms: Christmas. And if creating a more perfect holidays for their families wasn't hard enough, they have to do all of that while hosting and entertaining their own mothers. By the end of the journey, our moms will redefine how to make the holidays special for all and discover a closer relationship with their mothers.
Chairman of STXfilms, Adam Fogelson, called the sequel a continuation of an "important franchise" for the studio. Last year, STX set a 2017 summer release date for Bad Dads to quickly cash in on the success of the first movie, which made $183 million worldwide, but the plans for that spinoff are on hold. It was an odd move, attempting to bank off the name of the first movie without its winning cast. Wisely, STX decided to make A Bad Moms Christmas first.
Comedy sequels more often than not disappoint, but setting the story around the holidays is already one way to create some distance from the first Bad Moms. We could always use another good, funny Christmas comedy, which Lucas, Moore, and this cast are capable of making. While it's typically hard to muster up much excitement for comedy sequels, I'm holding out hope for A Bad Moms Christmas. The first movie is a fun crowd-pleaser – the crowd I saw it with a month its release ate it up – but it can be topped.
I'm also hoping J.J. Watt and Wendell Pierce can return in some capacity. Their roles are brief in Bad Moms, but they make every second count. Watt )who plays a soccer coach who just wants to do his job and feed his cats without any trouble) smiling as he walks away from Gwendolyn, pretending he can't hear her, is one of Bad Moms' funniest scenes. The image of him trying to escape quietly is one of those small jokes that gets a big reaction.
.