Robin Williams' Last Movie Is Finally Coming To US Theaters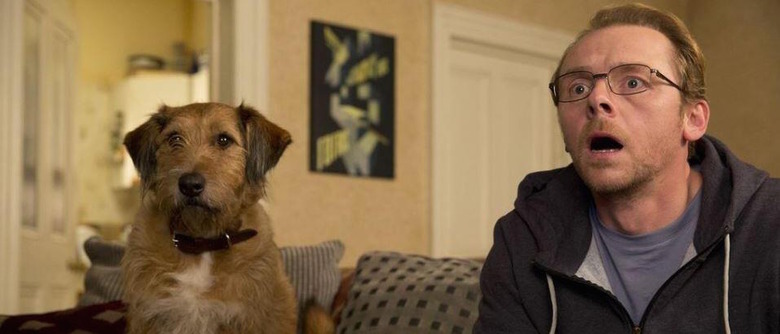 When legendary comedian and actor Robin Williams died in 2014, he left behind a wonderful legacy of entertainment for fans to remember him by. In addition to classic films like Dead Poets' Society, Mrs. Doubtfire, Aladdin, Hook (don't @ me), and Good Will Hunting, the fast-talking funnyman also had a handful of movies that were still unreleased at the time of his death.
Most of those films have since made it to theaters except for one: a 2015 Simon Pegg comedy called Absolutely Anything in which Williams provides the voice of a dog, which was never available in the United States. Thanks to Atlas Distribution Co., Absolutely Anything is finally coming to U.S. theaters later this month.
Absolutely Anything Trailer
Williams died just three weeks after finishing his voiceover work for this movie, which was co-written and directed by Monty Python alum Terry Jones. In addition to having the distinction of containing Williams' last performance, Absolutely Anything is the subject of yet another piece of sad cinematic trivia: according to Deadline, it'll likely be the final movie that unites all of the living Monty Python members. Jones, Michael Palin, Eric Idle, and John Cleese all provided voices of aliens in the movie, but Jones has just come forward and announced he has dementia, so it doesn't seem probable that he'll return to filmmaking again.
I imagine there might be two schools of thought about Absolutely Anything from Robin Williams fans. One group may say they've already grieved for the actor, and hearing him pop up again in another movie might be too painful and just reopen old wounds. But I'm guessing there are more who would take any opportunity they can to revel in another Williams performance – even one as seemingly cheesy as this one. That go-for-broke, joyous, zany quality we remember so well seems to be in full force in this trailer, so even if the film earned some pretty nasty reviews on release in the UK (it currently stands at a disappointing 15% on Rotten Tomatoes), it might be worth it for diehard fans to revisit one of their favorite actors one last time.
Absolutely Anything was released in the UK back in August of 2015, but it will be available in US theaters on May 12, 2017.
Absolutely Anything follows a disillusioned school teacher (Pegg) who suddenly finds he has the ability to do anything he wishes, a challenge bestowed upon him by a group of power-crazed aliens (voiced by Cleese, Gilliam, Jones, Palin & Idle), watching him from space.
As he struggles to deal with these new found powers and the events that subsequently arise, he calls upon his loyal canine companion Dennis (voiced by Robin Williams) to help him along the way.
Mishap after mishap finally leads him to the ultimate conundrum that all men dread and at which many have failed...should he choose the girl...or the dog?