/Answers: Great Comic Books That Need To Be TV Shows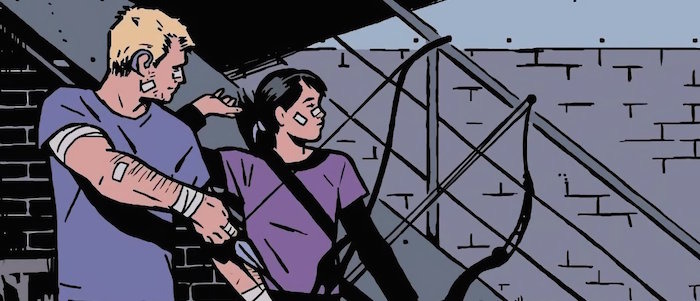 Every week in /Answers, we attempt to answer a new pop culture-related question. This week's edition asks "What comic book or graphic novel needs to be adapted into a TV series?" As always, we have submissions from the /Film writing crew and podcast team.
If you'd like to share a comic that you think would make a great television show, please send your thoughts to slashfilmpitches@gmail.com for a chance to be featured on the site. Find our choices below!
Jack Giroux: Black Hole
Almost a decade ago, Bratt Pitt's Plan B was producing an adaptation of Charles Burns' Black Hole for director David Fincher and writers Neil Gaiman and Roger Avary. That right there was a movie I wouldn't have missed on opening night. Burns' pitch dark, horrific, and sometimes emotional graphic novel needs an uncompromising filmmaker, like Fincher, to make a truly faithful adaptation. Fincher wanted his film to "challenge your idea of the human body," which the comic does in some unforgettable ways. It's a great teen drama and a piece of body horror that could work great as a two-hour movie or as a television miniseries. I wish Fincher or Alex Aja (Horns) could've made Black Hole because both of their sensibilities felt right for this story. Hopefully, one day soon a filmmaker will come along and do Burns' story justice. Whoever gets around to making Black Hole needs to find a way to evoke Burns' incredible artwork.
Karen Han: Ex Machina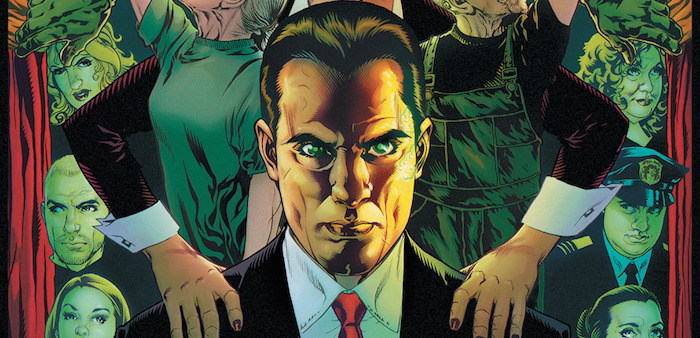 Far be it from me to suggest that we mess with perfection, but Brian K. Vaughan and Tony Harris' Ex Machina would make for incredible TV. The comic follows the rise of Mitchell Hundred after an accident gives him the ability to communicate with mechanical devices, making him the world's first and only superhero, known as "The Great Machine." The series is an alternate history for more than the obvious reasons; Hundred uses his powers to prevent the second tower from falling on 9/11, and is elected Mayor of New York soon afterward. It's a plot point that could easily seem gauche or exploitative, but there's nothing about Ex Machina that can be considered so careless. This isn't superheroes for superheroes' sake; it's using the fantastic as a lens through which to view the real. In this case, it's a way of inspecting peoples' relationships with their government and their proximity to power, both themes which have become all too relevant in the last year. And last but not least, Tony Harris' art is an absolute dream, and it's hard to imagine anything else that would translate so beautifully on screen.
Hoai-Tran Bui: Hawkeye (Matt Fraction and David Aja)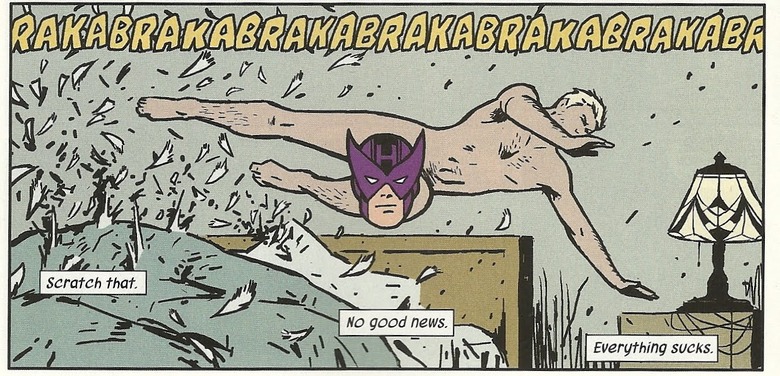 If you've only seen Hawkeye in the MCU movies, het gets the title of being one of the famed Avengers, but is widely accepted as the sort of useless member because, you know, he's arrow guy. Without any superpowers, without a real role in the team and without a solo movie, Hawkeye seems pretty replaceable. But Matt Fraction's brilliant Hawkeye series (2012-2015) explored the archer's struggle with irrelevance and insecurity, and proved just how important Clint Barton is. And it would make for great TV.
Following Clint's adventures during his "off-hours" from being an Avenger, Hawkeye is a funny, mundane and whimsical series about an everyman hero who just can't stop saving people — or dogs. Equal turns quippy action-comedy and touching character study, Hawkeye explores the complex human being that is Clint Barton — who really is just a big mess of a human being who cares too much. He's given a fantastic foil in the "other Hawkeye," Kate Bishop, a young, bratty protégée who proves to be a much more competent hero than Clint. Where Clint is hot-headed and self-destructive, Kate is cool and collected, even getting her own arc striking out as a solo Hawkeye in L.A. for a few issues in the series.
The two Hawkeyes' comfortable repartee, misadventures battling with Russian mobsters who say "Bro" after every sentence, and their dealing with Clint's troubled past would make for some of the most compelling superhero TV today. Fraction's smart and snarky storytelling — elevated by David Aja's eye-catching minimalist visual style — is made for a Netflix miniseries, and would be offer a refreshing breather from the heavy, violent Defenders series.
Plus, we all know that Lucky, AKA Pizza Dog, would be the best character on TV.
Jacob Hall: Lazarus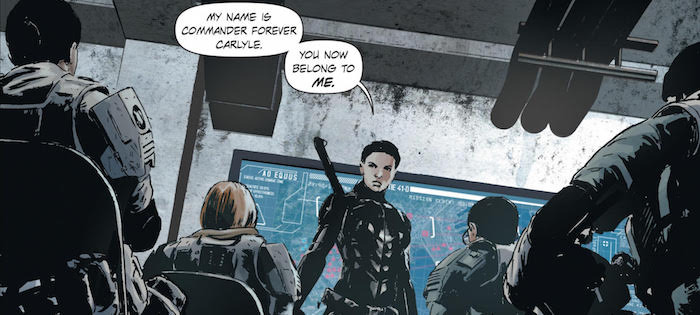 It's tempting to go with a beloved comic series that has been patiently awaiting a proper adaptation for some time now (Y: The Last Man or Transmetropolitan, anyone?), but when I look at the modern television landscape and what people are responding to at the moment, there is one comic book series that feels like it demands a television adaptation: Lazarus.
Created by writer Greg Rucka and artist Michael Lark, the series takes place in a dystopian future where the governments of the world have collapsed and the world is run by a small group of wealthy families, who treat the ruined world as a new feudal society. If you aren't a "serf" working directly for a family in some capacity, you're simply "waste." Although the series explores every nook and cranny of this terrifying world, the bulk of the action takes place within the Carlyle family, who rule what used to be the western half of the United States. Specifically, we follow Forever Carlyle, the family's "Lazarus," a genetically modified bodyguard who is specially trained to serve the family's more violent interests.
In addition to being an incredible (and incredibly complex) story filled with intriguing characters, thoughtful plotting, and action that leaves your stomach hanging around your throat, Lazarus can't help but feel like an amalgamation of concepts that are just plain hot right now. With all of the political intrigue and distinctive, warring families, it often feels like a science fiction Game of Thrones. With its harrowing view of a future where the wealthy few have replaced governments entirely, it recalls politically charged genre tales like The Hunger Games and The Handmaid's Tale. And at the center of it all is a badass female hero whose femininity is allowed to shine through at all times, even when she's slicing and shooting her way through her family's enemies. It's a perfect storm of genre ideas, presented in a package that is compelling and entertaining and alarming enough to make you ponder what the next century has in store for the world.
Peter Sciretta: Letter 44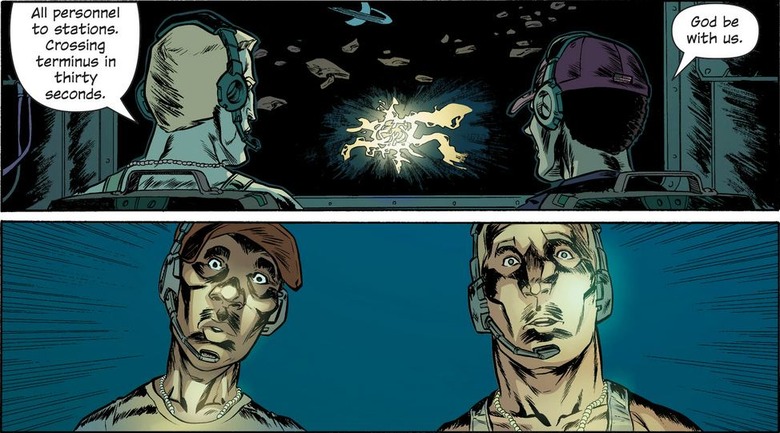 This is probably the hardest /Answers question to date, as I have so many possible answers to contribute. However, the comic I'd like to spotlight today is Oni-Press' Letter 44 from writer Charles Soule and illustrator Alberto Jiménez Alburquerque. The pitch may as well be 24 or House of Cards meets Alien, with a bit of the Lost-style mystery and suspense. The plot goes like this: a newly elected president is informed that his predecessor has been running a secret space mission. Seven years earlier, NASA discovered an alien construction project in the asteroid belt. A crew of heroic astronauts was sent to investigate, and the new president is taking office just days before they arrive at their destination. What they will find could and will change...everything.
The story is split between the craziness of the science-fiction space mission and the political drama on Earth. It's exciting, suspenseful, intriguing, and enthralling. It plays with big ideas without sacrificing fun. I haven't read the latest run of this series (and I've heard it has gone downhill a bit), but I'm sure a television adaptation could chart it's own course from this compelling set-up.
A couple years ago, Syfy Channel was developing a pilot based on this series, but I've always felt this story had bigger ambitions than a Syfy show. But the science fiction portion of this story is probably too inaccessible for mainstream audiences on a network station. I could see a cable network like AMC or FX making a go of this, or maybe even a premium network like Starz or a streaming service like Amazon or Netflix.
Christopher Stipp: Optic Nerve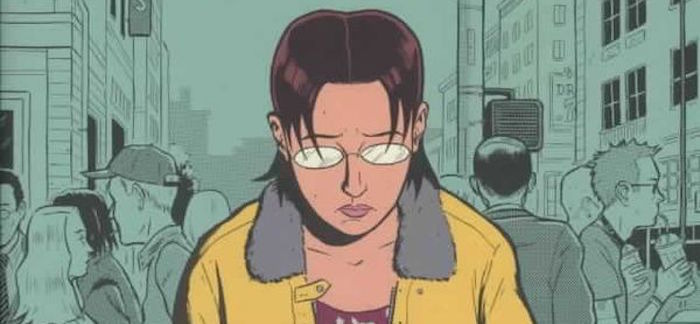 There is something wildly satisfying about the work that cartoonist Adrian Tomine has put out in what has to be one of the genre's slowest comic series: Optic Nerve. Whereas some comic titles try and break land speed records for how many issues can come out in a year (and forget about it if there's a crossover event that pushes even more content out there), Tomine has been perfectly okay with putting out issues of these small, intimate, hand drawn, black and white, short stories. Sometimes, it takes another year or two before another issue comes out.
What made the interminable wait so worth it is how Tomine would craft characters that felt fully realized, yet would only exist for a handful of pages. The introspection and explorations of average people living quiet lives of frustration, or longing, or simply dealing with a world that does not feel cartoonish at all...there was and is gravitas in the actions of our protagonists. This is what lends itself, easily, to what could be a miniseries or even something akin to Short Cuts or Sideways, imperfect characters living disparate existences, with a through line connecting all of them.
Imagine a series like a collection of stories that play like shorter versions of In the Bedroom. You could see where this series would shine as something of an oddity. There are no flying robots, humanoids possessing extraordinary powers, or some other sci-fi tie-in. The work that Tomine has put out in the 14 issues that have come out since 1995 is the kind of comic storytelling I have grown to cherish. There are truths that resonate deeply and, in the right hands, you could see how this would be an interesting diversion to some of the more fantastical fare out there now.

Ethan Anderton: Rising Stars
Rising Stars by J. Michael Straczynski has kicked around development in Hollywood for years as a potential feature film with the rights jumping between a few different studios, but never moving forth as a full fledged project. During this "peak TV" time, I think Rising Stars would make for the perfect series that, along with a show like Legion, will subvert what audiences expect from comic book properties.
The premise of Rising Stars initially sounds somewhat similar to other superhero stories, especially that of X-Men. Instead of mutation being an inherited trait among the human race, 113 people are born with special abilities following the appearance of a mysterious light in the sky above the Midwest town of Pederson, Illinois. Much like X-Men, we get to see how the public responds to people with superpowers appearing in society, but only through flashbacks, as the primary story is set in the present day where these people, dubbed "Specials" are all grown up.
The roster of characters is one of the most interesting parts of Rising Stars (not all 113 are prominent characters, obviously) as each of the children affected by this phenomenon deal with the super powers in different ways. Some have become signature superheroes, others have become villains. Some use their powers simply to be famous while others just want to live a normal life where they're not held to a different standard or looked at a certain way just because they're different.
What makes Rising Stars stand out from X-Men is the story arc that sees a stream of Specials being murdered. As these murders continue to happen, with an unknown culprit at large, the Specials realize that each time one of the others dies, the deceased Special's energy is transferred to the remaining specials. What follows is an eventual reveal of who is behind the murders, an escalating battle between the Specials and much more. There's even the potential for multiple limited seasons as large spans of time pass between the larger story arcs. Now is the time to turn Rising Stars into a TV show, and I hope someone makes it happen eventually...but with Legion being a hit and a new X-Men series on the way, it seems less likely all the time.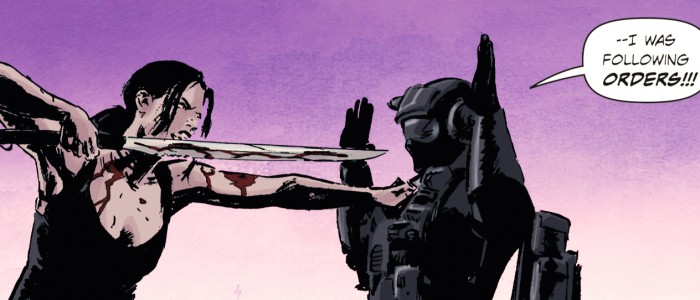 What do you think of our picks? Which comic do you think should be adapted for television? Talk about it in the comments below or email your personal answer (a paragraph or more) to slashfilmpitches@gmail.com with the subject title "Comic Book TV Show." Our favorite responses will be featured on the site in a future post!