'Wonder Woman' TV Spot: 'You Will Soon Find Out' Who Wonder Woman Is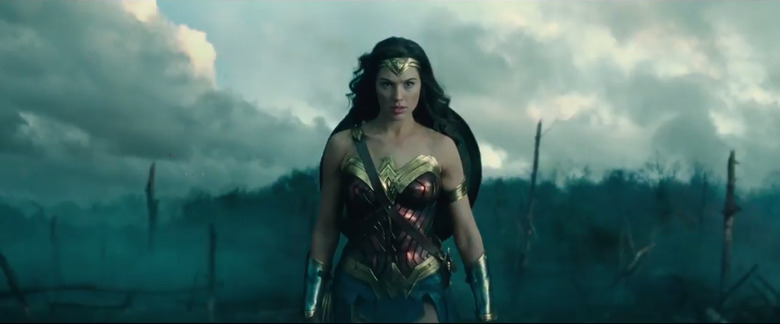 "Who is this woman?" "You will soon find out." That dialogue exchange has been echoing throughout the spate of TV spots promoting Wonder Woman, the newest film in Warner Bros.' DC Extended Universe and the first solo female superhero movie of the modern age.
And we will, with Wonder Woman hitting theaters in a month. But first, the newest TV spot shows us more of Diana of Themyscira than we've ever seen before.
The @WonderWomanFilm looks amazing! 💥 Here's an exclusive first look that aired during #Gotham. pic.twitter.com/KJGn9zpgxm

— Gotham (@Gotham) May 2, 2017
The one-minute TV spot is closer in length to a trailer, though it keeps the snappy pacing of a TV ad. It follows the fun back-and-forth that we've seen before between American World War I pilot Steve Trevor (Chris Pine) and Wonder Woman (Gal Gadot), as he wraps his head around her sheltered upbringing on a secluded island of Amazonians, and her inception through the godly intervention of Zeus.
There are a few new shots that have never before been seen in the Wonder Woman marketing blitz, including Diana declaring on a war-torn battlefield, "The gods made the Amazons to restore peace to the world, and it's what I'm going to do."
We get another glimpse of Diana in civilian clothing — much like the new stills we got yesterday — trying out 1910s-era skirts and boots as Etta Candy (Lucy Davis) moons over her, before we cut back to a few new epic action shots of Wonder Woman on the battlefield, Etta mooning over her still.
This latest spot really nails the fun, upbeat tone that the ads and trailers for Patty Jenkins' superhero have shown off lately, balancing Diana's fish-out-of-water antics with her capability on the battlefield, capped off with enthusiastic reaction shots from Steve and Etta.
In addition to Gadot, Pine and Candy, the cast of Wonder Woman is rounded out by Robin Wright, David Thewlis, Connie Nielsen, Danny Huston and Saïd Taghmaoui. Wonder Woman is the fourth movie in the DC Extended Universe, which was kicked off by Man of Steel in 2013. Gadot made her debut as Wonder Woman in last year's Batman v. Superman: Dawn of Justice, and will appear again in this year's Justice League, out November 17. But first, we get to see her origin story, which takes us back to World War I Europe — when Diana is first made aware of the plights of the world and takes it upon herself to protect humanity.
Wonder Woman hits theaters June 2, 2017.