Oliver Stone Interviewed Vladimir Putin For A New Showtime Documentary; Watch The Teaser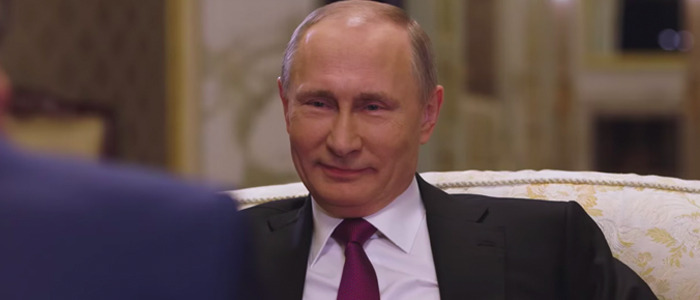 Here's something I didn't see coming: director Oliver Stone (Platoon, Wall Street) sat down with Russian president Vladimir Putin to interview him for a documentary called The Putin Interviews, which will air on Showtime as a four-hour, four-night event. Watch the first teaser trailer and read all about the new doc below.
The Putin Interviews trailer
I said earlier that I didn't see this coming, but in retrospect, it seems like I probably should have. Stone has always been an intensely political filmmaker, and while I've only seen his narrative features, he's previously directed several documentary films devoted to Cuban dictator Fidel Castro, and one called South of the Border that featured seven presidents of Latin American countries. Plus, he helmed a twelve-part documentary TV series for Showtime called Oliver Stone's Untold History of the United States. So it makes sense that he'd reunite with Showtime Documentary Films for a new project looking at a current major player on the world stage.
Stone also has a proven interest in America's leaders, having directed features including Nixon, JFK, and W. As this teaser trailer shows, he certainly isn't afraid to pose some tough questions to the Russian leader. But Stone, no stranger to controversy, makes it sound like this doc might actually support Putin instead of condemn him. The director told the Sydney Morning Herald that "Mr. Putin is one of the most important leaders in the world and in so far as the United States has declared him an enemy — a great enemy — I think it's very important we hear what he has to say... [The film] opens up a whole viewpoint that we as Americans haven't heard. He talks pretty straight." Uh...Okay, then.
The four-hour television event will include conversations with Putin addressing topics like Donald Trump, the allegations of Russian meddling in the 2016 U.S. presidential election, NATO, turmoil in Ukraine and Syria, and Putin's rise to the Presidency. They also discuss Edward Snowden's asylum in Moscow – something Stone is clearly interested in, since his most recent feature film was a Snowden biopic. And get a load of this bit from the press release:
The exchanges are often pointed, always thought-provoking and occasionally surreal – including a remarkable sequence where Stone introduces Putin for the first time to Stanley Kubrick's Cold War satire Dr. Strangelove which they watched together  – all serving to illuminate the mindset of one of the least understood but most important players in the geopolitical world today.
I don't know if we'll learn anything here aside from Russian propaganda, but you've gotta hand it to Stone: even if not all of his films are winners, he knows how to get people riled up. Will you tune in to watch the Oliver Stone Putin documentary?
The Putin Interviews will have its world television premiere on Showtime across four consecutive nights, starting on 9pm EST on Monday, June 12.
Granted unprecedented access to both Putin's professional and personal worlds, Oscar®-winning writer and director Oliver Stone (Platoon, Snowden), with the help of his longtime documentary producer Fernando Sulichin, interviewed the Russian leader more than a dozen times over the course of two years, most recently in February following the U.S. presidential elections. Since first becoming the president of Russia in 2000, Putin has never before spoken at such length or in such detail to a Western interviewer, leaving no topic off limits. In scope and depth, THE PUTIN INTERVIEWS recalls The Nixon Interviews, the series of conversations between David Frost and Richard Nixon that aired in the spring of 1977, 40 years ago.