'Joshua: Teenager Vs Superpower' Trailer: One Teen Rallies The People Of Hong Kong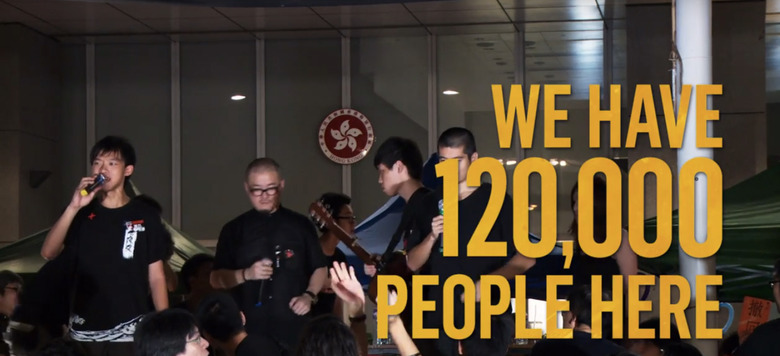 Joshua Wong wasn't born when Hong Kong was handed back to the Chinese government in 1997 after being under British rule and influence by western civilization. But that didn't stop him from rallying against the Communist government for trying to take away some of Hong Kong's autonomy that was promised in the "one country, two systems" principle that came with their return to Chinese rule.
In 2012, China attempted to implement a National Education curriculum that was aimed at deterring youth from having "unpatriotic thoughts." It's the institutional equivalent of brainwashing and propaganda in schools, and at 14 years old, Joshua Wong wasn't going to sit back and let it happen. His defiance turned into an activism group that ended up rallying hundreds of thousands of students around him, putting him toe-to-toe with the entire Chinese government. It sounds like a fictional narrative, but it's a true story, and Netflix's new documentary Joshua: Teenager vs Superpower shows how it all went down.
Watch the Joshua: Teenage vs Superpower trailer below.
The documentary received plenty of rave reviews from the 2017 Sundance Film Festival earlier this year where it won the Audience Award. Variety said:
"Mixing news, social media, and original footage, and video from participants' cellphones, [director Joe] Piscatella and editor Matthew Sultan have shaped the kind of exciting you-are-there narrative that captures the feeling of underdog 'naive' idealism transforming into a game-changing popular movement. Wherever adults talk to kids about 'making a difference,' this documentary should be shown."
Indeed, this documentary looks instantly inspiring. For a 14-year old boy to take it upon himself to fight for his education and inspire thousands of other teenagers to do the same is an incredible feat, especially when you consider the strength of the government they're fighting against. Perhaps there are even some American students who can take a cue from Joshua Wong and start to fight back against some of the flawed institutions our own government supports (and maybe even the government itself). Here's the official synopsis:
When the Chinese Communist Party alters its promise of autonomy to Hong Kong – handed back to the Chinese government from British rule in 1997 – teenager Joshua Wong decides to fight for his homeland.  Rallying thousands of kids to skip school and occupy the streets, and without a long-term plan but with passion to spare, Joshua becomes an unlikely leader in Hong Kong. A remarkable portrait of courage, resilience, and the propulsive power of youthful idealism, Joshua: Teenager vs Superpower, the winner of this year's Audience Award at the Sundance Film Festival, is a chronicle of one young man risking his own future for a greater good.
Joshua: Teenager vs Superpower hits Netflix on May 26.