Ridley Scott On Neill Blomkamp's Alien Sequel: "There Was Never Even A Script"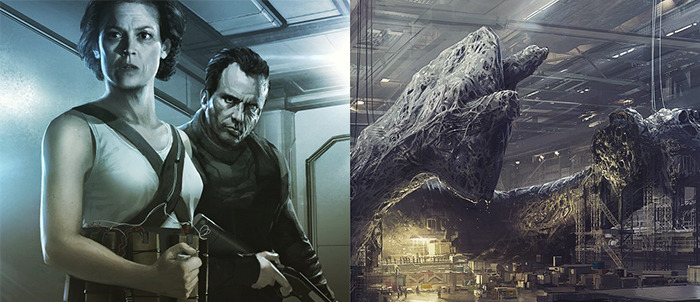 In about two weeks, we'll have a good idea of how hungry the world is for more Alien films. Sir Ridley Scott has a couple of sequels in mind, and he envisions himself ready to shoot one next year after he makes All the Money in the World. Right now, Scott is steering the Alien ship, and it probably won't ever make a stop for Neill Blomkamp's untitled Alien film.
Below, Ridley Scott discusses Blomkamp's Alien sequel.
Over two years ago, discussions surrounding the District 9 and Chappie director's Alien sequel got started. Once Alien: Covenant got moving, a shadow of doubt loomed over the project. Not long after the sequel got placed on hold, Blomkamp said the chances of it happening were "slim."
Sigourney Weaver previously said Blomkamp wrote a "great script," that it "has so much in it that's so original," but while speaking with Allocine (translation from Screenrant), Scott said the project will likely never happen and never even had a script:
I don't think it will ever see the light of day. There was never a script. Just an idea that evolved from a dozen or so pages. I had to participate as producer, but it didn't go farther because Fox decided it didn't want to do it. As far I was concerned, I had already done Prometheus and I was working on Covenant.
Maybe Scott never saw the full script, although that's hard to believe, but the project was put on pause while Blomkamp continued to write the script, as only an outline existed at first. There is a script, however, for the next potential Alien installment, tentatively titled Awakening.
Blomkamp was going to bring Hicks (Michael Biehn) and Newt back in a story meant to give the heart of the franchise, Ripley, the goodbye she deserves. The sequel was directly connected to Alien and Aliens, not the other movies in the series, including Scott's Covenant and Prometheus.
Blomkamp made one change to his story to accommodate Scott's plans, but he was doing his own thing for the most part. Two years ago, he was saying "Fox, they would make it. Like, tomorrow. They would make it." Now, the filmmaker has moved on to direct another 20th Century Fox project, The Gone World. It looks like his Alien sequel will always remain a big "What if?" for fans of the series and a project we'll probably continue to learn more and more about over the next few years.
Alien: Covenant opens in theaters May 19.