Robert Downey Jr.'s 'Doctor Dolittle' Runs Away From 'Star Wars: Episode 9'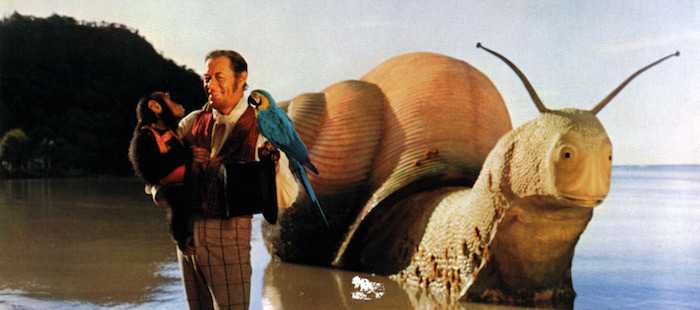 In news that everyone and their mother could have predicted, Universal's upcoming Doctor Dolittle movie has vacated its May 24, 2019 release date...mainly because a little movie called Star Wars: Episode 9 decided it wanted that Memorial Day weekend and Star Wars gets what Star Wars wants and a talking veterinarian (even one played by Robert Downey Jr.) cannot stop it.
The Voyage of Doctor Dolittle (as it is currently titled) has moved from May 24, 2019 to April 12, 2019, giving it a month-long buffer before Star Wars arrives to push the competition into the smaller auditoriums all over the globe. That May release date is a homecoming for the Star Wars series, which relocated to December with Star Wars: The Force Awakens a few years back after owning the Memorial Day weekend for the past 40 years. Those warm and fuzzy feelings Star Wars fans have at the thought of the saga returning to May translate to headaches for the folks at Universal, who now have to update all of their spreadsheets.
Based on the children's books written by Hugh Lofting, this Doctor Dolittle project is Hollywood's latest attempt to bring this character to the big screen. Interestingly, this film (which will be written and directed by Stephen Gaghan) sounds like it will have a lot in common with with the infamous 1967 film adaptation, a legendary bomb and one of the final nails in the coffin of "old Hollywood" before an explosion of new talent led to the American New Wave of the '70s. A far more financially successful 1998 adaptation starring Eddie Murphy, which removed all elements of sweeping adventure in favor of family friendly comedy, was released in 1998. An equally successful sequel followed in 2001.
However, aside from a main character who can speak to animals, those later movies contain very little of Lofting's work, which is bigger, grander, and certainly fit for a movie star looking to launch a new franchise where he gets to wear colorful costumes, travel the world, and interact with all kinds of CGI creatures. At the same time, there's something to be said about Hollywood eyeing second reboot of a movie that ranks up there with Cleopatra as one of the greatest cautionary tales in industry history. There's a certain amount of hubris there. Can Robert Downey Jr. launch another movie franchise? Will audiences care about Doctor Dolittle?
Those questions do not have answers yet. But I think we can all agree that Doctor Dolittle is wise to stay far, far away from Star Wars: Episode 9.