Dwayne Johnson Reveals New 'Rampage' Details, Plans To Redesign 'The Jungle Cruise'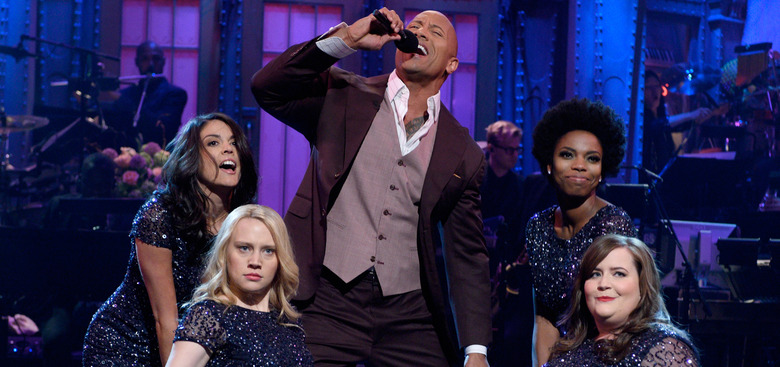 Dwayne Johnson hasn't slept since around 2005 or so and it looks like he won't close his eyes for the foreseeable future. In addition to filming the video game adaptation Rampage, he recently signed on to headline Disney's film adaptation of their beloved theme park attraction, The Jungle Cruise. And when he's not making movies and spending every waking moment in the gym, The Rock is using Instagram to share new details about his upcoming projects. For example: we now know more about the plot of Rampage and Johnson's involvement in re-designing the various Jungle Cruise theme park attractions around the world.
Let's start with the Rampage details. As you can see in the embed below, Johnson shared a shot of himself working out in Atlanta, Georgia (where director Brad Peyton has begun production) and he used this as an opportunity to talk about his character and his role in the film. We previously learned that Johnson was playing a tough-as-nails anti-poaching commando and that he would have to face down a trio of giant animals (who grow to giant heights after being infected by a serum), but Johnson emphasized how much of the mission is personal. It seems that one of the giant animals, an albino gorilla named George, is his best friend. So The Rock isn't just fighting giant animals, but also the people who hurt his animal buddy.
Goin' primal. ???? Good to finally have boots on the ground here in Georgia for production of #RAMPAGE. I head up an anti poaching unit out of Rwanda. My best friend is a rare albino gorilla named, George. Very bad people infect George, an alligator and a wolf with a serum. All three animals grow at an unprecedented rate. Their size, speed, agility and violent aggression is off the charts. They go on a deadly rampage and want to destroy the world. George not happy. Me not happy. When animals like you, they lick you. When they don't like you, they kill you. I will hunt down the bad people who did this to my best friend. And when I find them, I will not lick them. We have the best VFX monster making team (WETA) on the planet. Our actors and crew have been working very hard to raise the monster genre bar. As always, let's have some fun. Let's shoot. ???????? #PrimalDNA #George #Lizzy #Ralph #RAMPAGE
Next up is the news about The Jungle Cruise movie and how it will apparently impact the original theme park attraction. It seems that Johnson visited the literal Disney vault and got to take a look at the original Disneyland designs, living a dream scenario envisioned by countless movie buffs all over the world. While Johnson doesn't reveal any new information about the movie itself, he does note that his Seven Bucks Productions company will have a hand in "[partnering] with Disney's brilliant Imagineers to help re-engineer and re-design the #JungleCruise ride in all the Disney theme parks around the world."
Grateful SOB to have Walt and Mickey watching over my shoulder as @danygarciaco and I embark on this amazing project. For our big #JungleCruise creative meeting at DISNEY's highly secure R&D facilities, me and @danygarciaco were escorted into THE VAULT. A legitimate vault where all of Disney's biggest secrets and plans are kept. Curtains were pulled back for us to reveal the actual drawn up plans that Walt Disney had his brother, Roy Disney take to New York to present to the bankers in 1950 for the potential loan to build what's now known as Disney Land. Cant imagine what that meeting with bankers was like. Roy: Alright gentlemen, so me and my brother Walt, want to build the greatest multiple theme park attraction in the world. Banker: Oh that seems fun, Mr. Disney. Roy: *smiles in a playful mischievous manner, Oh yes my good man, it will have a few things that are in fact, fun. Well, clearly I don't know how the hell men were actually talking in the 50's, but what I do know is being able to star in and produce #JungleCruise is a dream come true. BUT what takes this to the next level, is that we'll partner with Disney's brilliant Imagineers to help re-engineer and re-design the #JungleCruise ride in all the Disney theme parks around the world. A very special opportunity for us and our @sevenbucksprod to create an unforgettable and fun EXPERIENCE for families around the world. And as Walt Disney himself would say... it's magical. Next step is finding our visionary director. Exciting times. #JungleCruise #TheExperience #DisneyStudios #Imagineers #SevenBucksProds #WaltAndRockWouldveBeenBesties #AndWorkoutBuddies #WaltWouldveLovedMyJackedUpPickUpTruck ???????????? A post shared by therock (@therock) on Apr 29, 2017 at 9:59am PDT
This shouldn't come as too much of surprise for theme park fans. Shortly after the release of Pirates of the Caribbean: The Curse of the Black Pearl, Disney Imagineers retooled the original ride to feature characters and elements from the films. From the sounds of things, The Jungle Cruise will get a similar revamp, putting it more in line with whatever the film ends up being. While this will surely upset some Disney aficionados (the original ride is a bonafide classic in every sense of the word), continuously updating attractions is very much in line with Walt Disney's original vision for his parks. Like it or not, he probably would have been all about this.
Rampage opens on April 20, 2018 and The Jungle Cruise, which still needs a director and a release date, is set to being filming early next year.