'It Comes At Night' Trailer: Men Become Monsters In A24's New Thriller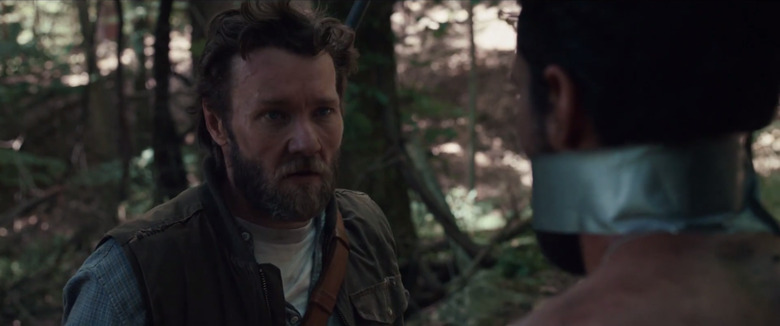 The trailer for It Comes At Night has been released and it looks like a stunning psychological thriller.
Trey Edward Schults' anticipated follow-up to his lauded debut film Krisha, It Comes At Night looks like it will be a worthy and tense second film from the promising director.
Starring Joel Edgerton, Riley Keough, Christopher Abbott, and Carmen Ejogo, It Comes At Night is a psychological horror film that follows a father (Edgerton) who believes an evil presence is lurking outside his isolated cabin home. He brings in two families into his house, which he locks and protects, only allowing the people out during the day. One night, one of the residents finds that the always-bolted door is open, letting in an unseen monster that possesses and transforms the people in the cabin.
The movie received rave reviews at the Overlook Film Festival this past weekend where it made a surprise premiere. Our review of It Comes At Night will be published very soon, but here's a quick taste from our own Alex Riviello:
There haven't been any films quite as tense and gripping as It Comes At Night at the Overlook Film Festival. While there are indeed things lurking out there in the woods and the constant threat of infection, the horror in this film is wholly relatable. It's the threat of people pushed to the edge, and what they do when they're tired and frightened and only thinking of themselves. Egerton is giving off a real Kurt Russell vibe with his bearded and quietly dangerous character here, fitting because like The Thing, this is another story about not knowing who to trust.
See the official synopsis for It Comes At Night below:
Award-winning filmmaker Trey Edward Shults follows his incredible debut feature Krisha with It Comes At Night, a horror film following a man (Joel Edgerton) as he is learns that the evil stalking his family home may be only a prelude to horrors that come from within.
Secure within a desolate home as an unnatural threat terrorizes the world, the tenuous domestic order he has established with his wife and son is put to the ultimate test with the arrival of a desperate young family seeking refuge.
Despite the best intentions of both families, paranoia and mistrust boil over as the horrors outside creep ever-closer, awakening something hidden and monstrous within him as he learns that the protection of his family comes at the cost of his soul.
It Comes at Night opens on June 9.