New Look At 'Pacific Rim: Uprising' Reveals Gipsy Avenger's Weapon Upgrades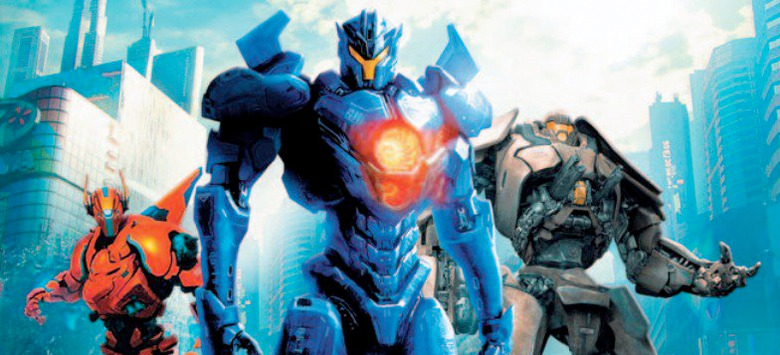 Back in February, a piece of promotional art for Pacific Rim: Uprising (formerly known as Maelstrom) revealed three new designs for the jaegers we'll see battling giant monsters in the sci-fi sequel. One of those jaegers appeared to be an upgraded version of Gipsy Danger, the eventual hero robot of the first Pacific Rim, and now that assumption has been confirmed.
Collectible toy company Tamashii Nations will be making some products tied in with Pacific Rim: Uprising, and at an event in New York City this weekend, they revealed the first official look at their toy version of the new jaeger known as Gipsy Avenger. There are even some details on the upgraded weapons that the new jaeger has hidden in its body.
Get a first look at the Pacific Rim Uprising Gipsy Avenger jaeger after the jump.
The fan website PacificRim2-Movie.com collected the following images from Twitter:
As you can see in the blueprint images, Gipsy Avenger appears to be a new version of Gipsy Danger, though it's not clear if it's an entirely new jaeger, or if some of the original robot was salvaged and upgraded after the first movie. Gipsy Avenger comes equipped with the familiar Chain Sword and Elbow Rocket, as well as an Airborne Launch System, but this time the jaeger has a dual vortex turbine in its chest as opposed to the single turbine that Gipsy Danger had. In addition, the jaeger's hands have an upgrade Plamacaster and something that appears to be called a Gravity Sling in the other hand, whatever that means.
These images confirm that the previously discovered promotional art gave us a pretty accurate depiction of what some of the new jaegers in Pacific Rim: Uprising will look like. However, we don't know for sure who will be piloting the jaeger. Presumably it will be John Boyega as Jake Pentecost (song of Idris Elba's character from the first movie) and Scott Eastwood as Nate Lambert, but we can't say for sure.
Otherwise, the rest of the Pacific Rim: Uprising cast includes new characters played by Cailee Spaeny, Jing Tian, Nick Tarabay, and Zhang Jin. as well as returning cast members including Rinko Kikuchi as Mako Mori, Charlie Day as Newt Geiszler and Burn Gorman as Dr. Hermann Gottlieb. They're all under the direction of Daredevil's Steven S. DeKnight, taking over with the full blessing from Guillermo del Toro, who recently explained why he decided not to do the sequel.
Pacific Rim: Uprising arrives February 23, 2018.