New 'Valerian' Poster Seems To Feature An Intriguing 'Fifth Element' Reference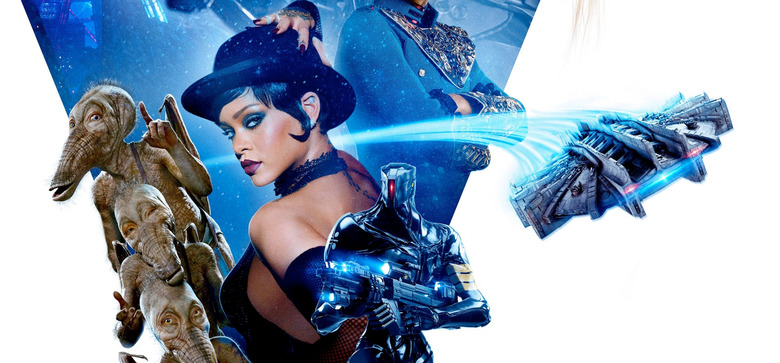 This summer, director Luc Besson returns to sci-fi in a big way with an adaptation of the French comic Valerian and Laureline in the form of the feature film Valerian and the City of a Thousand Planets. The movie came in at #7 on our list of anticipated wide releases coming to theaters this summer, and it looks like it's going to be something wild and action-packed.
Normally, we try to veer away from highlighting just a single poster unless there's something special to observe within it. Today we're featuring a poster for Valerian and the City of a Thousand Planets, not just because we want to keep promoting this movie so people will see it and help support big, strange sci-fi movies like this, but because the poster contains a rather intriguing easter egg referencing The Fifth Element.
Check out the Valerian and the City of a Thousand Planets poster after the jump.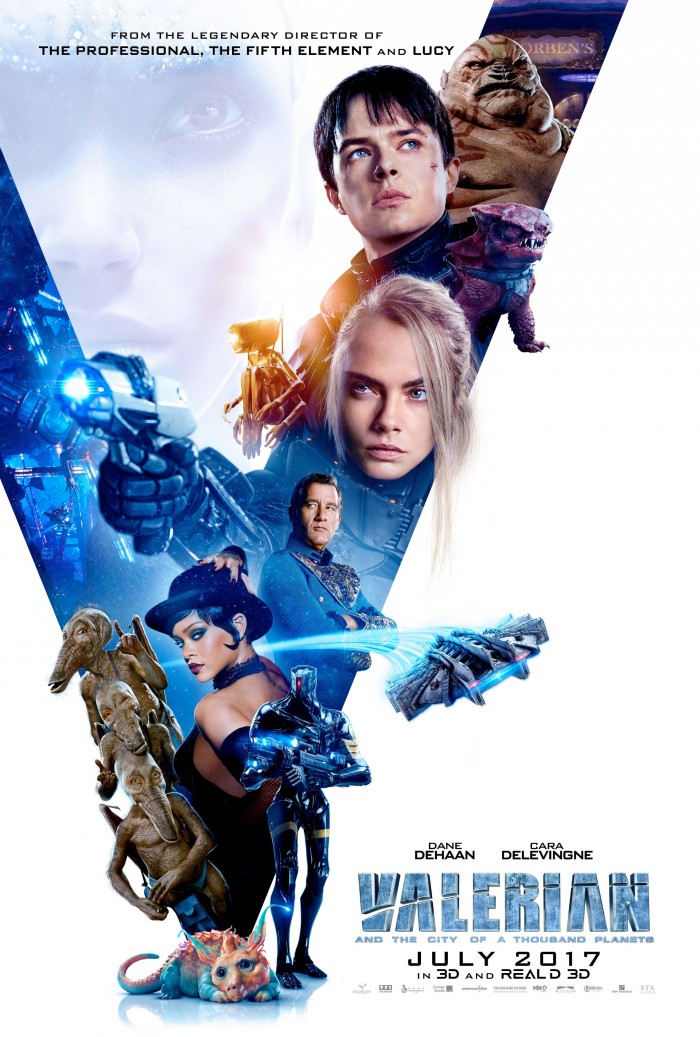 Upon first inspection, there's nothing particularly remarkable about this poster. Sure, it features Dane DeHaan and Cara Delevingne and their electric eyes, as well as Clive Owen in commander mode, and Rihanna doing her space cabaret thing. Plus, there are some rather unique aliens featured to make sure everyone understands this is a sci-fi movie. But look closer at the upper right hand corner with the aliens who looks kind of like a Jabba the Hutt version of Drax the Destroyer from Guardians of the Galaxy. Notice anything intriguing behind him?
Let's take a closer look zoomed in at the high-resolution image. Enhance!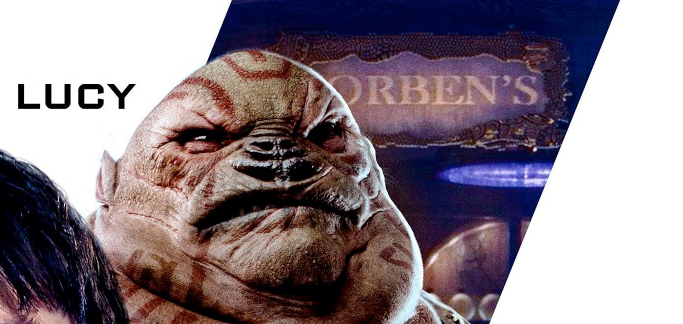 Check out the name on that sign back there. You can't see the whole name, but it looks like the establishment might be called Korben's. The name of Bruce Willis' character in The Fifth Element was Korben Dallas. Is there a chance that Korben has opened a bar in the intergalactic city of Alpha, populated by thousands of species from across the entire universe?
We haven't heard anything about a cameo from Bruce Willis or anything like that, but it would be awesome if we learned that Valerian and The Fifth Element took place in the same universe. Then again, the title of this establishment could be as far as the easter egg goes and fans will have to make their own assumption.
Valerian (Dane DeHaan) and Laureline (Cara Delevingne) are special operatives for the government of the human territories charged with maintaining order throughout the universe. Valerian has more in mind than a professional relationship with his partner, blatantly chasing after her with propositions of romance. But his extensive history with women, and her traditional values, drive Laureline to continuously rebuff him.
Under directive from their Commander (Clive Owen), Valerian and Laureline embark on a mission to the breathtaking intergalactic city of Alpha, an ever-expanding metropolis comprised of thousands of different species from all four corners of the universe. Alpha's seventeen million inhabitants have converged over time- uniting their talents, technology and resources for the betterment of all. Unfortunately, not everyone on Alpha shares in these same objectives; in fact, unseen forces are at work, placing our race in great danger.
Valerian and the City of the Thousand Planets opens in theaters on July 21.