'Blood Drive' Trailer: Syfy's New Exploitation Series Looks Like An Assault On The Senses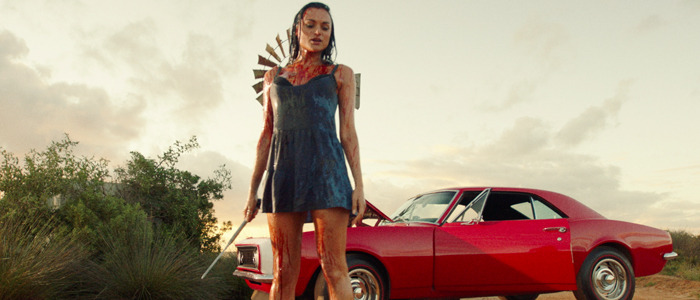 This month marked the tenth anniversary of Quentin Tarantino and Robert Rodriguez's Grindhouse, an experiment the directors intended to replicate the experience of visiting a 1970s-style grindhouse theater. Although three spin-off movies have been made based on the fake trailers included in the presentation (Machete, Machete Kills, and Hobo with a Shotgun), Grindhouse flopped at the box office.
But now, a decade later, that spirit is being resurrected in a new Syfy series called Blood Drive. Are you ready for a show about cars that run on human blood? Buckle up.
Blood Drive trailer
The show hails from creators John Hlavin (Underworld: Awakening) and David Straiton (Bates Motel), who managed to secure a 13-episode straight-to-series order from Syfy.
The trailer certainly elicits the grimy, gross feel of being in a cheap, sticky-floored theater and watching sleazy movies back to back, so I guess that counts as some sort of success. (I'd rather not see what's going on in the "Suck Bus," thanks.) Whether or not any of the show's nutty ideas – the car that runs on blood, the nightmarish circus ringleader, etc. – end up having anything more to them beyond simply shock value and being an aesthetic exercise remains to be seen.
One thing's for sure: they're throwing the whole damn kitchen sink into this show, with each episode centering around a different grindhouse-inspired theme: cannibals, monsters, cults, lawmen, nymphomaniacs, and Amazons, just to name a few. Alan Ritchson (Teenage Mutant Ninja Turtles) and Christina Ochoa (Matador) star as L.A.'s last uncorrupt cop and a sexy femme fatale, respectively, and it sounds like they may encounter all of these themes on a cross-country Death Race-style road trip.
What do you think? Are you going to tune in, or is this trying a little too hard?
Los Angeles in the near future: where water is a scarce as oil, and climate change keeps the temperature at a cool 115 in the shade. It's a place where crime is so rampant that only the worst violence is punished, and where Arthur Bailey — the city's last good cop — runs afoul of the dirtiest and meanest underground car rally in the world: Blood Drive. The master of ceremonies is a vaudevillian nightmare, the drivers are homicidal deviants, and the cars run on human blood. Buckle Up, Lube Up and prepare for everything you know about Cable Television to Blow up!
Blood Drive premieres on Syfy on June 14, 2017 at 10pm.