Mike Myers Is Not So Secretly Hosting 'The Gong Show' Remake As A Fake British Comedian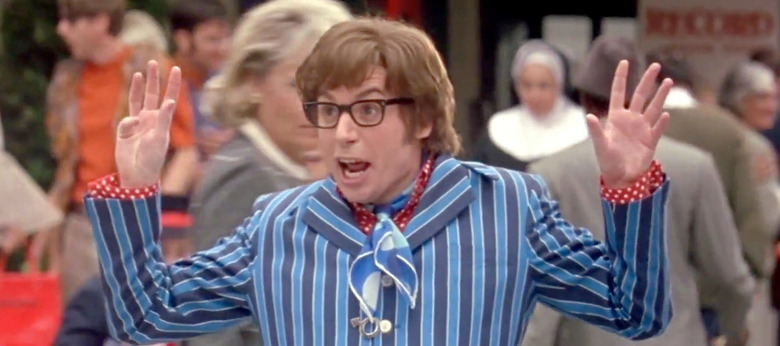 In case you hadn't heard, there's a remake of the classic 1970s amateur talent contest TV series The Gong Show coming to ABC in June. The show featured contestants displaying odd, questionable talents in front of a panel of celebrity judges who had the power to hit a gong that would end the performance before it was even over, indicating that they had seen enough.
Will Arnett and his Electric Avenue production banner are behind the show, but it's the recently announced host that is turning some heads, because even though the name is not a recognizable one, the person who is actually doing the hosting is someone you're definitely familiar with. It's former Saturday Night Live star Mike Myers playing a fictional British comedian named Tommy Maitland, complete with prosthetic make-up enhancements, a fake background and everything.
Get a look at how we'll see Mike Myers hosting The Gong Show after the jump.
Here's an image of Mike Myers as Tommy Maitland from the official announcement by ABC: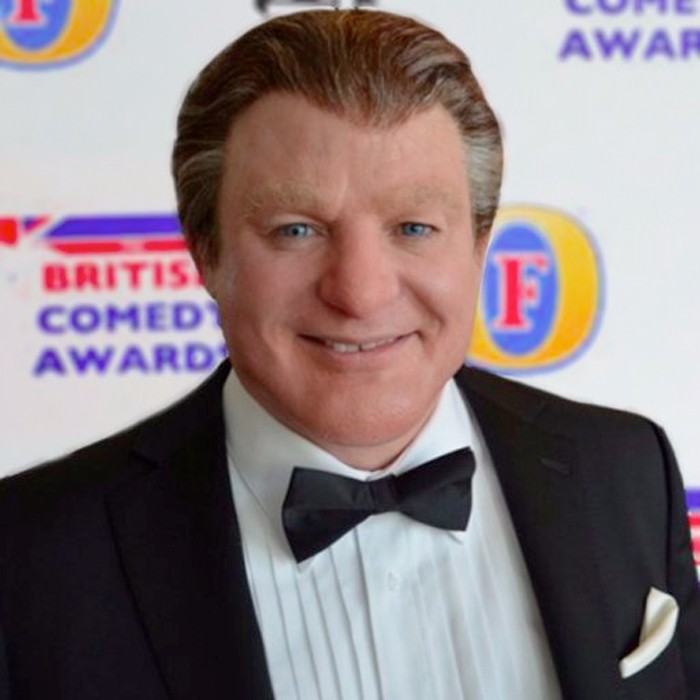 Meet Tommy Maitland
As you can see, despite the thick make-up and prosthetic pieces on his face, those eyes unmistakably belong to Mike Myers, even though he has some kind of eye contacts in to change the colors of his eyes. He almost looks like what an older, human version of Shrek would look like in the real world.
ABC is really playing up this fictional character to its full potential, giving him a bio that starts like this:
Born on July 7, 1944, Thomas Winston Maitland (his middle name is a tribute to Winston Churchill) grew up in Neasden, GLC, Borough of Brent, where his father was an actuary and in the Merchant Marine and his mother was in the RAF. After a failed stint as a pipe fitter's apprentice, Tommy joined the British Army at the tender age of 15. He later joined the Entertainment National Service Association (ENSA), where he got to know some of the UK's biggest comedians. He played the ukulele, told jokes and drummed (though he drummed badly), and he ended up hosting the show – a talent he would later be known for. He was voted ENSA Entertainer of the Year, for which he was given a guarantee to appear on British radio. He later worked as an announcer for the British radio show, "The Whosey Whats," and got small roles in the "Carry On" films – either as the over anxious compart at a men's club or the strict union pipe fitter. He also appeared in the TV series, "The Lord Mayor," as the cheeky mayor of a mythical town in East Anglia, who struck it rich because they sat atop an oil field.
You can head over the the ABC announcement if you want to read the whole thing, but it's clear that Mike Myers has crafted an entire persona for Tommy Maitland, and he likely won't ever admit to being the character. Presumably, ABC will have Maitland make some television appearances to help build this fake persona, because right now a quick search on Google and YouTube doesn't come up with any clips or other credits for the comedian, other than today's news that he's hosting The Gong Show.
Will Arnett is even in on the gag having a statement in the press release that says:
"I've been a huge fan of Tommy since I first saw his stand-up in the U.K. while traveling as a teenager. He was so funny and original. I had the good fortune to cross paths with Tommy a few years ago and ever since we've talked about working together. I tried for years to come up with a vehicle that was suitable to expose his immense talent on a bigger stage, and 'The Gong Show' is the perfect fit."
Surely anyone who doubts that this is Mike Myers will have them disappear whenever we hear the comedian open his mouth. Myers' has frequently done British accents before, including his famous role as Austin Powers, international man of mystery, so even if there are people who can't recognize him through the make-up, the voice should do it. If you need any more evidence, there's an interview The Hollywood Reporter did where some signature Mike Myers riffs are in play, such as the answer "Tommy Maitland" gives when asked if he has a catchphrase:
"I say, 'Who's a cheeky monkey?' Then the audience goes, 'You are.' And I go, 'No, you're a cheeky monkey, and that's why I love you.' The other catchphrase of mine is, 'You've got no proof.' So, when I say something slightly cheeky, I'll say, 'Well, you've got no proof.' My second memoir was titled, 'You've Still Got No Proof.'
The phrase "cheeky monkey" was occasionally used by a British child character named Simon that Mike Myers played on Saturday Night Live, who hosted a show from his bathtub, where he created drawings with a guest who hopped in the tub with him:
In addition to Mike Myers hosting the show in disguise, the rotating panel of celebrity judges already includes Zach Galifianakis, Alison Brie, Andy Samberg, Elizabeth Banks, Joel McHale, Dana Carvey, Will Forte, Jack Black, Anthony Anderson and more.
The Gong Show premieres on ABC on June 22 this summer.