'The Great Outdoors' Remake Will Star Kevin Hart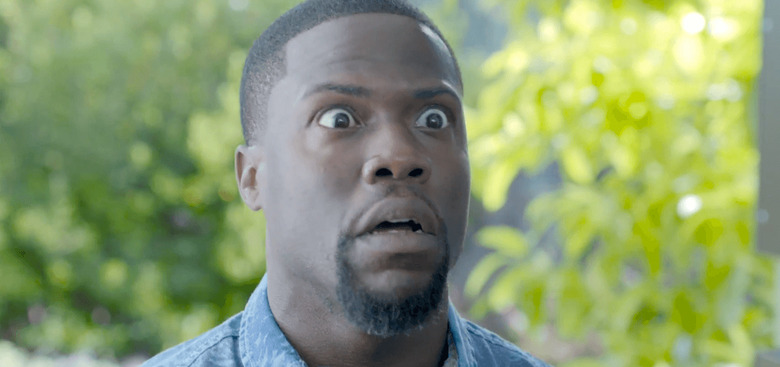 John Hughes was a beloved, respected filmmaker known for writing and directing classics such as Ferris Bueller's Day Off, Pretty in Pink, The Breakfast Club and more. But there are plenty of movies that he scripted, only to have someone else direct them. Movies such as Mr. Mom, Home Alone and more had scripts from John Hughes, and now one of those scripts is getting the remake treatment.The Great Outdoors from 1988 followed Chet and Connie Ripley (John Candy and Stephanie Faracy) and their two kids who were looking forward to a nice, relaxing weekend at a Wisconsin cabin away from the hustle and bustle of Chicago, but find their vacation interrupted by the arrival of Connie's obnoxious brother-in-law Roman (Dan Aykroyd), his wife Kate (Annette Bening) and their two daughters. Now Universal has set Kevin Hart to start in a remake of the comedy.
Find out more about The Great Outdoors remake after the jump.
As of now, there's no indication whether Kevin Hart will take the role played by John Candy or Dan Aykroyd, but I'm betting it's the former. Kevin Hart has made a career out of being the everyman who gets easily worked up or frightened in various situations, usually by being in the wrong place at the wrong time. It's not hard to envision him as a family man who just wants to relax and keeps getting annoyed by his in-laws. Plus, it's easy to envision some of the things Kevin Hart might do in this movie:
Which one of these things will Kevin Hart do in THE GREAT OUTDOORS remake?

— Ethan Anderton (@Ethan_Anderton) April 27, 2017
The big question is who production would get to play opposite Kevin Hart. If Universal is looking to have a remake with a predominantly black cast (like the remake of About Last Night that Kevin Hart starred in), then I wouldn't mind seeing the in-law played by Damon Wayans Jr., Jay Pharoah or Tracy Morgan. But if they choose to create some comedy by having Kevin Hart's in-law be white, pairing him with someone like Danny McBride could be really funny. Maybe even getting someone who is almost the complete opposite of Kevin Hart's persona, like fellow stand-up comedian Pete Holmes, could work out really well.
Anyway, Deadline reports the script for The Great Outdoors remake comes from Randall Green, who had his scripts Cartoon Girl and The Swimsuit Issue make the Black List in 2014. He's also coming off writing the live-action Scooby-Doo reboot for Warner Bros. Pictures, not to mention his current work on the hit Showtime show Billions. Can he craft something that comes close to matching the comedy power of John Hughes? It's doubtful, but maybe he'll have a new approach that takes the simple premise and makes it funny in a new way.
There's no director or release date for the project yet, so stay tuned to see what happens.