'Gook' Trailer: Korean-American Film Takes A Fresh Look At The '90s L.A. Riots
After making a buzzy premiere at Sundance and picking up the film festival's Next Audience Award, Gook finally has a trailer. And it looks powerful.
Following a day in the lives of two Korean-American brothers living in Los Angeles in the 1990s, Korean-American actor-turned-filmmaker Justin Chon's Gook (which is a derogatory slur for East or Southeast Asian foreigners) explores the Korean perspective of the 1992 Rodney King race riots, sparked by the brutal police beating of a black man caught on camera, but also partly by the 1991 shooting of a black girl by a Korean storekeeper.
Gook Trailer
The dynamic trailer for Gook shows short flashes of the film without any real semblance of a plot. That may be purposeful — Slashfilm's Angie Han called it a "slice of life" film that mostly focuses on the two Korean-American brothers Eli (Chon) and Daniel (David So) as they go about their day, "alternately serving customers at their shoe store, bickering with one another, and hanging out with the young black girl (Simone Baker) who always seems to be around."
Baker's character sings eerily throughout the trailer, as tense shots of rioters and violence are interspersed throughout the trailer. It ends on what looks like Baker's character, Kamilla, dancing in front of a house on fire.
The Rodney King riots have frequently been covered in the media and film, and with the 25th anniversary of the race riots taking place this year, even more documentaries will be released covering the systemic racism against African-Americans, the brutality of the Los Angeles police, and the tensions simmering in the community up until the riots took place.
However, it's rare that we'll see the Korean-American perspective on the riots. The Korean-American community was closely tied into the racial tensions in Los Angeles at the time, with Korean storekeeper Soon Ja Du shooting Latasha Harlins in the back of the head a year before the riots. Du was only sentenced to probation for killing Harlins, fueling the anger and tension from the black community.
There's a lot to be said about the tension between Asian-Americans and other minorities thanks to the perpetuating of the "model minority" myth by predominantly white media, sowing even more discord into the divide. I won't go into it here, though this NPR piece dives into it eloquently.
The fact that there is a film about Asian-Americans at all — who are still struggling with representation in film and TV is a feat, and the fact that it's named after a slur for East and Southeast Asians, often of Korean, Filipino and Vietnamese descent. I'm looking forward to this film and hope it tackles those racial disparities and tension well, despite some of its mixed reviews at Sundance.
Here's the synopsis and poster for Gook below:
Eli (Chon) and Daniel (So) are two Korean American brothers that run their late father's shoe store in a predominantly African American community of Los Angeles. These two brothers strike up a unique and unlikely friendship with an 11-year-old African American girl, Kamilla (Baker). As Daniel dreams of becoming a recording artist and Eli struggles to keep the store afloat, racial tensions build to a breaking point in L.A. as the "infamous" L.A. Riots break out.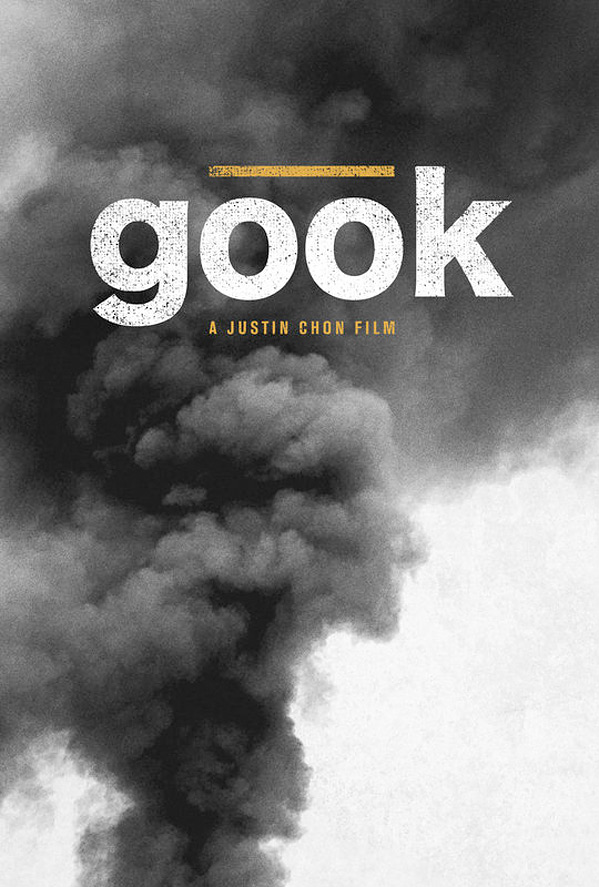 Written by and directed by Chon, who made his directorial debut with Man Up in 2015 but is mostly known as an actor who appeared in Twilight and 21 and Over, Gook was picked up by Goldwyn Films after its Sundance premiere. In addition to Chon, So and Baker, the cast is rounded out by Curtiss Cook Jr., Sang Chon, Omono Okojie, Ben Munoz, Cesar Garcia, Isaiah Jarel, and Kirlew Vilbon.
Gook hits theaters August 1, 2017.