'13 Reasons Why' Season 2 Officially Ordered By Netflix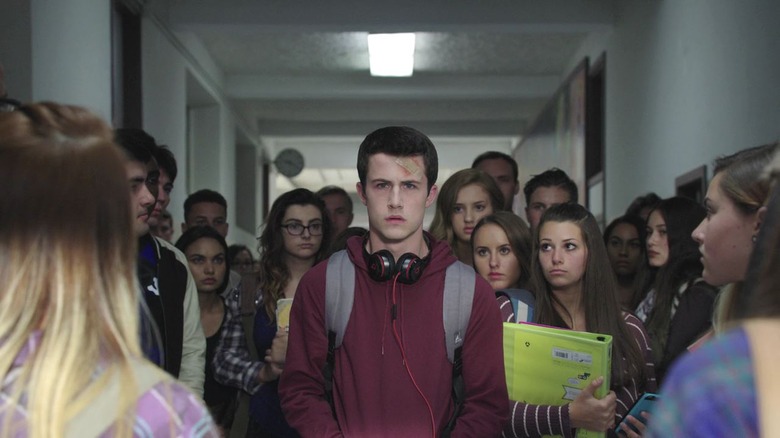 UPDATE: Netfix has officially ordered a second season of 13 Reasons Why. The season will have 13 episodes and is slated to arrive sometime in 2018. Details are sparse, but the show is said to continue in the aftermath of Hannah Baker's death when the characters being their complicated journeys toward healing and recovery. You can watch a brief teaser right here. Our original story from April 28th follows below.
If the buzz around the hit Netflix show 13 Reasons Why — and the fact that Riverdale regular Ross Butler left the series due "other commitments" — wasn't enough to confirm a second season, then this news is.
Reports say that a writer's room for 13 Reasons Why has been working on a second season for several weeks now, despite the lack of confirmation on the second season from Netflix. So it looks like we'll be seeing how the students at Liberty High School are faring after the events of that cliffhanger finale. Hit the jump to learn about the 13 Reasons Why Season 2 writers room.
According to the Hollywood Reporter, Netflix is on the cusp of renewing 13 Reasons Why for a second season. Sources told THR that "a writers room for the sophomore run has been up and running for a few weeks" though Netflix declined to comment.
With the news that Butler, who played high school jock Zack in 13 Reasons Why, is leaving his regular role on Riverdale for "other commitments," this may solidify the second season of the polarizing show on the fallout from a teen Hannah Baker's suicide.
Cast members Dylan Minnette (Clay Jensen), Butler and Justin Prentice (Bryce Walker) have expressed interest in exploring the stories of their characters in another season, and the original book's author, Jay Asher, has given the go-ahead for the show to expand beyond his book (which ends where the finale of 13 Reasons Why ends).
Despite the show paralleling the book, many questions are left by the end, which we theorized that a second season could answer. However, many are resolutely against a second season, including publications like Mashable, Entertainment Weekly, and PopSugar, arguing that continuing the show would diminish Hannah's story.
Indeed, the show has been met with tons of controversy after its release, with many criticizing it for glamorizing suicide, and giving the false impression that teens that commit suicide get any sort of vindication (they don't). Writer Nic Sheff defended 13 Reasons Why's decision to feature Hannah's suicide in excruciatingly graphic detail, though none of the cast or crew have addressed the accusations of depicting a glamorized version of suicide — this takes place more in the community's reaction and Hannah's making the tapes that explain her decision.
However, the popularity and buzz around 13 Reasons Why have sparked some conversations around bullying, mental health and suicide, which show creator Brian Yorkey had hoped the show would do, telling The Hollywood Reporter:
"What we hope, as good television can do, is that it gets people talking. If they can talk about what happened to Hannah and Jessica [who were raped] and what these kids went through, they can talk about what they're going through in their own lives. That has to happen first before anything can get better."
13 Reasons Why is available on Netflix.