Two New 'Wonder Woman' TV Spots Give A Peek At Ares, Ultimate Ticket On Sale Now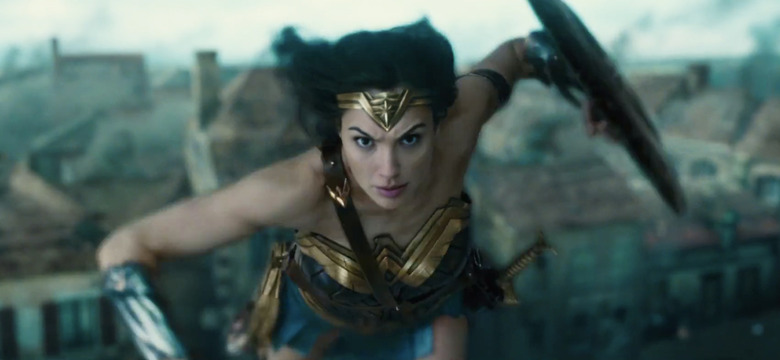 Some of the internet was abuzz yesterday about a supposed lack of promotion for Wonder Woman at this time with a little over a month to go until the film arrives on June 2. The logic behind this is that the official Warner Bros. YouTube channel for Wonder Woman has significantly less videos promoting the movie than Suicide Squad when the movie was at the same point in its marketing cycle. Forget the fact that Suicide Squad had a much larger roster of lesser known main characters they had to introduce as opposed to one of the most well known superheroes of all time. Clearly, there's a conspiracy afoot here!
Anyway, it seems like Warner Bros. Pictures' ears must have been burning yesterday, because they've released two new Wonder Woman TV spots, including one that gives a sneak peek at the villain Ares facing off with Gal Gadot. Plus, for all you dedicated Wonder Woman fans out there, there's an Ultimate Ticket you can pick up that will let you see the movie as many times as you want. This is just the beginning of the onslaught of marketing we'll see over the next month for Wonder Woman.
Hit the jump to watch the TV spots and get details on the Ultimate Ticket.
First up, here are the Wonder Woman TV spots straight from Warner Bros. Pictures:
This one is a solid bit of editing as it features Chris Pine as Steve Trevor struggling to figure out how to introduce Diana, Princess of Themyscira. She doesn't have a last name in her homeland, and when she tries to rattle off her name along with her royal status and home, Trevor quickly shortens her name to Diana Prince. That's a clever way of giving her alias an origin story, and it also shows the comedy that will come from the relationship between Diana and Steve.
In this spot is where we get our first quick glimpse of Ares fighting Diana. It's a quick shot around the 11-second mark and it shows Ares bringing his sword down at Diana from off-camera, only to be stopped by her bracelets. There are also some glimpses of a few new action shots as well that continue to illustrate that Patty Jenkins knows how to shoot exciting comic book sequences quite well.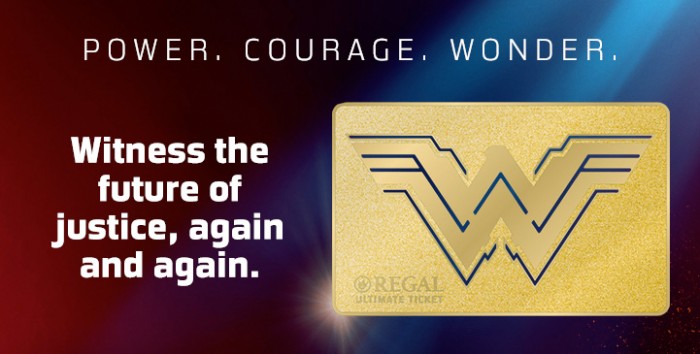 Wonder Woman Ultimate Ticket
For those of you who already know you're going to see Wonder Woman in theaters over and over again, the Regal Cinemas chain is offering a Wonder Woman Ultimate Ticket that will allow you see the movie as many times as you want to in any format, including 3D, IMAX, 4DX and RPX, during the film's entire theatrical run. You'll even get that golden card above with your name etched onto the card. The only catch is it will cost $100 and a limited amount of these tickets are available. Here are all the details about the promotion: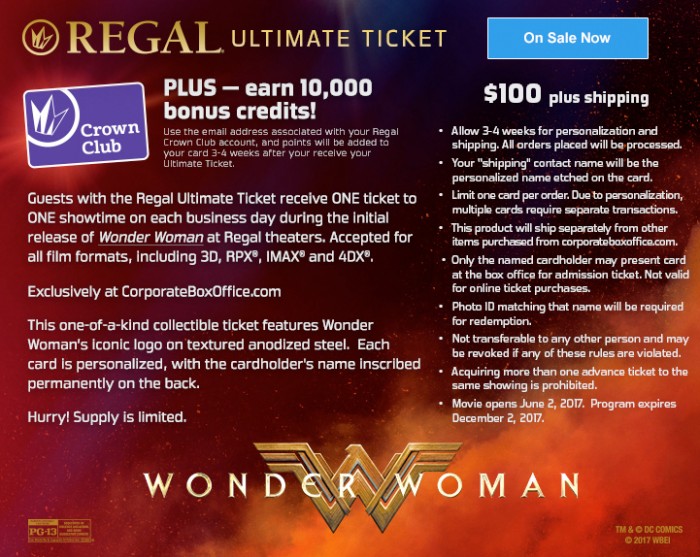 While I like the idea of the Ultimate Ticket in theory, it has to be tough to sell customers on this when they don't even know if the movie in question will be worth multiple trips to the theater. But that's probably why the ticket supply is so limited. This is something that only the most hardcore Wonder Woman fans are going to take advantage of in the end. It would take a movie like the next chapter of the new Star Wars trilogy for me to feel confident in paying for an Ultimate Ticket that I'll actually use enough to get my money's worth out of it. I wouldn't be surprised if Regal offers one when The Last Jedi arrives in December.
If you want your Wonder Woman Ultimate Ticket, click here. And get ready for the movie to arrive on June 2.