VOTD: Adam Savage Explores The Set Of 'Alien: Covenant'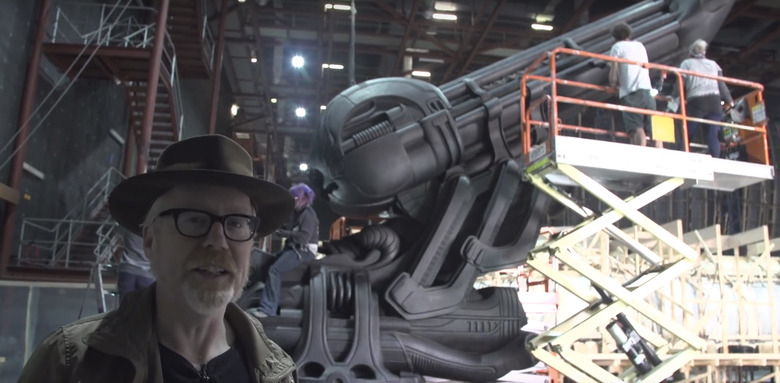 This past week brought the celebration of Alien Day, which included the arrival of some awesome new memorabilia, as well as a new tease of Alien: Covenant in the form of a prologue revealing the fate of the crew from Prometheus. Now we get another tease of the sequel arriving in theaters next month with former Mythbusters co-host Adam Savage taking a tour of the set, showing how the various structures in the film are created.
Watch as Adam Savage tours the Alien Covenant set below.
Being on a movie set is rather surreal, especially when you see how incomplete most sets are, either because of green screen or because only part of the set will be seen on camera, so it's half-constructed. You can see what I mean in the video above, especially when Adam Savage checks out some of the darker interior halls, which look completely different on the outside.
Ridley Scott returns to the universe he created with Alien: Covenant, a new chapter in his groundbreaking Alien franchise. The crew of the colony ship Covenant, bound for a remote planet on the far side of the galaxy, discovers what they think is an uncharted paradise, but is actually a dark, dangerous world. When they uncover a threat beyond their imagination, they must attempt a harrowing escape.
Alien: Covenant stars Michael Fassbender, Katherine Waterston, Billy Crudup, Danny McBride, Demián Bichir, Carmen Ejogo, Amy Seimetz, Jussie Smollett, Callie Hernandez, Nathaniel Dean, Alexander England, Benjamin Rigby, and James Franco.
Alien: Covenant arrives next month on May 19.