'47 Meters Down' Trailer: Killer Shark Movies Never Go Out Of Style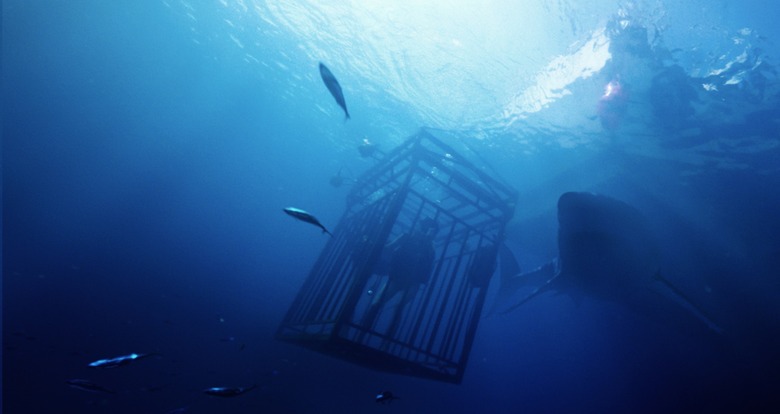 The VOD market and SyFy channel are full of riffs and ripoffs of Steven Spielberg's seminal 1975 film Jaws, but seeing shark attack movies on the big screen has become a rarity in recent years. I'm not sure why that is since the concept of being in the ocean with killer sharks closing in seems like one that will always be relevant. But maybe they're making a comeback.
A year after the Blake Lively vehicle The Shallows hit theaters, a new shark attack film is on the way. It's called 47 Meters Deep, and it's coming just in time to make you think twice about going in the water during your summer beach vacation. Watch the 47 Meters Deep trailer below.
47 Meters Down Trailer
This looks like a fun little thriller. I haven't seen any of director Johannes Roberts' other movies (Hellbreeder, Roadkill, The Other Side of the Door), so I'm not sure if he has what it takes to imbue this one with the level of tongue-in-cheek fun that Jaume Collet-Serra gave The Shallows. Roberts co-wrote the screenplay with frequent collaborator Ernest Riera (The Other Side of the Door), and while the film has a fairly basic premise, it certainly looks like it has the potential to deliver some intense, thrilling moments.
Mandy Moore (This is Us) and Claire Holt (The Vampire Diaries) look sufficiently terrified, and I have a feeling there might be more to Matthew Modine's (Stranger Things, Full Metal Jacket) character than initially meets the eye. Did that support line break on purpose? It seems like he and his team on the surface aren't doing much to help these ladies out of their precarious situation.
The Weinstein Company's Dimension Films planned to release this straight to VOD last summer under the title of In the Deep (which, weirdly, was the original title of last year's The Shallows), but it's since been acquired by Entertainment Studios, who apparently believed in the film so much that they're giving it a full theatrical release under a new title. Let's hope its back-and-forth history is just a footnote of an otherwise-great shark attack thriller. See where this movie ranks on our list of this summer's wide releases.
47 Meters Down arrives in theaters on June 16, 2017.
Two sisters vacationing in Mexico become trapped in a shark cage on the ocean floor. As their oxygen starts to run out and with great white sharks circling them, the sisters must find a way to get to the surface alive.