Michael Mann's 'Heat' Prequel Will Come Out Next Year, As A Novel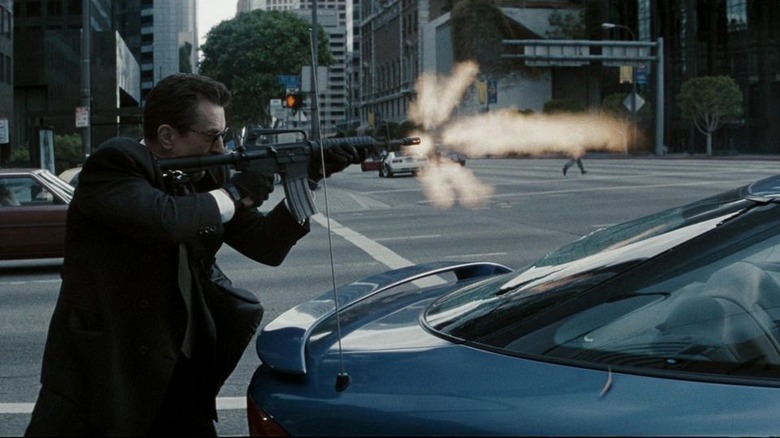 Over a year ago, Michael Mann signed a deal to launch Michael Mann Books. On the list of priorities from the start was a prequel to Heat. Detective Vincent Hanna (Al Pacino), Neil McCauley (Robert De Niro), Chris Shihirlis (Val Kilmer), and Nate (Jon Voight), they're all a part of the book along with other familiar characters. Mann is co-writing the prequel with Reed Farrel Coleman ("Where It Hurts").
Below, learn more about the Heat prequel.
After interviewing authors for months, Mann found his co-writer in Coleman, a four-time Edgar Award-nominated author. Deadline calls their Heat novel an origin story, which William Morrow/HarperCollins will publish next year. The specifics of the story are currently under wraps.
Mann spent over a decade working on Heat. Over that period of time, he cultivated a large wealth of information. Deadline writes Coleman "will soon be immersing himself in Mann's research files," which sounds like something a few of Mann's fans wouldn't mind taking a gander at someday.If you've ever listened to one of Mann's commentaries or simply watched his films, it's clear he does his homework. He knows the worlds he's depicting, inside and out.
Mann loosely based Hanna and McCauley's relationship on Detective Chuck Adamson and criminal Neil McCauley. The two men on opposite sides of the law did in fact once have a conversation over coffee. Adamson, who passed away in 2008, was a technical consultant on Thief and Heat, and he worked with Mann on Crime Story and Miami Vice.
When Michael Mann Books was announced, it was said they'd develop their books for TV and film, including the Heat prequel. Mann might share credit on some of the stories Michael Mann Books puts out. Another one of their projects comes from Don Winslow ("The Cartel"), and it's about Chicago crime boss Tony Accardo and his successor Sam Giancana. Mann is already considering directing the biopic based on Winslow's book.
Under Michael Mann Books, the filmmaker will continue to collaborate with writers on fiction and nonfiction books. According to Deadline, Mann is completing writing a non-fiction book we know nothing about at the moment. We do know, however, that good news for Michael Mann's diehard fans keeps on coming. Just this week it was reported he'll produce and direct episodes of a miniseries about the Tet Offensive, which we learned not too long after we learned Hugh Jackman might star in his Ferarri biopic. Soon enough, we'll also be able to get our hands on the Director's Definitive Edition of Heat on Blu-Ray.