Chris Pratt Gives A 'Cowboy Ninja Viking' Update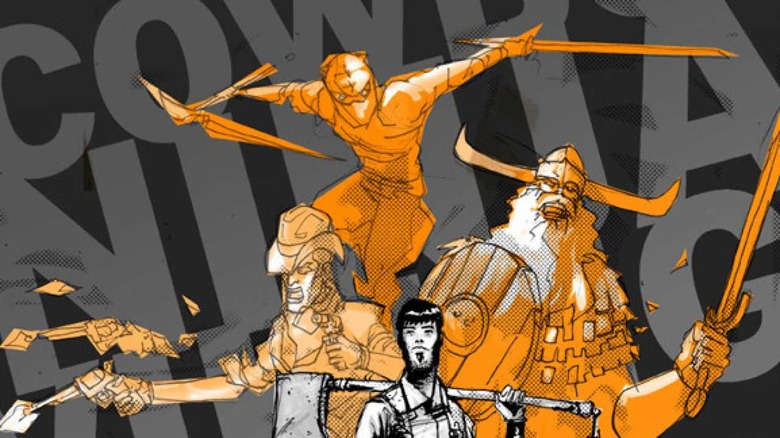 For almost three years now, Chris Pratt has been attached to star in Cowboy Ninja Viking.  Pratt is still set to play Duncan, a hero with the personalities and powers of a Cowboy, Ninja, and Viking, given to him by a bizarre government experiment. According to Pratt, the Cowboy Ninja Viking movie, based on A.J. Lieberman and Riley Rossmo's graphic novel, is still in active development.
Below, the Guardians of the Galaxy Vol. 2 star provides an update on Universal's Cowboy Ninja Viking movie.
Pratt told Collider they're currently talking to directors about the project. He has high hopes for the comic book adaptation:
It's still in development. It's definitely no joke. We've got a deal and we're moving forward. It's going to be [with] Universal. It's going to be really, really fantastic ... We don't have a director. It's together, it's being put together. But we're in the process of talking to directors.
Two years ago, he met with John Wick helmers David Leitch and Chad Stahelski for Cowboy Ninja Viking. They were reportedly offered the job and entered early talks, but sadly, nothing more ever came of that news. Before Pratt was involved Marc Forster was going to make the high-concept action movie, but the Stranger than Fiction and World War Z director, who hasn't had the best luck with big-budget spectacle, eventually left the project.
Cowboy Ninja Viking was originally set up at Disney. Rhett Reese and Paul Wernick's (Deadpool) script, however, was deemed too edgy for the studio. The story follows Duncan, who has a multiple personality disorder, as he's turned into a "triplet" after participating in a secret government program. He becomes a deadly super soldier, but he's not the only triplet in the world. Duncan sounds like the kind of role (or roles) well suited for Pratt's charisma and physicality.
Here's more information on the comic:
Duncan is the result of a secret government program to create soldiers for the war on terror. This experimental regimen conscripts people suffering from multiple personality disorder and turns them into "triplets," highly lethal operatives possessing three distinct personalities drawing from warrior/tough guy archetypes. Duncan serves as the reader's entry point into a complex web of espionage and violence that grows more intriguing as we are let in on exactly what's up with Duncan, the people who want to drag him back into the fold, and the rest of the triplets that remain at large.