Ewan McGregor To Play 'Christopher Robin' In Disney's Live-Action 'Winnie The Pooh' Sequel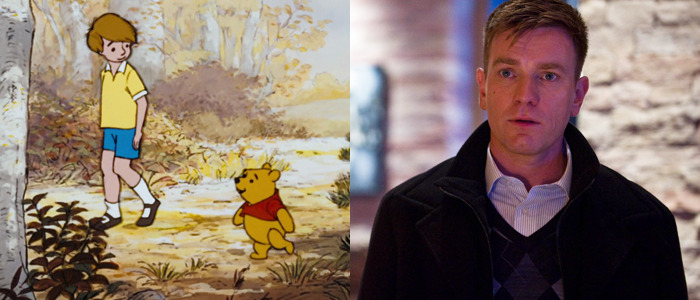 As Disney continues its reign of box office domination, one of the most effective tools in the studio's arsenal has been the live-action adaptation of a classic animated property. Beauty and the Beast is the latest example, pulling in over a billion dollars worldwide (and counting), but there are plenty more where that came from.
One of the many in development is Christopher Robin, a live-action Winnie the Pooh sequel that follows an adult version of Pooh's best friend. A new report states that Beauty and the Beast star Ewan McGregor is set to play the title character...does that bode well for a Star Wars spinoff centered on Obi-Wan Kenobi? Read on for the Ewan McGregor Christopher Robin news.
THR says that McGregor is in talks to star in the film, which focuses on a grown-up version of Christopher Robin who has lost his sense of imagination and become an intense workaholic. As his home life gets worse, Pooh comes back into his life and needs Christopher Robin's help to find his old friends again. Marc Forster (Quantum of Solace, Finding Neverland) is directing, and this new report says Hidden Figures writer Allison Schroeder has been brought on to rewrite the script, which was originally written by Alex Ross Perry (Listen Up Philip) and then rewritten by Tom McCarthy (Spotlight).
McGregor strikes me as inspired casting for this project. We've watched him grow up on film over the years, and he still has a boyish charm about him that seems like it'd be an asset for a film about someone trying to tap into memories from his youth. This whole project reminds me of Steven Spielberg's Hook, another live-action sequel to an animated Disney classic. Since I'm one of the seemingly few writers who actually likes that movie, I'm excited about that comparison.
So what does this have to do with an Obi-Wan movie? Casting McGregor in Christopher Robin is the latest example of Disney continuing to work with people in the Disney family (previous examples include Josh Gad, Lupita Nyong'o, The Rock and more). Perhaps keeping their Beauty and the Beast star under the Mouse House umbrella was part of a deal involving a certain long-rumored Star Wars spinoff from Disney-owned Lucasfilm? Kathleen Kennedy, Lucasfilm's president, revealed at Celebration that the Story Group was having conversations about the new spinoff, and how she hoped to make an official announcement sometime this summer. Is it summer yet?
As for Christopher Robin, the movie doesn't have an official release date yet, but looking at Disney's recently-announced release calendar, we could see it as early as August 3, 2018.