'Baywatch' Trailer: Villainous Vixen Priyanka Chopra Gets The Spotlight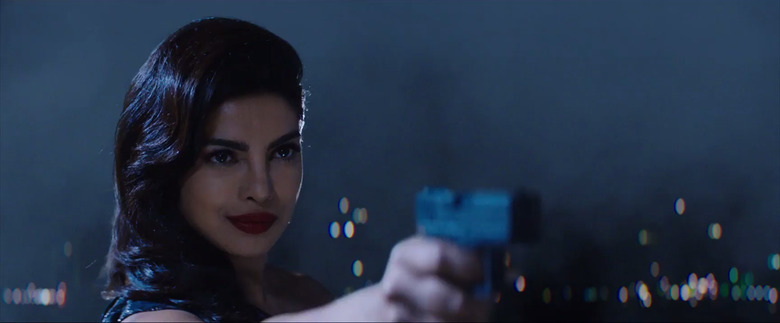 Priyanka Chopra, the Bollywood star who now appears weekly on the ABC show Quantico and is set to terrorize the crew as the villainous Victoria Leeds on Baywatch, was conspicuously missing from much of the advertising for the Dwayne Johnson action comedy. She wasn't on the posters, and she was barely in the official trailer or TV spots.
But that's finally changed, with the latest trailer for Baywatch, which features Chopra finally catching some sun as the drug-dealing club owner who seeks to shut Baywatch down — all while keeping her fabulous hair intact.
Johnson shared the newest trailer for Baywatch on his Twitter, calling his team the "Avengers of the Beach" who battle the "evil" Chopra.
Warning to the evil @PriyankaChopra, you don't wanna f*ck w/ the Avengers of the Beach. We WILL get dysfunctional 🔥 @Baywatchmovie MAY 25th pic.twitter.com/soKWw4MZki

— Dwayne Johnson (@TheRock) April 25, 2017
Some new footage includes Johnson and Zac Efron rescuing a terrified girl from a fiery boat, succeeding in rescuing the passengers as the boat exploded, but failing in their pantomime communication. Presumably after the heroic rescue, Chopra's Victoria Leeds comes down to the beach to congratulate them on their heroic efforts.
"Everyone on the beach is talking about you guys," she says, getting out of her Jeep with a pristine blow-out and a flattering pink dress.
Johnson introduces her to the crew as Victoria Leeds, the new owner of the nearby club, and she smilingly invites them to her establishment.
But Johnson becomes suspicious of Leeds, whose presence sparked an uptick in the beach drug trade, and drags Efron to investigate, ignoring his bad impression of his own genitals. There are a few more shots of action scenes and stunts we've already seen, and we cut to the resolution of Johnson and Efron's "undercover" antics: Chopra's Leeds smoothly denies their accusations (again in a stunning outfit without a hair out of place). Though in a later scene at a hospital we see her yell at her security to take care of the "f**king lifeguards."
This Chopra's big screen debut in Hollywood, though she has starred in countless Bollywood productions, and is one of India's highest-paid actresses. I hope, nay pray, that Baywatch will live up to the star that she is. (It probably won't, but I can always dream.)
Baywatch is directed by Seth Gordon. In addition to Johnson, Efron and Chopra, the cast is rounded out by Alexandra Daddario, Kelly Rohrbach, Jon Bass, Ilfenesh Hadera, Yahya Abdul-Mateen II, David Hasselhoff, and Pamela Anderson.Baywatch surfs into theaters May 25, 2017.