Warner Bros. Theme Park Unveils Real-Life Gotham City And Metropolis: See The Concept Art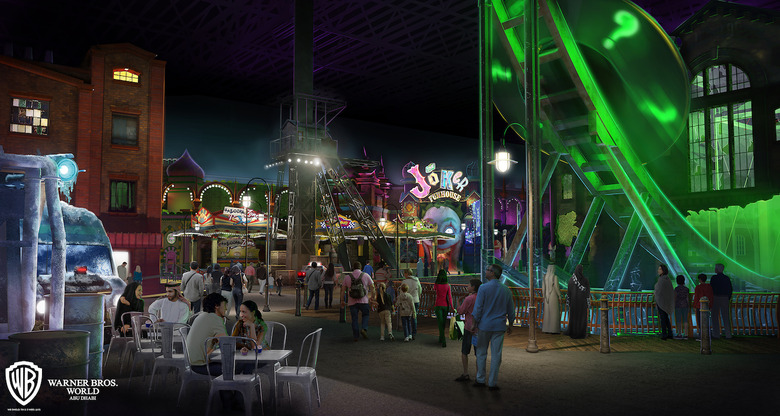 Always wanted to see Gotham City and Metropolis but found it was too obscured by dark lighting and a desaturated color scheme in Batman v. Superman or Man of Steel? Well you're in luck, because Warner Bros. World, the $1 billion theme park planned by Warner Bros. Studios and Abu Dhabi's Miral, is featuring both the beloved cities of Batman and Superman live, and in color.
The theme park will feature an array of areas inspired by Batman's Gotham, Superman's Metropolis as well as Hanna-Barbera and Looney Tunes. Above is the concept art for the Batman-themed Gotham City. Read on to see the concept art for the rest of the "worlds" from Warner Bros World theme park.
Warner Bros. World Abu Dhabi, located on Yas Island and set to open in 2018, "will be a one-of-a-kind, world-class destination home to state-of-the-art thrill rides, interactive family friendly attractions, and unique live entertainment," according to the Miral press statement.
The theme park will feature six "worlds" including the DC Comic-inspired cities, Gotham City and Metropolis. The other four are Cartoon Junction, Bedrock, and Dynamite Gulch, themed after the famous cartoons Looney Tunes and Hanna-Barbera, and Warner Bros. Plaza, which takes visitors back to Classic Hollywood.
Metropolis will feature towering skyscrapers while Gotham City will have more than its fair share of dark alleys. Here's the concept art for the gleaming, idyllic Metropolis below.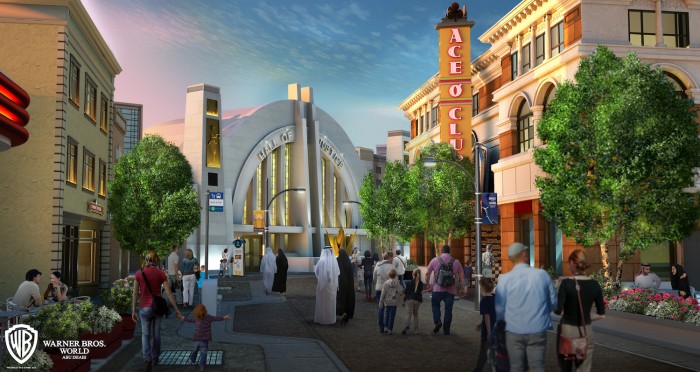 As for Bedrock, Cartoon Junction and Dynamite Gulch, you're more likely to run into characters such as Scooby-Doo and Bugs Bunny, who will be walking around the park under a stylized cartoon sky. Bedrock will follow its original themes, being prehistoric and powered by birds and dinosaurs while Dynamite Gulch will take you to the stars and deep into the canyon. See the concept art for the three animation-inspired parks below.
Last but not least, here's the art for the main plaza, where guests find themselves when they enter the park. A throwback to the Golden Age of Hollywood, the plaza will be decked out in Art Deco architecture and authentic, Tinseltown details.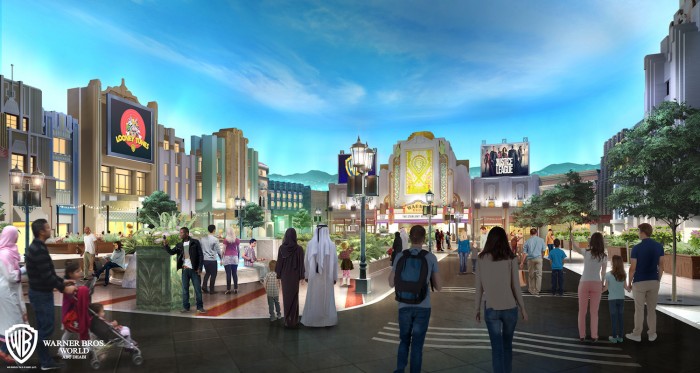 Warner Bros. and Miral first announced the indoor project a year ago with the goal to open in 2018, and both companies say the theme park is on track for that goal. About 5,500 specialist engineers, workers and craftsmen are set to build the park spanning 1.65 million square feet. The six worlds are planned to feature 29 rides, shows, and attractions.
Warner Bros. World will join the myriad of theme parks already located on Yas Island, including Ferrari World Abu Dhabi, Yas Waterworld, CLYMB, and opening in 2022, the recently announced SeaWorld Abu Dhabi.
Meanwhile, these two Turkish Airlines cross-advertising TV spots with Batman v. Superman will probably be the closest to seeing a real-life Metropolis and Gotham we'll get for now.