'Cars 3' Trailer: Are Lightning McQueen's Racing Days Over?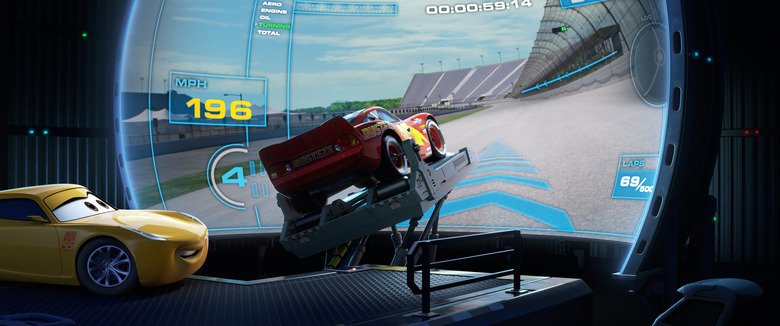 This summer brings the third installment of Pixar's animated Cars franchise. Taking a cue from sports dramas that have come before it, Cars 3 focuses on Lightning McQueen as we've never seen him before: the underdog. The red racer voiced by Owen Wilson simply isn't the hot shot that we've come to know, and he's forced to confront the limitations that come with being the senior car on the track, as well as rediscovering his passion for racing. It just might make for the best Cars movie yet.
Watch the new Cars 3 trailer after the jump.
Giving Lightning McQueen a run for his money this time is Jackson Storm (Armie Hammer), a fast, sleek car with the most advanced technology at his disposal. Storm was built to be unbeatable, giving him a quiet confidence and cocky demeanor. He's not unlike the cocky Lightning McQueen who still had a thing or two to learn in the original Cars. Of course, our champion racer Lightning doesn't see him as a threat at first, until his tragic crash that we've seen dramatically unfold in the teaser trailer.
What follows is Lightning's journey to figure out whether his passion for racing is enough to drive him to some sort of comeback. He's forced to confront his place in racing as the sport changes around him. Lightning doesn't seem comfortable trying to catch up with the more advanced cars by trying to be more like them, even with the help of trainer Cruz Ramirez (Cristela Alonzo) but he just might find what he needs to be the racer he used to be by going back to the roots of racing, where his mentor Doc Hudson (the late Paul Newman) learned everything that he taught him.
The story is really the driving force (no pun intended) in this sequel, especially since the humor still doesn't land very well, and it appears that Cars 3 might have the right amount of Pixar magic to give the franchise back the heart that was missing from the second installment.
Blindsided by a new generation of blazing-fast racers, the legendary Lightning McQueen (voice of Owen Wilson) is
suddenly pushed out of the sport he loves. To get back in the game, he will need the help of an eager young race technician, Cruz Ramirez (voice of Cristela Alonzo), with her own plan to win, plus inspiration from the late Fabulous Hudson Hornet and a few unexpected turns. Proving that #95 isn't through yet will test the heart of a champion on Piston Cup Racing's biggest stage!
Cars 3 arrives in theaters on June 16 this summer.