'Cars 3' Footage Reaction: 50 Minutes Screened, Here's What We Thought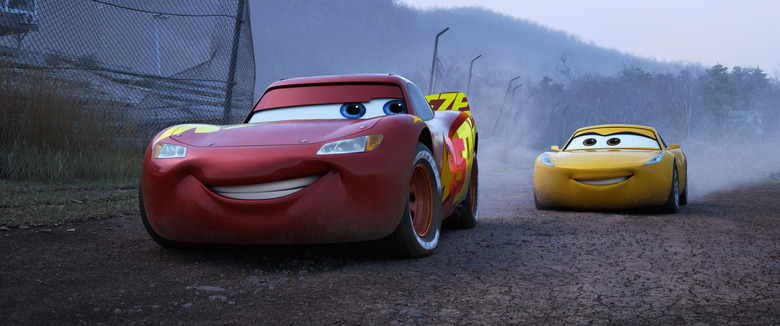 At the end of last month, Pixar Animation invited /Film out to their campus in Emeryville, California to watch footage from Cars 3 and take part in their big press day event with presentations from the filmmakers who are bringing Lightning McQueen to the big screen again this summer.
Pixar Animation showed us roughly 50 minutes from Cars 3, essentially half the movie, starting from the race where Lightning McQueen (Owen Wilson) has his massive crash that we've seen in the teaser trailer up through his attempts to train for a comeback, where he meets high-tech trainer Cruz Ramirez, the breakout new character voiced by comedian Cristela Alonzo.
So how does it stack up against other Pixar movies, and where does it stand with regards to the other movies in the Cars franchise? Find out more in our Cars 3 footage reaction after the jump.
The good news is that this looks like the best film in the Cars series yet, but it's still held back somewhat by still being part of the world that doesn't entirely feel like it fits in with the rest of Pixar's work. Still, Cars 3 may have the most heart out of any of the films in the series thanks to one of the movie's new characters, and it has what is probably the most exciting and entertaining sequence the franchise has seen yet. We dig much deeper below.
Some possible spoilers follow if that's something that concerns you.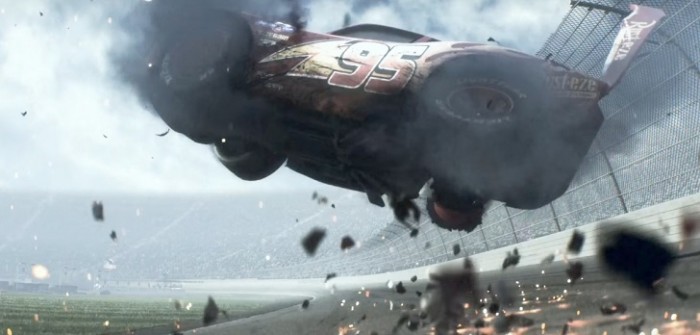 Lightning McQueen Falls from Grace
Our footage presentation began with the race where Lightning McQueen famously crashes, the scene from the teaser trailer that likely made plenty of kids stare with their mouths wide open in horror. In this race, we get to see that Lightning isn't the racer he used to be. His new rival Jackson Storm (Armie Hammer), an advanced, sleek car moves smoothly and efficiently around the track, not unlike Lightning used to do in the first Cars, we see that McQueen is struggling to keep up. Even as he puts the pedal to the metal, you know that he can't quite handle these new advanced racers, his body shuddering as he speeds up. He's still a fairly young car as far as his racing career is concerned, but the racing world, especially in the technology department, has caught up with his talent.
The race offers more of the same that we've seen in the Cars franchise before, at least until Lightning's big crash. If you thought the brief shots in the teaser were hard-hitting, wait until you see this actual sequence. It's even more painful when you see it fully play out. Every time Lighting's body hits the pavement, you hear and feel the crunch and scrape of his body as the wreck unfolds. Funnily enough, when the animation department had finished some shots from this sequence, director Brian Fee and story supervisor Scott Morse said they wanted to punch it up to make it more realistic and intense. When you see this sequence, I think you'll agree that they certainly delivered.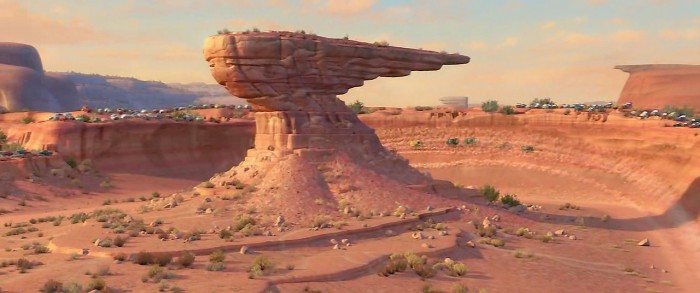 Return to Radiator Springs
Following his big crash, we catch up with Lightning McQueen sometime later. It's clear some time has passed as he's already back in his garage in Radiator Springs. His body is still unfinished, looking more like a prototype car than the sleek, hot rod red race car we're used to seeing. Lightning has clearly been taking some time to himself, shaken up by his big crash and what it means for his career. A memory of Doc Hudson (Paul Newman) enters his mind, with a faded image of the Hudson Hornet appearing in the garage, words of advice echoing in his head.
This scene shows that Cars 3 has certainly matured a bit. The tone is more in line with Cars than Cars 2, thankfully, and while the story to come for Lightning isn't exactly subtle, it's more nuanced than the first film. There's a lot of inward reflection that Lightning has to deal with this time. The filmmakers even said they took the time to talk to real-life NASCAR driver Jeff Gordon when he was in the midst of retiring from racing to get into the mindset of a racer who feels like he's reached the pinnacle of his career.
Lightning McQueen is already a champion, so he's accomplished his dream. Now he has to figure out if the passion is there to get him back to racing after this big crash. It's not just about winning, and it's not about putting on a show the way Lightning used to do, it's about the love of the game, and director Brian Fee wanted to make sure that resonated through the movie. It shows in this scene, but it gets even more emotional later in the film.
The scene also featured very sparing use of Larry the Cable Guy as Mater, something which more loyal fans might not necessarily be happy to hear. But for me, personally, I've never liked this character's dimwitted comedic relief, and the less we see of this character, especially after following him for a whole movie in Cars 2, the better off Cars 3 is. After all, there are plenty of new characters we have to meet to help push the story forward.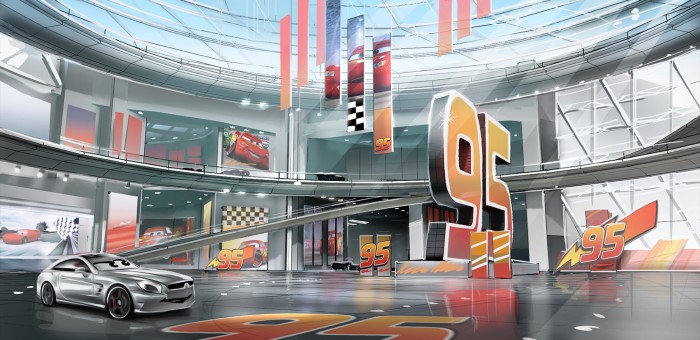 Lightning McQueen and the Rust-eze Racing Center
Speaking of which, there's a big chance in Lightning McQueen's sponsorship in this movie. Don't worry, Rust-eze is still very much in Lightning's corner, but Rusty and Dusty Rust-eze have sold their company to a brilliant business car named Sterling (voiced by Nathan Fillion), who has since built the impressive Rust-eze Racing Center (both seen in concept art above), the kind of racing arena that NASCAR fans will undoubtedly be familiar with. This one has been dedicated to the legacy of racing, with particular attention paid to our hero #95 and all his achievements in racing.
This scene almost serves as a trip down memory lane for fans who really love racing and the Cars franchise. There were some members of the press on-hand who are more ingrained in the world of automobiles and racing, and one reporter from Car & Driver mentioned how accurately this racing center was depicted when compared to those that exist in the real world of racing. It just goes to show you how much detail the filmmakers at Pixar put into each and every movie, making sure they research and give an authentic feel to the proceedings, even when they're taking place in a fictional world where cars are anthropomorphic living things.
Lightning looks around the center and sees photos from his earlier racing days, as well as some pieces of racing history from when his mentor Doc Hudson was on the circuit decades ago. But there's something about this place that feels a little too good to be true, almost artificially nostalgic for the history of racing. And that's when the other shoe (or maybe tire) drops.
Sterling has immense respect for Lightning McQueen and values him as a racer, but he hasn't summoned him to Rust-eze Racing Center to get his career back on track. Instead, he's hoping to sign Lightning McQueen on as the spokesperson for a whole new line of Rust-eze racing products. His image will be plastered all over oil and whatever else cars need convincing to buy. Sterling wants to keep Lightning's legacy alive by turning him into a racing icon whose career is behind him.
Lightning McQueen is immediately resistant to this idea because he thinks his career isn't over yet. Let me just say that there is some delicious irony here in Pixar's most merchandised character not wanting to be used as nothing more than a marketing ploy. This is a character who is on lunchboxes, shoes, shirts, napkins, hats and has countless toys, and he's not interested in being a marketing tool. But I digress.
Lightning strikes a deal with Sterling that if he trains at this new racing center and wins the Florida 500 coming down the line, Rust-eze will continue to sponsor him as a racer. But if not, he'll end his career for good. That means he better get to training.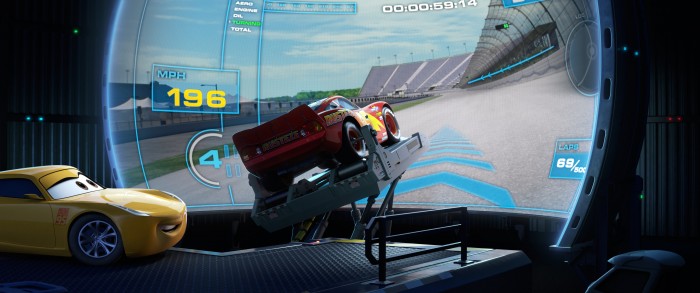 Training with Cruz Ramirez
The Rust-eze Racing Center is a state of the art racing arena where hopeful race cars are brought to train on the most advanced equipment in the game. That includes a special race simulator that puts cars on an interactive treadmill with a screen in front of it that realistically simulates what it's like to be on the race track. This is how Jackson Storm became the finely tuned machine that he is, and that's what Lightning McQueen thinks he needs in order to beat him. But before he gets on that simulator, he has to train with a crucial new character.
Cruz Ramirez is a tech-savvy character who is tasked with getting Lightning McQueen into submission. Normally she's responsible for training rookies, but now she's tasked with getting the racer she idolizes into racing shape, which includes giving him a metallic new skin that essentially acts like a system that tracks his progress and vitals. She can't help but frequently make cracks about Lightning's age, babying him by starting him off at the slowest speeds, but keeping the positivity high as she tries to figure out the best way to motivate him.
However, we soon find that Cruz and all her technology can only take Lightning McQueen so far. After Lightning McQueen hops on the simulator before he's ready, he decides that it might be better for him to get back out on a real surface. So he heads out to the beach with Cruz. Initially, Cruz tries to bring some of her tech out onto the beach for training, but this is where Lightning McQueen has a thing or two to teach his trainer.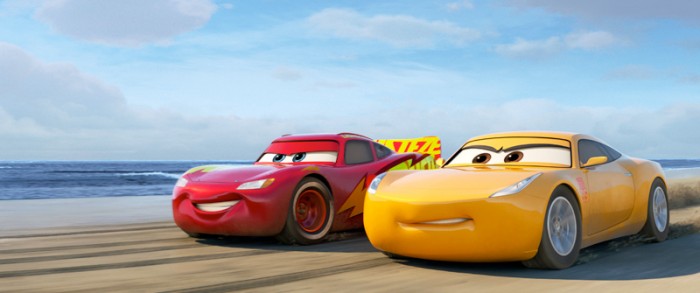 Lightning tries to reach the same speed as Jackson Storm on the beach while also teaching Cruz what it's like to race on a surface that isn't a treadmill on a simulator. This is where we get a glimpse at Cruz's shortcomings. Though she knows how to train racers with the latest tech, she doesn't seem to know what it's like to be on a real racetrack. There's a clear depiction of the dynamic that exists between the current generation and the next generation. And we're not just talking about Millennials and Generation X, but the relationship between the up and coming citizens of the world and those that came before them, during any era.
Cruz Ramirez has some trouble getting used to racing on the beach. One moment even has her stopping dead in her tracks because she saw a crab. That just raised more questions about how the world of Cars works (are there all sorts of other animals in the world that aren't cars?), but that's a conversation for another day. The real point of this scene is that it gives us a hint into Cruz's background as a car who doesn't have much confidence in herself. That's something that really comes to light in a meaningful way a little later in the movie.
But first, Lightning thinks he's ready for a real race on a real track. He's not looking at a big arena race like the Piston Cup but rather a homegrown local race where he can get his bearings and maybe boost his confidence a bit. However, the race Lightning McQueen finds out about turns to be something entirely different from what he's expecting.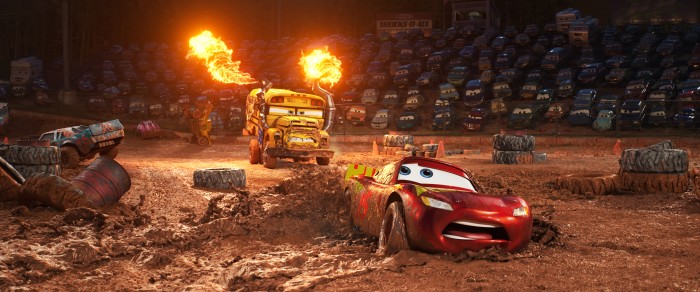 The Demolition Derby at Thunder Hollow Speedway
Sure, Lightning McQueen learned how to race from Doc Hudson during his community service at Radiator Springs, he even learned a trick from his tow truck pal Mater. But nothing can prepare him for the madness awaiting him at Thunder Hollow Speedway.
Instead of the kind of dirt road race that Lightning McQueen was hoping to take part in, Thunder Hollow Speedway is having demolition derby night, and he just happens to be in the wrong place at the wrong time, getting him stuck in the figure eight track where absolute vehicular mayhem is about to take place. And Cruz Ramirez ends up trapped in there with him.
First of all, let's just take a moment to recognize that a demolition derby in the world of Cars is like an all-out wrestling match for vehicles. It's not exactly fatal in the way that something like a Battle Royale or Hunger Games scenario would be, but it's every car for themselves in this dirty, sloppy, muddy derby, featuring plenty of banged up racing cars, an ambulance, a taxi, and RV, and one car that is basically the famous Pixar star ball in car form, complete with a number referencing Pixar's history (not A113, though that appears in an earlier scene rather obviously). But the most dangerous contender is an intimidating, crazy school bus named Miss Fritter (Lea DeLaria), seen ready to destroy Lightning above.
This sequence is easily the most exciting and entertaining that the Cars franchise has ever seen. Yes, there was plenty of action in Cars 2 thanks to the spy storyline, but this is something completely different. It's a homegrown action sequence where Lightning and Cruz are frantic to survive as cars are smashing into each other, flying in the air, slopping mud all over the place. Effects supervisor Jon Reisch said getting the mud in this movie right was one of the most difficult challenges they've ever faced. But their effort shows here as the mud feels tangible with the right consistency and weight to keep the cars struggling.
I can't stress how outstanding this sequence is as all these cars crash into each other in a last man standing brawl. I won't spoil who ends up winning the demolition derby, but let's just say the the event takes an interesting turn.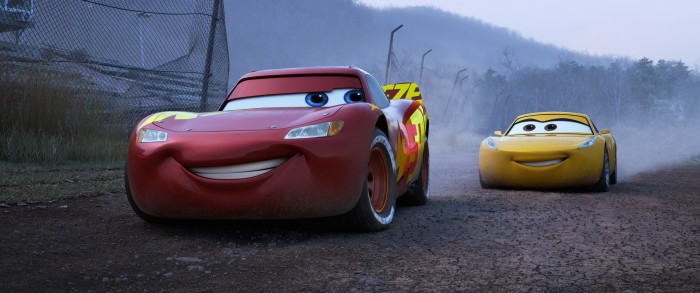 Cruz Ramirez Is More Than Just a Trainer
After the demolition derby, Lightning McQueen is frustrated that he wasted his time getting caught up in something that isn't helping him prepare for the race that will literally define the rest of his career. He gets into an argument with Cruz Ramirez where we finally learn a little more about the real car that lies under her positive, upbeat personality and racing expertise.
While Cruz has merely been a means to an end for Lightning since they met, this scene really shows the character's humanity as he lashes out at her in anger. As they're heading back to Rust-eze Racing Center from the demolition derby, she forces Lightning's truck Mack to pull over and let her out. She just can't deal with Lightning's attitude anymore, and this is where our lead character finally sees her as more than just a trainer.
We'll explore this part of Cars 3 in another post more thoroughly, but suffice it to say that this scene in question gives Cars 3 the big heart that it needs to stand out from the rest of the franchise. It provides us with a character that anyone can identify with, one that audiences may end up caring about more than any other character in the whole series.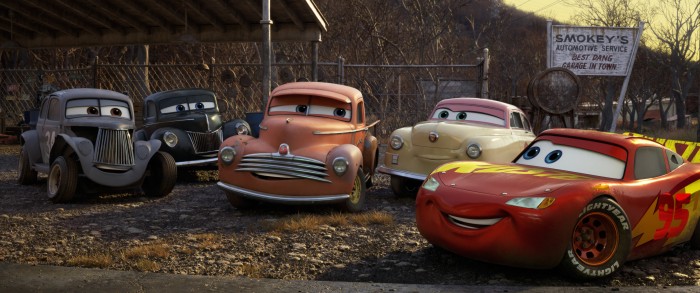 Meeting the Legends of Racing
Sometime after Lightning McQueen and Cruz Ramirez have their little tiff, they end up making amends. We don't know how since that scene was the last one we saw chronologically in the extended footage presentation. But during another part of our press day, we were shown a scene that gives us a hint at how Lightning McQueen will get his drive back.
Lighting and Cruz end up in this town called Cotter Pin where they stumble upon a ghost track. It's where races from decades past used to take place, but time has since taken its toll on. Still, Lightning McQueen is in awe of this place, commenting, "If this track could talk." A flashback sequence shows us Doc Hudson in his racing heyday, and he just so happens to be dealing with a rookie driver of his own this time. But Hudson didn't let the rookie's hunger and younger sensibilities get the better of him as a racer. He merely adapted in his own way and showed him up. And it looks like Cotter Pin is going to be the place where Lightning gets back in touch with his passion for racing.
Another scene from a different part of the press day had Lighting meeting four legends of racing, just like Doc Hudson. From left to right in the image above there's Isaiah Whitlock Jr. as River Scott, a racer named Junior Moon who's voiced by real life racing legend Junior Johnson (once played by Jeff Bridges in a movie), Chris Cooper as a pick-up truck and legendary crew chief named Smokey, and Margo Martindale as Louise Nash, a female racer who may have spent some time, even romantically, with ole Doc Hudson.
Smokey will be the man who gets Lightning back in shape for the race. We didn't get to see any of the training he endures in the footage, but one piece of concept art in Pixar's offices showed Lightning McQueen on a train track doing some kind of workout with an old handcar that you've probably seen in old cartoons. Cotter Pin will be the place that reminds Lightning what racing is all about, and I also have a feeling it might give Cruz Ramirez to have the confidence to try getting back on the track at some point, though maybe not in this movie.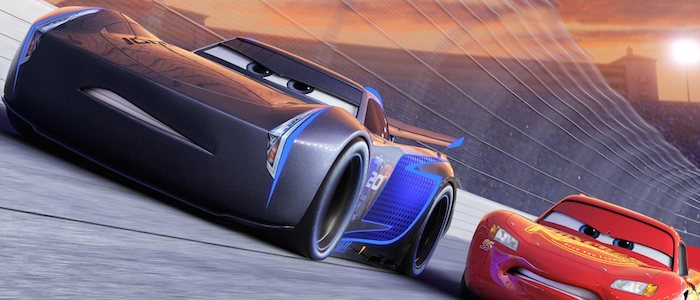 Final Thoughts on Cars 3
As someone who is neither a fan of racing nor the Cars franchise, the only thing that was getting me interested in Cars 3 was the surprising teaser where Lightning McQueen had a massive wreck. In the footage that followed, showing Lightning as he tries to stage a comeback and train to beat his new rival Jackson Storm, I wasn't convinced that this movie was going to offer anything new that we hadn't already seen before, even with the underdog sports angle to give it a slightly different feel.
But there was a fantastic emotional turn when we learn more about Cruz Ramirez, who is the absolute breakout character from Cars 3, a character that I even find myself caring more about than McQueen himself. The addition of this character appears to give Cars 3 something that neither the first Cars nor the lesser sequel had enough of, and that's a big beating heart. Furthermore, the incorporation of the history of racing and the passion for the sport was something that was interesting even to someone like me, who has absolutely no interest in NASCAR whatsoever.
From the footage shown, it seems like Cars 3 still suffers from some of the same problems that the entire franchise does. This world is a strange one that raises some very distracting questions that always race through my mind, and the comedy leaves plenty to be desired. Some jokes fell uncomfortably flat to a few dozen members of the press screening the footage. But if the second half of the film has as much heart as the turn at the end of this extended screening, then Cars 3 could end up being a movie that has some of Pixar's greatest qualities, even if it comes with some of the franchise's overall shortcomings
We'll find out for sure when Cars 3 arrives on June 12.